Tech-Tav and MadCap Software Announce Partnership to Provide Documentation Services and Solutions in Israel
Partnership with leading technical communication services firm in Israel expands adoption of state-of-the-art MadCap content development, multimedia, translation and social collaboration applications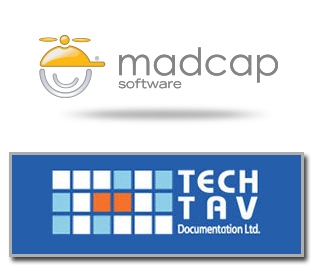 La Jolla, CA and Petach Tikvah, Israel — July 24, 2014 — Tech-Tav and MadCap Software announced today that the two companies have partnered to provide documentation services and solutions in Israel. The partnership will help strengthen ties to the region and will give Tech-Tav direct access to a variety of resources from MadCap Software, including marketing and training support.
We're very excited about this new partnership with MadCap Software, which enhances our ability to provide our customers with the best set of features available in the market. We look forward to a fruitful relationship with MadCap in the years to come," said Yoni Palmer, Tech-Tav CEO.
"We are thrilled to partner with Tech-Tav, a company with the experience, expertise and commitment to customer service we demand from our resellers," said Anthony Olivier, MadCap founder and CEO. "This is a great opportunity to give technical communicators in Israel a comprehensive resource for software, services and consulting."
About Tech-Tav
Tech-Tav Documentation Ltd. is one of Israel's largest and longest-running technical-writing companies. Tech-Tav services include technical and marketing writing, documentation-management consulting, placement services, single-sourcing consulting and solutions, and training. Its customers include the leading companies in Israel's thriving and exciting hi-tech scene. You can find out more at www.tech-tav.com.
About MadCap Software
MadCap Software, Inc. is a trusted resource for the thousands of companies around the globe that rely on its solutions for single-source multi-channel authoring and publishing, multimedia, and translation management. Whether delivering technical, policy, medical, marketing, business, or human resources content, MadCap's products are used to create corporate intranets, Help systems, policy and procedure manuals, video tutorials, knowledge bases, eBooks, user guides, and more to any format, including high-end print, online, desktop or mobile. MadCap services include product training, consulting services, translation and localization, and an advanced developer certification program. Headquartered in La Jolla, California, MadCap Software is home to some of the most experienced software architects and product experts in the content development industry.
PR Contact:
Rebecca Hurst
Kinetic.PR for MadCap Software
rebecca@kineticprllc.com
650-679-9282