Download Free MadCap Flare Project Templates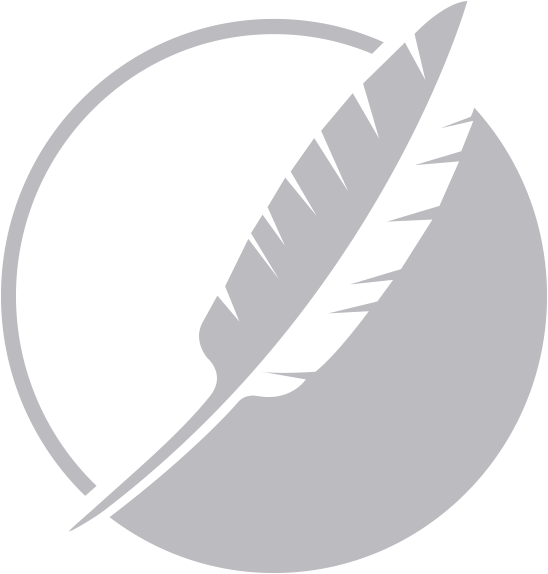 About Project Templates
MadCap Flare offers 20 pre-installed project templates for print, online, desktop and mobile content. Four new modern responsive top navigation templates are available below as a free download. The 20 built-in project templates are available during trial mode and do not need to be downloaded.
Project Templates Include:
Modern Top Navigation*
Gradient Panel Layout
Dashboard Navigation Layout
Minimal Panel Layout
Parallax Scroll Layout
Product Foldout
3-Fold
4-Fold
5-Fold
6-Fold
12-Fold
*Additional download
To add additional or replace existing project templates, please follow these steps:
1
Download one of the project templates below.
2
Extract the file(s) from the zip file.
3
Double-click the Flare project file (FLPRJ) to open the project.
Responsive Gradient Panel Layout
An elegant, minimal way to display documentation. Tiles can be customized to display categories; home page categories, icons and gradients can be easily added, removed and edited.
Responsive Dashboard Navigation Layout
This modern, professional layout provides your users with a comprehensive start to navigating your documentation. Logos and colors can be easily added or edited.
Responsive Minimal Panel Layout
Design is stripped down to the essentials, providing your users with the exact information they need. Tiles can be added or removed, and are prominently displayed on the homepage, with a minimal background.
Responsive Parallax Scroll Layout
Taking advantage of the responsive, long-format design and parallax scrolling, this template is a great way to display content, while providing visual elements that match with your company's look and feel.
Additional Project Templates
Blue Top Nav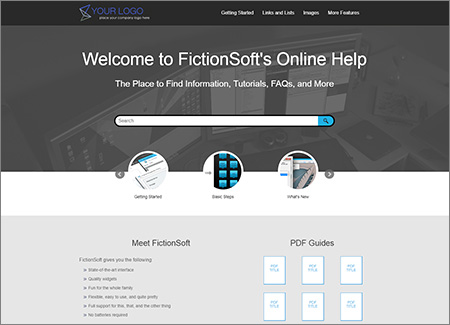 DOWNLOAD TEMPLATE
Orange Top Nav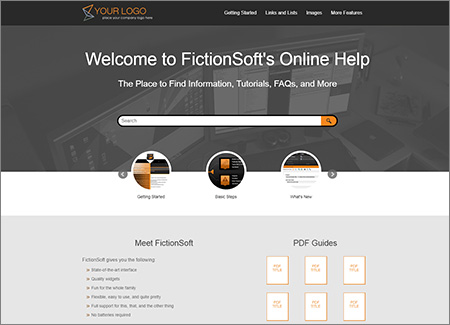 DOWNLOAD TEMPLATE
Classic Tripane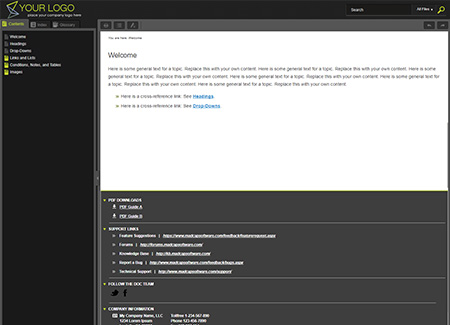 DOWNLOAD TEMPLATE