Avtec Chooses MadTranslations Service to Deliver Localized Software and Documentation for its International Customers
Use of MadTranslations Has Cut Avtec's Translation Costs by Roughly 40% with Translation Memory Management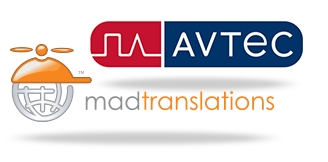 La Jolla, CA and Lexington, SC — November 20, 2013 — Avtec, Inc., leading provider of pure Internet Protocol (IP) dispatch console solutions, is using MadTranslations, Inc., a subsidiary of MadCap Software, as its provider of translation and localization services. Since spring 2013, Avtec has used MadTranslations to translate its online Help, product documentation, software user interfaces (UIs) and more, to support its clients in Mexico, South America, and Canada. The company currently delivers its translated software in Spanish, Brazilian Portuguese, and French. Already, Avtec has cut its translation costs by roughly 40% by taking advantage of MadCap's deep understanding of the content authoring and translation process along with use of translation memory management provided by MadTranslations.
For years, Avtec has used MadCap Flare single-source publishing software to produce its online Help and product documentation. Additionally, the company has taken advantage of MadCap Capture for image editing and MadCap Mimic to create interactive training videos. Looking to advance its global reach and support, the company sought a way to effectively address the language requirements for customers and partners in different countries. Based on its success with Flare and other MadCap products for technical communications, Avtec enlisted MadTranslations as its trusted provider for translation and localization.
We had to internationalize our product before localizing it. We also understood the importance of fostering a strategic partnership to effectively support the reach of these efforts. Due to our solid and reliable relationship with MadCap for years, it was a no brainer to set forth on this new project with its subsidiary, MadTransations," said Tracy Stone, manager of technical communications for Avtec.
Ms. Stone added, "Working with MadTranslations, we have beat every estimated project date with impressive accuracy, responsiveness, and advice on terminology for different locales. MadTranslations has consistently provided us with high quality translation and localization, responsive service, competitive pricing, and an understanding of our authoring environment."
"As a premier provider of solutions for dispatchers across a variety of industries, Avtec has built its success on delivering the information people need, when they need it," said Anthony Olivier, MadCap founder and CEO. "Avtec has already set a gold standard for creating an intuitive user experience with Flare, Capture and Mimic. We are thrilled by the company's success in using MadTranslations as its strategic resource for expanding on this first-class experience by delivering software and solutions that meet the language requirements of its international customers."
About MadTranslations
MadTranslations, Inc., a subsidiary of MadCap Software, provides a full array of language and business services, drawing upon the most accomplished professionals in the industry. Through a full range of localization services, MadTranslations helps clients succeed in the global market by localizing their products, software applications and technical documentation into more than 50 languages. The company's process ensures that localized content is functionally, linguistically, and culturally flawless.
As a leading provider of authoring and publishing solutions, MadTranslations understands the importance of the localization (L10N) process to ensure that products and documentation are adapted to the technical, linguistic, and cultural requirements of a specific country and locale. Services include language translation, software localization, website localization, technical documentation, e-learning localization, project management, terminology management, training, consulting and technical writing. Visit www.madcapsoftware.com/services/translation to learn more.
About Avtec
Avtec, Inc. provides pure Internet Protocol (IP) dispatch console solutions for the transportation, public safety, utility, business, and government markets. For more than 30 years, customers have chosen Avtec's award-winning technology for their mission-critical dispatch centers. There are thousands of Scoutâ"¢ Voice over Internet protocol (VoIP) consoles installed worldwide. For more information, visit www.avtecinc.com.
About MadCap Software
MadCap Software is a trusted resource for more than 20,000 companies around the globe for single-source, multi-channel authoring and publishing solutions designed to streamline the process of developing and delivering training content, learning and development programs, technical documentation, online Help, knowledge bases, and more. From authoring, publishing and translation, to cloud-based project and content management, to contribution and review in the cloud, you can streamline content delivery and manage the entire content development lifecycle with MadCap Software. MadCap Software's services include product training, consulting services, translation and localization, and an advanced developer certification program. Headquartered in San Diego, California, with offices in Austin, TX, MadCap Software is home to some of the most experienced software architects and product experts in the content development industry.
PR Contact:
Rebecca Hurst
Kinetic.PR for MadCap Software
rebecca@kineticprllc.com
650-679-9282