RWTH Aachen University Delivers Customized Exercise Materials for Different Student Groups
New Case Study From MadCap Software Examines How a Top German University Eliminates the Redundancy and Complexity of Customizing Content With Flare's Topic-Based Authoring and Single-Source Publishing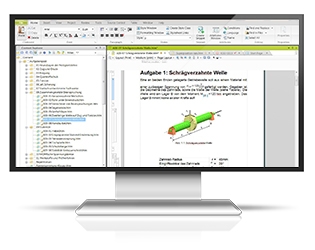 La Jolla, CA, USA June 4, 2013 — MadCap Software, Inc., the leader in multi-channel content authoring and a showcase company for Microsoft® (NASDAQ: MSFT) Visual Studio and Microsoft® XPS, today announced that it has published a new case study on RWTH Aachen University. It explores how group exercise leaders in the university's Institute for Mining and Metallurgy Machine (IMR) rely on MadCap Flare to develop class materials that are tailored for different students of its "Mechanics 2" course.
The full case study is available at: https://www.madcapsoftware.com/casestudy/rwthaachen.aspx.
One of Germany's premier institutions of higher education, RWTH Aachen University is dedicated to the research of technology, serving several fields of engineering and science. Each department is comprised of different institute groups that focus on specific fields of research. The RWTH Aachen University Institute for Mining and Metallurgy Machine (IMR) studies the design of heavy machinery, and today MadCap Flare is the publishing software of choice for delivering customized versions of the course exercise materials for student groups in its electrical engineering, mechanics and mining courses.
One of the courses making extensive use of Flare to develop exercises is "Mechanics 2," which combines lectures with twelve exercise sessions per semester, each consisting of four tasks. Key benefits being realized by using Flare to support the Mechanics 2 course are:
Flare's topic-based authoring and single-source publishing have eliminated redundancies in developing and delivering customized exercise materials.
Dual WYSIWYG and XML interfaces shorten the learning curve for the PhD students who serve as the exercise group leaders and are responsible for developing the materials.
Conditional tags in Flare facilitate the ability to create customized versions of exercise materials.
Integration of Flare with Microsoft® Team Foundation Server® (TFS) provides source control to ensure that exercise group leaders are using the newest versions of content.
A table of contents used to organize topics provides easy access to all content.
"Flare is an extremely intuitive product and has proven to be a valuable tool for creating exercises," said Domenic Boos, RWTH Aachen University PhD student and industrial engineer. "It has exceeded our expectations in optimizing our processes and providing a modern approach for developing and delivering exercise materials that support our students' needs."
"As one of the top schools in Europe for technology research, RWTH Aachen University has made a science out of helping students to learn by delivering course materials tailored for their level of proficiency," said Anthony Olivier, MadCap founder and CEO. "We are excited by the university's success in taking advantage of Flare's intuitive, state-of-the-art approach to topic-based authoring, single-source publishing and TFS integration to streamline the delivery of customized class content based on the latest information."
About RWTH Aachen University
RWTH Aachen is Germany's Integrated Interdisciplinary University of Technology. It maintains close ties with business and industry, and with its 260 institutes in nine faculties it is one of the leading European educational, scientific and research institutions. The university currently has nearly 38,000 students in 126 courses of study, including almost 5000 international students from more than 120 countries. For more information, visit https://www.rwth-aachen.de/go/id/a/?lidx=1.
About MadCap Software
MadCap Software, Inc. is a trusted resource for the thousands of companies around the globe that rely on its solutions for single-source multi-channel authoring and publishing, multimedia, and translation management. Whether delivering technical, policy, medical, marketing, business, or human resources content, MadCap's products are used to create corporate intranets, Help systems, policy and procedure manuals, video tutorials, knowledge bases, eBooks, user guides, and more to any format, including high-end print, online, desktop or mobile. MadCap services include product training, consulting services, translation and localization, and an advanced developer certification program. Headquartered in La Jolla, California, MadCap Software is home to some of the most experienced software architects and product experts in the content development industry.
PR Contact:
Rebecca Hurst
Kinetic.PR for MadCap Software
rebecca@kineticprllc.com
650-679-9282