Cutting-edge technical authoring and publishing for today's technical writers and content developers.
Converting to MadCap Flare is Easy
Variables, skins and CSS editing are amazing features that allow me to generate the OEM versions of our guides within 30 minutes. This has been a real time-saver and would have been impossible to do without Flare.
—Chris Freeman | Senior Technical Writer,
Blue Coat Systems Inc.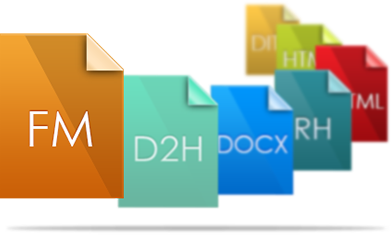 Looking to leverage old RoboHelp® or FrameMaker® projects? Importing content is easy with MadCap Flare.
MadCap Flare makes it easy to import a wide range of file types into your new XML-based authoring environment. Migrate legacy content with easy import of Adobe® RoboHelp® and FrameMaker®, Microsoft® Word, Author-It®, XHTML, HTM, CHM, DITA and many more.
Unparalleled FrameMaker® Import Support
Flare can import FrameMaker® project files (.BOOK or .FM) in a variety of ways, depending how the FrameMaker® project is organized. Break documents into topics, break long topics into smaller ones, and so on, to get the content imported into the desired segments.
Upon import, Flare will also automatically convert your legacy and proprietary FrameMaker® equations to the modern MathML format (no additional tools required).
Download the guide:
MOVING FROM FRAMEMAKER® TO FLARE
Supported FrameMaker® Versions: V7, V8, V9, V10, V11, V12, 2015
Seamless RoboHelp® Import Support
As the original developers of RoboHelp, MadCap Software offers the most advanced and complete import of legacy RoboHelp® content in the industry. Flare can import RoboHelp® project files (.MPJ or .XPJ) and allows you to convert all topic files to XHTML. Flare can also convert inline formatting to CSS styles, based on any "local" formatting that exists in the RoboHelp® project files.
Download the guide:
IMPORT GUIDE FOR FLARE
Supported RoboHelp® Versions: X5, V6, V7, V8, V9, V10, V11, 2015
Migrating from FrameMaker&reg to Flare made more sense to me than I expected. Flare simply makes it so much easier to control content, it's more versatile, it's more open to the outside world (XML), and if all goes wrong I can use Notepad. It caught the attention from the company developers (that's a first in 30+ years) and the MadCap guys wins hands down on service and support (that's easy since the Adobe support is close to nill on FrameMaker®).
Thomas Bro-Rasmussen
Localization Manager,
GN Otometrics
I've been using Flare for 2+ years, after switching from RoboHelp®, which I used for many, many years. And I totally agree with Riley's comments on product comparison, the awfully disappointing releases of RH after Adobe® purchased it, and his VERY polite comparison of dealing with Adobe® vs MadCap. MadCap sales, support, and training are all excellent. I believe that having a working knowledge of MadCap Flare would definitely help you in your job search. I attended MadCap's online training for new/intermediate users after purchasing the product, and it was very helpful.
Kathleen (KC) Cabral
STORServer
Converting from FrameMaker® to Flare is a great anti-depressant. No prescription required.
Andrew T. Brooke
Senior Technical Writer,
Compuware
By migrating from a two-product solution to Flare, which was specifically designed to serve as a Help authoring tool, we immediately recognized significant efficiencies that have led to a two-fold gain in productivity. Citect's decision to move to Flare was the result of an in-depth review of more than half a dozen products. We completed a very thorough evaluation that compared 30 different Help content requirements. In the end, Flare addressed more of those requirements than any other product we reviewed. It also has a modern, forward-looking architecture, which stands out from the older designs of other solutions whose older architectures have been updated for today's Web-based Help demands.
We imported thousands of pages to Flare from FrameMaker®, and now I can't imagine using anything else.
Joy Birck
Technical Publications Manager,
Safe Software
You've saved another bunch of tech writers from the hell known as RoboHelp®!
John Lujan
International Game Technology
FrameMaker® seems like a dinosaur – I can't believe people are still using it :)
Joy Birck
Technical Publications Manager,
Safe Software
I am pleased to that our company is converting over to Flare. It has been very unpleasant working in RoboHelp® over the past year. I'm so relieved that it's only going to be a bit longer and I can hopefully say goodbye to RH® for the last time!
Jan Jackson
Senior Technical Writer,
Vertafore
Copyright © MadCap Software, Inc., and its licensors. All rights reserved. Other marks are the properties of their respective owners.
Ready to Get Started?
Our 30-Day Trials are Free and Fully Functional.