Advanced translation management for technical authors, documentation teams and translators.
Whether you are a technical author preparing MadCap Flare projects for translation, or a translator managing the translation, MadCap Lingo provides a tightly integrated workflow to manage the translation process – including the packaging of files, the creation and use of translation memories, project reporting and more.
Authors and Document Managers
Superior Workflow for Documentation Teams
Whether you are a technical writer sending documentation for translation, or a linguist managing the translation, MadCap Lingo provides all your translation needs in one integrated environment — including editing, reviewing, terminology and project management.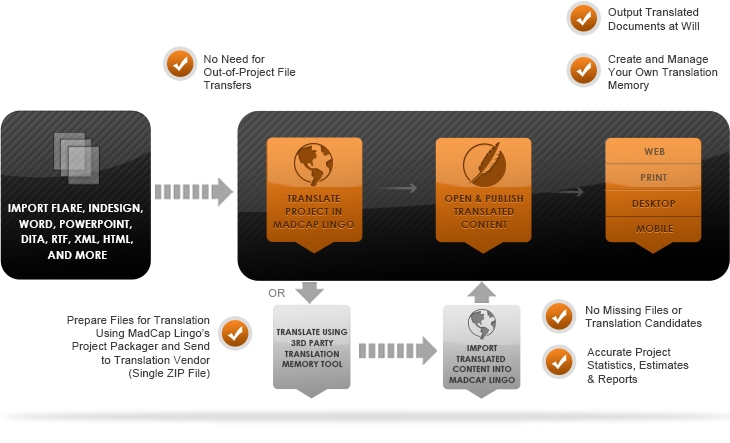 Package and Send Content with Project Packager
With Project Packager, prepare and manage all your files prior to sending for translation in one easy step.
Ensure all necessary files are packaged for translation, including images with caption call-outs
Bundle and save all files required for translation into a single Zip file for use by a translator

Bundled files are converted to the industry-standard XLIFF format, meaning files can be imported into any tool

Easily incorporate and merge translated content once translated back into MadCap Lingo and Flare for publishing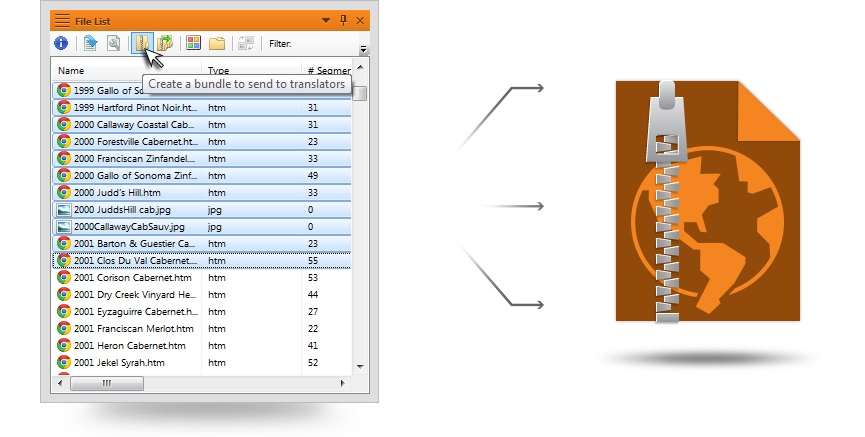 Ensure Project Integrity
Avoid content and formatting corruption issues that are common with traditional localization workflows.
No need to transfer/ship files out of a project
Keeps all files in context
No risk of losing files or content
Natively open source documentation created in either MadCap Flare or MadCap Contributor
Seamless translation of multimedia elements with MadCap Mimic and MadCap Capture integration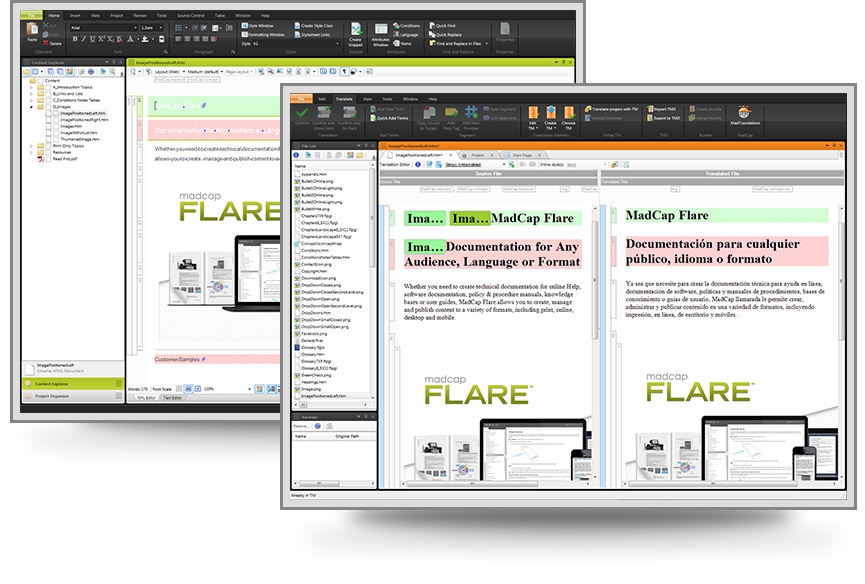 Detailed Statistical Reports
Run statistical reports showing detailed information for each project and file to determine what has/has not been translated; how many words/segments translated and/or still need to be translated etc.
Gain visibility at any stage during translation process for each project and/or file to determine translation status, including what has/has not been translated, how many words/segments translated, etc. and what needs or does not need to be translated.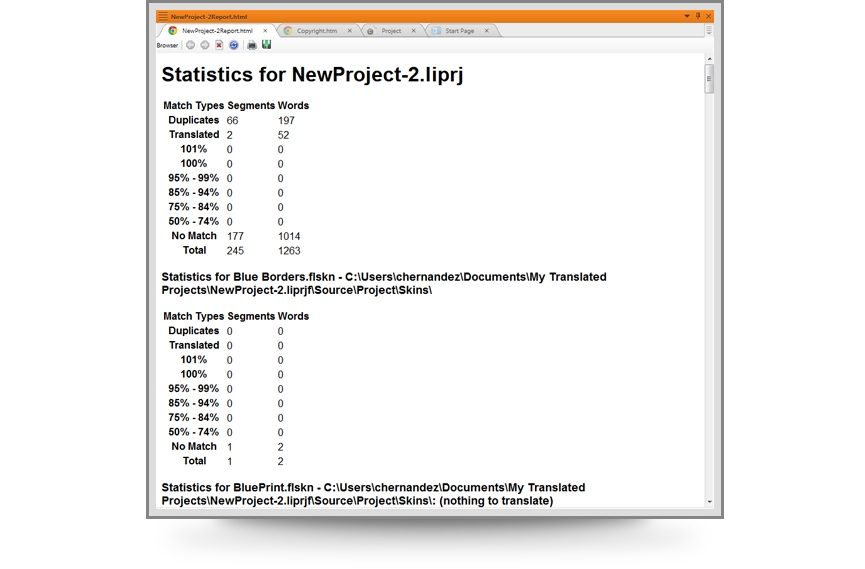 Now our translator can focus on localization and not recreating the document. The efficiencies we've gained have been as dramatic as moving from a typewriter to using Microsoft® Word."
—Daniel Ng | GPRO Technologies Berhad
Advanced Features Such as Convert Variables to Text
Replace MadCap Flare variables in a project with their definitions as plain text. This can be done when you create or update a project based on a Flare project.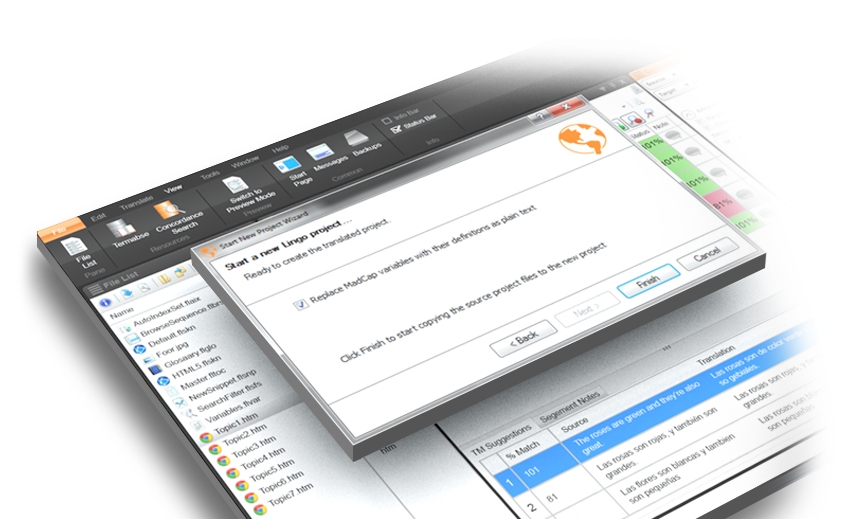 A Free Review Workflow with MadCap Contributor
Send translated content to individuals for review with Review Packages using MadCap Contributor.
To review content, follow these steps:
Export a Review Package from a MadCap Lingo project
Send to third party for review
Third party can review and edit file using MadCap Contributor
Once completed, third party exports revised Review Package file
Author imports the Review Package into MadCap Lingo
Author accepts or rejects reviewer changes using Track Changes
Plus: A free review mode in MadCap Contributor allows anyone to review your translated content.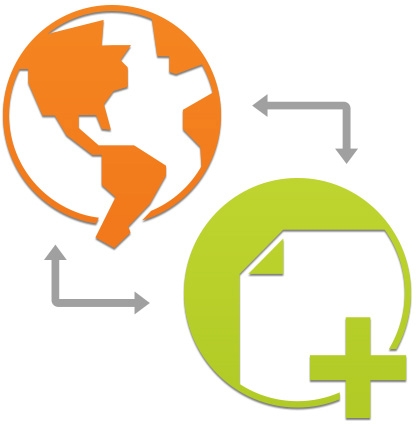 Multi-Language Translation Support
Right-to-left language support for Arabic, Persian and Hebrew
Unicode support for Western European languages
Double-byte support for Asian languages
Extended language support (Eastern European languages)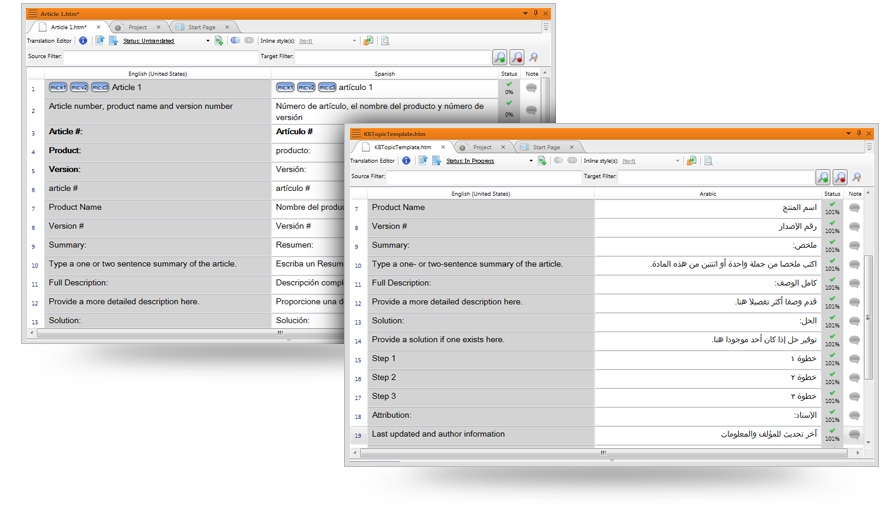 Translation Memory Support
Translate more content with greater efficiency using a linguistic database that captures your translations as you work for future re-use.
Differences shown when new version uploaded
Built-in translation memory system (MadCap Lingo Database)
Find-and-Replace and Find-in-File search
Full TMX (Translation Memory eXchange) support
Translation alignment
Translation Memory Editor
Connect to multiple TMs at a single project
Access multiple translation memory databases
SQLite database support
Ranked translation memory support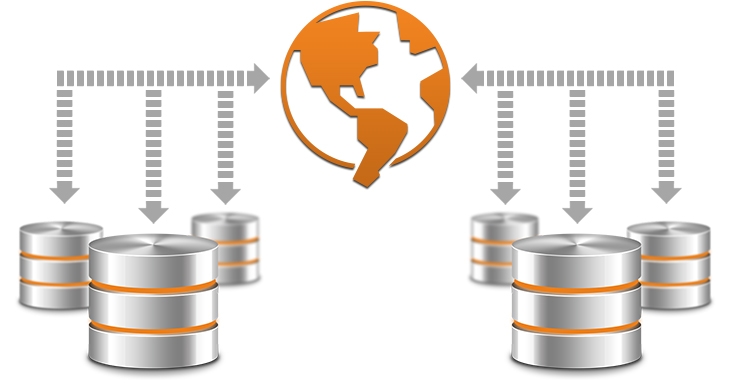 Get Suggestions with Machine Translation Support
Generate translation suggestions from Internet-based translation providers, including Google® Translate, Microsoft® Bing™ Translator, and MyMemoryTranslated.net.
Pre-translate with translation memory, machine translation, or both
Search machine translation suggestions using concordance search
Make post-editing easier than ever with built in hooks to major translation APIs (Google®, Bing™, MyMemory)
Connect to multiple services simultaneously, compare results prior to accepting

View Translations in Real-time with a Live Preview
Translation Editor
Display a live preview of the translated file next to the source content in the Translation Editor.
Preview support includes:
Microsoft® Word and PowerPoint® files
MadCap Flare files
MadCap Capture images with callouts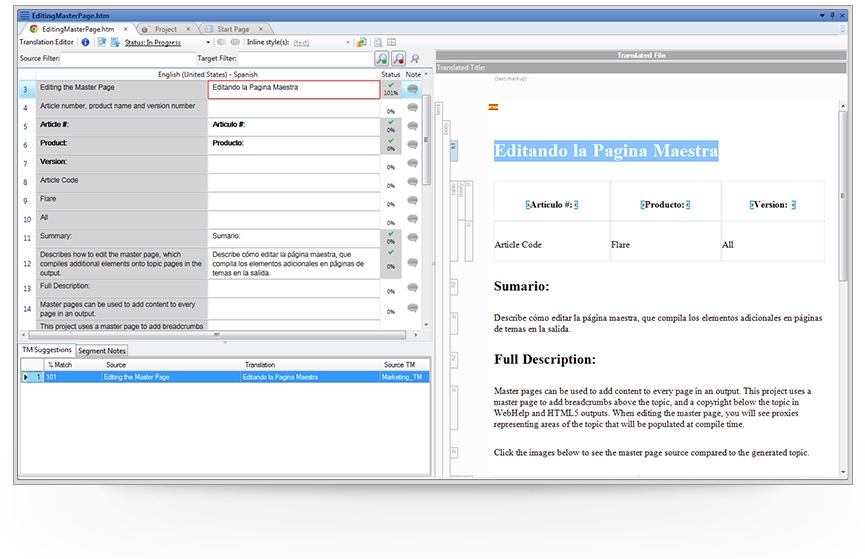 Robust File Support
MadCap Lingo is fully-integrated with MadCap Flare, MadCap Doc-To-Help, MadCap Contributor, Mimic and Capture, and supports the following file formats:
Adobe® FrameMaker® (FM, MIF, and BOOK) and InDesign® (IDML)
DITA files (DITA, DITAMAP, XML)
Doc-To-Help files (D2H)
HTM and HTML documents
Microsoft® .NET Resource files (RESX)
Microsoft® Excel®, PowerPoint® and Word files
Properties files (.properties)
Rich text files (RTF)
SDL Trados® files (SDLXLIFF and TTX)
SQL files
TXT files
Wordfast files (TXML)
XLIFF files (XLF)
XML files

Terminology Management
Increase translation quality using a searchable database that stores terms and rules regarding their usage. View terminology details for multiple languages, including:
Product specific terminology
Gender or description
Usage
And more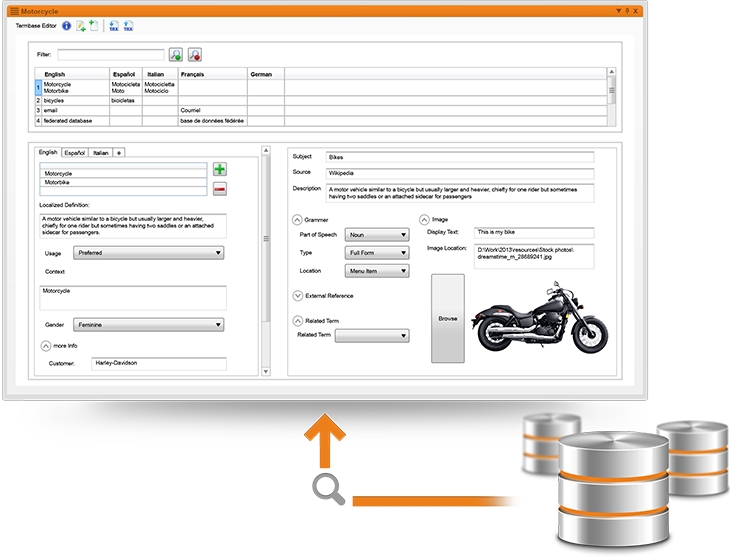 Find and Fix Errors with Quality Assurance Reports
Find errors such as formatting inaccuracies, repeated segments, or termbase errors.
Report on discrepancies between source and target segments
No more guessing where validation or tag issues exist
Validate spacing, punctuation and terminology usage
Identify translation inconsistencies and duplicate segments
Identify areas of text expansion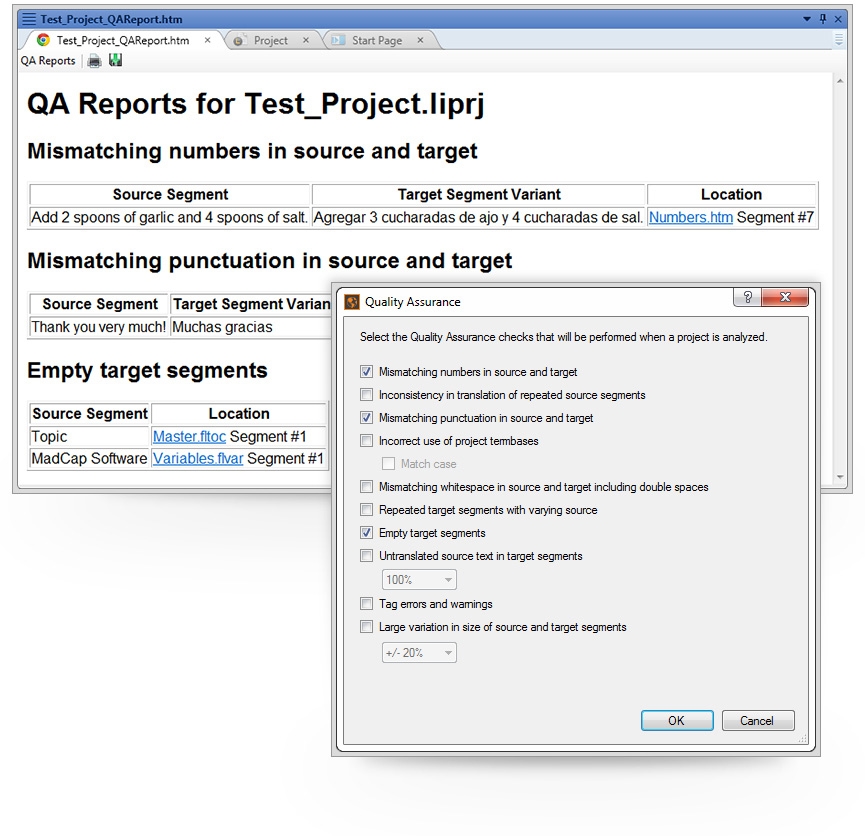 Advanced Side-by-side Translation Editor
Utilize side-by-side editing and use suggestions from a translation memory (TM) database.
Customizable interface to include side-by-side, above/below translation editor
Built-in live preview makes it easier than ever to identify formatting or structure change based on translated content
Project and segment level metadata exports in the new MadCap Lingo bundle format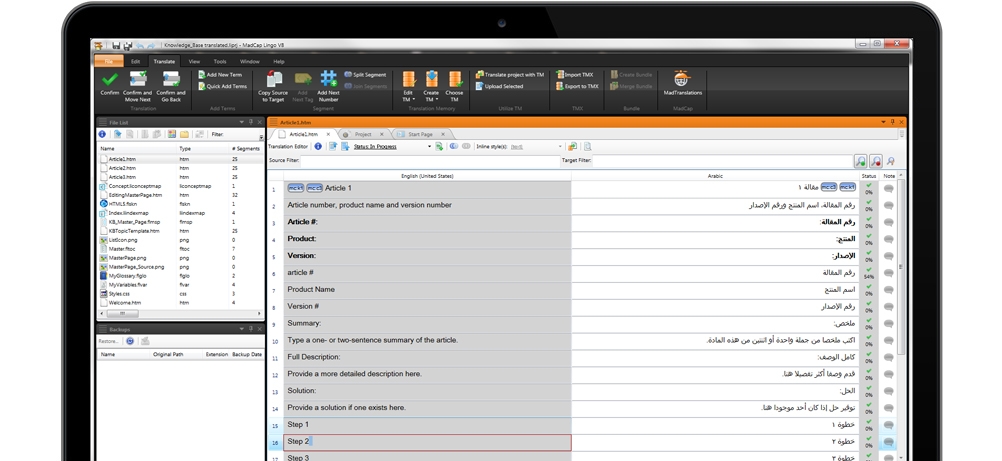 Support for Multiple Translation Memory Connections
MadCap Lingo lets you select multiple Translation Memory databases in a single project.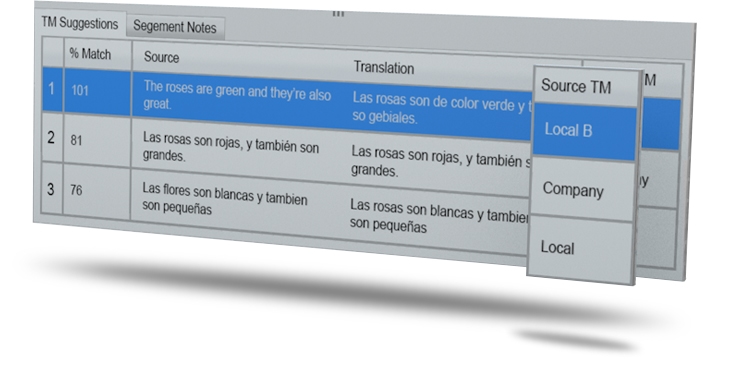 Concordance Search
Search across entire Translation Memory databases to easily find previously translated content.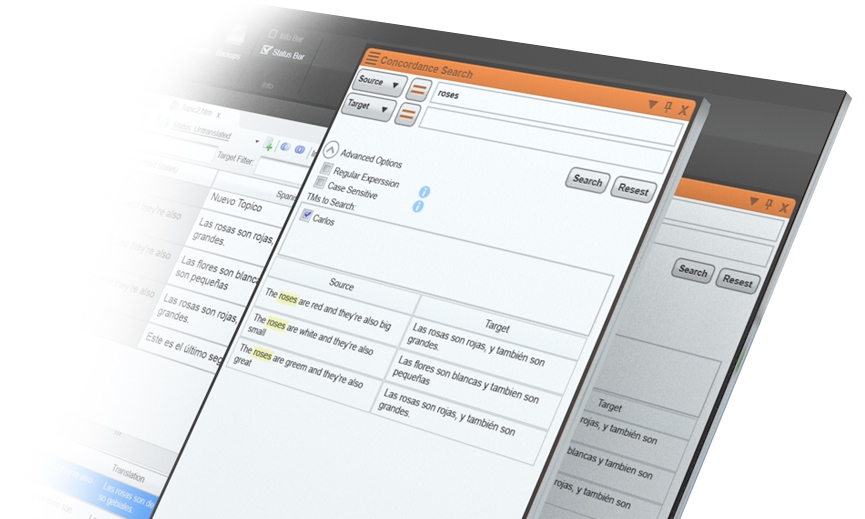 Segmentation Rules Editor
Split and join segments automatically using segmentation rules, or split and join content manually.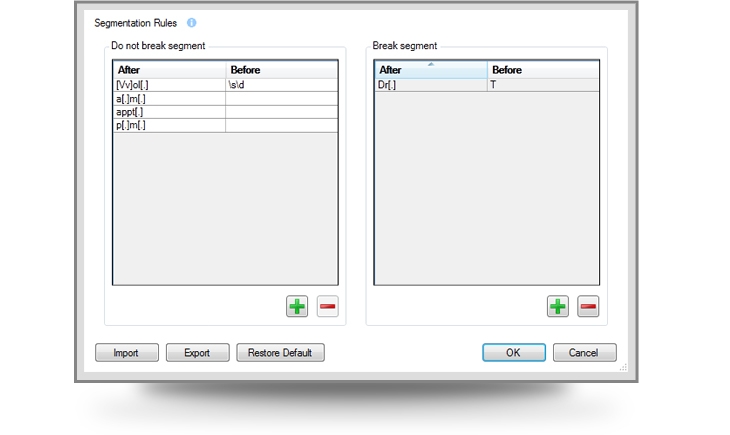 Support for 101% Matches
Take context into account with 101% matches. In addition to exact and fuzzy matches, MadCap Lingo supports 101% context matches in TM, providing an exact match to previously translated content.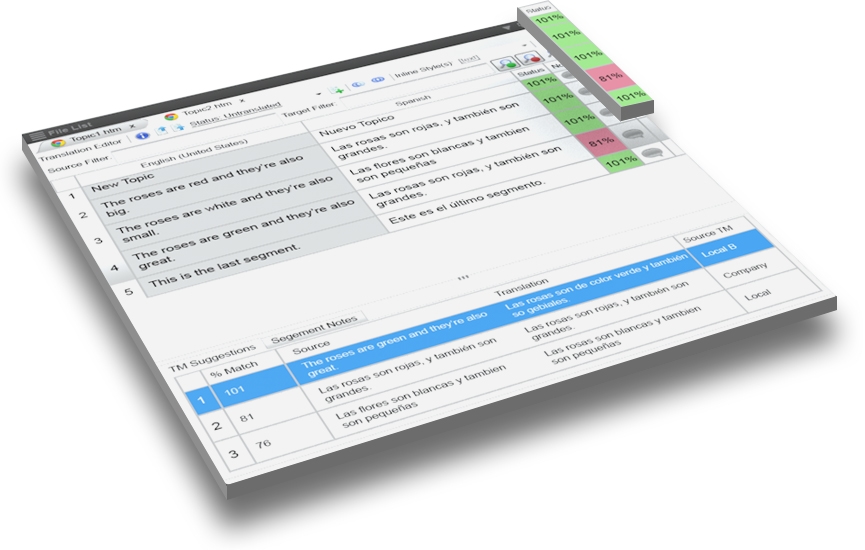 Translation Statistics including Segments, Words, Number of Duplicates and More
Get statistical reports for word count, translated content, content requiring translation and more for individual files or selected groups of files, in addition to an entire project.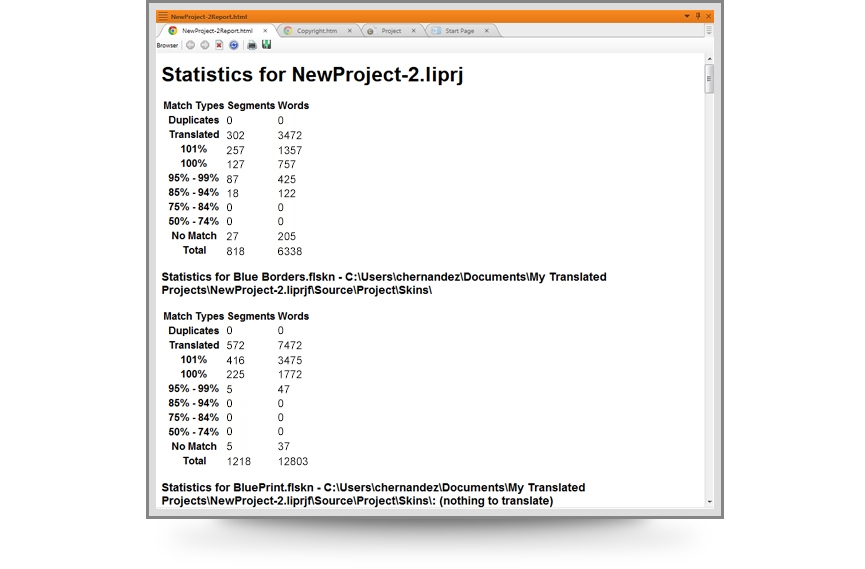 Translation Memory Suggestions
Take advantage of previously translated content and get suggestions while working in the editor.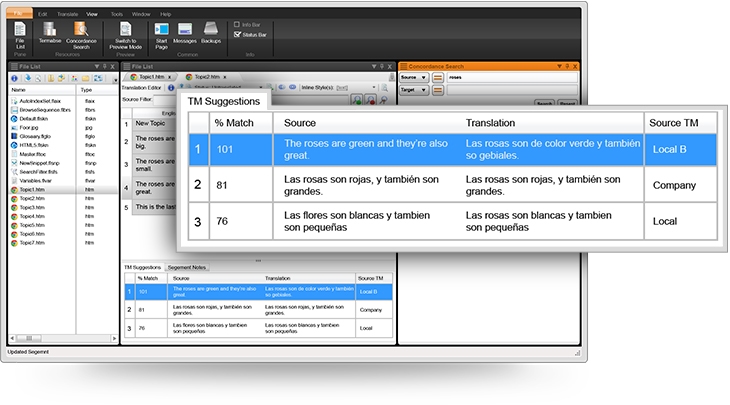 Termbases
Termbases ensure consistency across the terminology in your project. Create, manage, and reuse multilingual terminology from a single storage area and reduce the time and effort required to translate new documents.
Integrated concept-oriented terminology database
Metadata for terms shows part of speech, gender, usage, customer, geographical usage and more
Create, manage and reuse terminology from a single storage area
Improve the reliability of translations with MadCap Lingo automatically suggesting previously used terms during translation
Leverage previously translated terms with import and export of TBX-Basic (Termbase eXchange) files
Ranked termbases support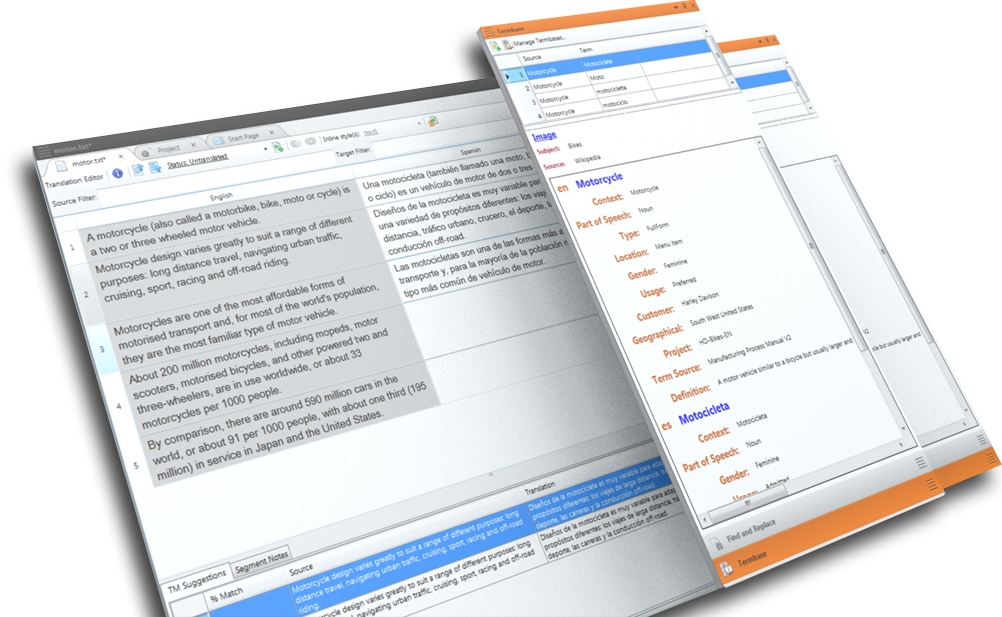 Align Utility
Translators can create an alignment project and manually align files and segments as needed. The MadCap Align tool provides two benefits:
A more intuitive workflow with a clear separation between the translation and alignment processes.
Greater flexibility, since translators can continue to work within MadCap Align even when the MadCap Lingo software is closed.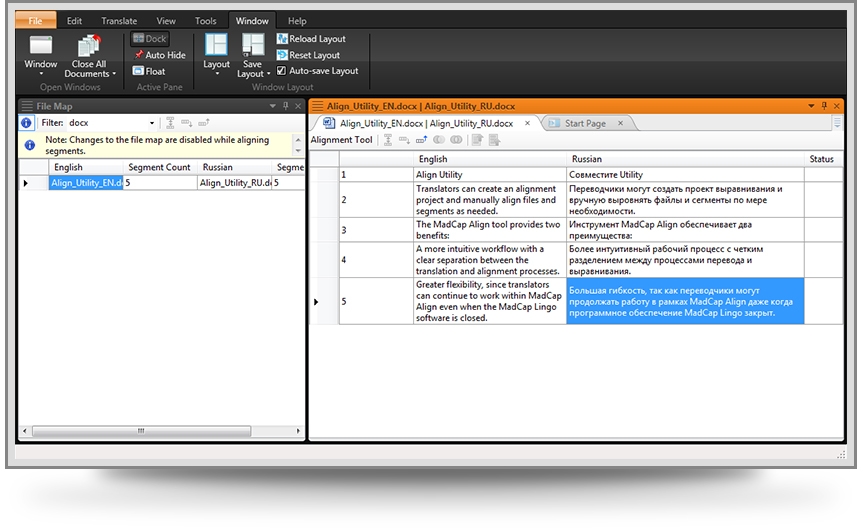 MadCap Lingo and Flare let us flawlessly run our translations—ensuring that whatever formatting we have applied will come out exactly the same way in all other languages."
—Angela Richer | Manager of Documentation and Localization, Autotask
Ready to Get Started?
Our 30-Day Trials are Free and Fully Functional.