Cutting-edge technical authoring and publishing for today's technical writers and content developers.
Powerful Single Source Solution
Single-sourcing—the method of producing multiple outputs from a single source file or project–allows you to enjoy greater consistency and accuracy of your content development. Using the "write once, publish anywhere" paradigm, you can cut project time, increase productivity, reduce localization costs and streamline content delivery.
MadCap Flare allows you to take advantage of single-sourcing in many different ways, including the single-sourcing of text segments (snippets) and images.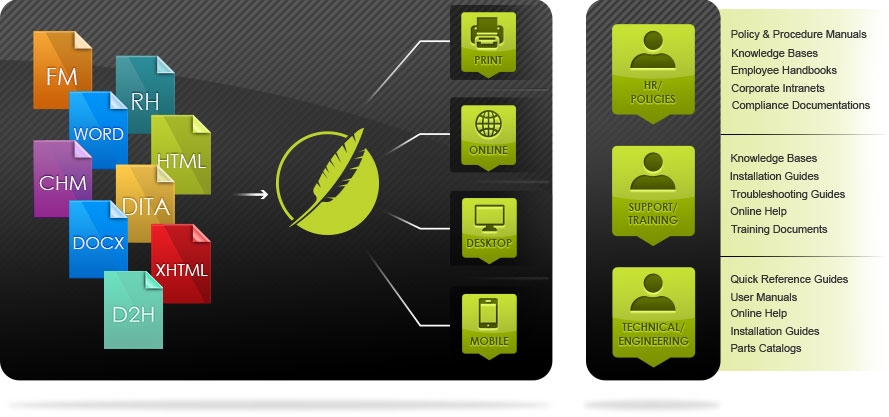 Leverage Existing Content:
Flare makes it easy to import a wide range of file types into your new XML-based authoring environment. Migrate legacy content with easy import of Adobe® RoboHelp® and FrameMaker®, Microsoft® Word, XHTML, HTM, CHM, DITA and many more.

Global Project Linking:
You can import content and project files contained in another Flare project, thus allowing you to maintain the information in one location but reuse it in any other project.

Flare allows you to generate outputs in a variety of online and print-based formats, creating as many different targets as you want from the same project.

Single-source Images:
MadCap Capture, the screen capture and graphics editing application, contains many unique features that are especially useful for online documentation authors, including the ability to single-source images in Flare projects. For a single image, you can provide one group of settings for online output, and another group of settings for printed output.

Table Print Styles:
A table style sheet allows you to single-source your formatting by setting the properties in one place and reusing them wherever you insert tables in your project. But what if you want the tables in online output to look one way and the tables in your printed output to look another way? One solution is to insert two different tables (one for online output and another for print) throughout your project and then use condition tags on them. A better solution is to insert a single table at each location, using a special version of the table style for print-based output.

Mediums for Topic Styles
Let's say you want one style setting (e.g., underline font) to be used for online output and another setting (e.g., do not underline font) to be used for printed output. You can use a medium in your style sheet to create different settings for the same style. When you apply a particular medium to a target, it will be used for that output.

Variables:
Variables are pre-set terms that you can use in your project over and over. They are stored in "variable sets", which can hold multiple variables. Flare provides you with an initial variable set, but you can add as many additional variable sets as you like. Variables are used for brief, non-formatted pieces of content (such as the name of your company's product or your company's phone number).

Stylesheets:
Cascading style sheets (CSS files) can be used to control the look of your output. Style sheets can be applied to individual topics, or you can use a "master" style sheet, applying it to all files at the target level or project level.

Snippets:
Snippets are pre-set chunks of content that you can use in your project over and over. Snippets are used for longer pieces of content that you can format just as you would any other content in a topic. Insert tables, pictures, and whatever else can be included in a normal topic.

Snippet Conditions:
Snippet conditions are condition tags that you can apply to content within snippets. Separate certain snippet content so that it displays in some topics or master pages but not in others. Whereas regular conditions are included or excluded at the target level, snippet conditions are included or excluded at the topic or master page level.
Ready to Get Started?
Our 30-Day Trials are Free and Fully Functional.