Cutting-edge technical authoring and publishing for today's technical writers and content developers.
MadCap Flare 2020 vs. DITA
Our detailed guide breaks down the key differences between MadCap Flare and the Darwin Information Technology Architecture (DITA) framework. Take a look at the comparison chart, as well as examples and additional resources on how to create modern online help and documentation with Flare.
This comparison has been prepared by MadCap Software. The statements and feature comparisons expressed in this document are based solely on MadCap Software's evaluation and understanding of the DITA framework, reviews from customers and other information publicly available.
"We evaluated different solutions to support our transition to topic-based authoring, including a DITA-based system and a database-based Content Management System. We settled on Flare where the open text file paradigm gives us maximum flexibility and the best support for cost-efficient future growth. By comparison, we've found the DITA-based system too rigid and the CMS too expensive."
KAI WEBER
Lead Technical Writer | SimCorp
Read The Success Story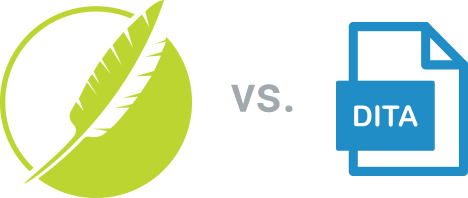 General
MadCap Flare
Dita
Import/Leverage Existing Content

Native import of Microsoft® Word, Adobe® RoboHelp®, Adobe® FrameMaker®, MadCap Doc-To-Help files, Author-it® projects, DITA, XHTML, HTML, CHM, and many more.

Costly and lengthy conversion process, often multiple tools and programming knowledge required to import legacy content.

Stand Alone Authoring Solution

A complete solution – import content, edit, author and publish to multiple output types and formats from one tool.

DITA is not a software application or tool, rather a technology invented and distributed by IBM. There are various tools designed to support the technology that is DITA, but that leaves the company using it to try and piece together an entire tool chain. An authoring tool/editor; A style sheet creator; A "processing" engine to run the transforms. Programmers on staff or hired as contractors to create the transforms, etc. Difficult to get technical support with various vendors and consultants.

Topic-based Authoring and Ease of Use

Easy to use visual editor that allows an author to see, or not see as much XML as needed.

Patented XML structure bars to give authors a view of the underlying XML structure, without complicating authoring environment with distracting XML tags.

Built-in separation of content and structure, with the ability to preview content with Built-in transforms applied.

Templates can be easily created so authors can get up and running quickly.

Restrictive topic types only out of the box, but DITA does support "specialization" which allows for custom topic types. However not all DITA tools support specialization.

Complex authoring environment populated with many distracting XML tags.

DITA framework not optimized for presentation of content without complex transforms.

Scalability for Any Size Organization

Scalable and affordable for any sized team, from single authors, SMB, to F100 organizations.

Flexible licensing options.

DITA supports variables only in topics.Can be cost prohibitive for small to medium sized teams, and even some large teams.

Costly to maintain including training, ongoing consulting required for template redesign. Additional tooling required for complete end to end authoring and publishing.

Responsive Content Authoring

Core feature of Flare – ability to use Built-in responsive layouts for web, tablet, mobile, and flexibility to create new ones. Content can be laid out and previewed in any medium while authoring.

No such support – custom development.

Advanced Content Reuse

Snippet conditions to separate snippet content in multiple instances of a snippet within a topic.

Variables supported not only in topics, but in TOC files, Page Layouts, cross references, hyperlinks, and more.

DITA supports variables only in topics.

Integration with Non-DITA Systems

Flare supports the publishing of combined content sets. Content from Word documents, HTML pages, DITA topics and FrameMaker® files can all be combined into a single cohesive deliverable.

All content must be in DITA format.

Multi-Channel Publishing

There are no limitations on the number or variations of the different targets available. Built-in skin and page layout editors allow for easy template customizations and corporate branding.

Extensive XML transform programming knowledge required to customize source into branded outputs.

Cost of Entry

$1,799 per license, with multiple license types to fit organization needs.

Live instructor-led training classes start at $599 per student.

Consulting and translation services available on a project or long-term basis.

Average starting investment for a small team is $50,000.

Additional costs for training and support (consultants).

Ongoing costs for customizations.

Implementation Time and Return on Investment

Average implementation is less than 30 days.

ROI can be realized in 4-6 weeks or less. ROI case studies can be found here.

Training and consulting available, but not required.

Average implementation time is 12-24 months.

Lengthy legacy content migration process.

Custom training and consulting often required for authors to benefit from transition efforts.

Custom programming and transforms required for customized outputs.

Average Release Cycle and Updates

Agile release cycle provides major multiple updates each year.

New specifications and features are slow to evolve.

Average update to specification is every five years.

Avaloq, a Leader in Integrated Banking Solutions, Replaces CCMS Schema ST4 and DITA with MadCap Flare to Produce Modern HTML5-Based Online Help
"We knew Flare would give usability, flexibility, and control back to our writers. We also liked that Flare gave us the functionality we needed at a fraction of the annual charge we were paying for our legacy CMS."

Jeremy White
Head of Technical Communication | Avaloq
Read The Success Story
CM Labs Simulations, Leading Provider of Simulation-Based Solutions, Replaces DITA-Based Software with MadCap Flare to Deliver Modern HTML5-Based Online Help
"Our writers were amazed by how quick it was to make a build of the Help with Flare. It used to take us more than 15 minutes per build using the old DITA style. Now it takes just 2 minutes."
Vrej Hezaran
Technical Writer | CM Labs Simulations
Read The Success Story
Why We Jumped From DITA and Doxygen to MadCap Flare
In this blog post, Vrej Hezaran of CM Labs outlined the steps taken to update the documentation process, both in the tools they use and in the review process. This post will explain some of the reasons why the switch from DITA/Doxygen to MadCap Flare was necessary.
READ ARTICLE
dunnhumby wins UK TC Award by Modernizing User Assistance with MadCap Flare
In this Communicator article, Rachel Johnston shares how the decision to use MadCap Flare instead of DITA saved them around £100,000 per year on design work, migration, localization, and content management.
READ ARTICLE
Presentation: MadCap Flare vs DITA, MadWorld 2017
In this presentation, learn how our harrowing 11th hour selection of MadCap Flare over the Darwin Information Typing Architecture (DITA) saved our company well over $100,000 a year. But even better, it helped us to ramp up very quickly and get the entire team using a consistent methodology that improved our content, our agility as a team, and our customer experience. Using MadCap Flare paired with source control enabled us to establish a mock content management system that provided most of what we would get by paying for a DITA CMS, but with fewer limitations and more room for creativity. Learn about the benefits we've experienced, as well as how we integrated the best aspects of DITA into our content development methodology.
"During the evaluation process, we found that a DITA solution – from consulting to special software development to DITA conversion – would be complex and expensive. In contrast, MadCap Flare had a low barrier to entry and an intuitive built-in user interface. With Flare, our cost savings alone are over 100k a year, compared to professional services in implementing DITA."
Jayna Locke
MadWorld 2017 Speaker
Ready to Get Started? Upgrade Your Content Development Workflow with MadCap Flare.
Contact us today to schedule a demo or learn more about upgrade options.