Cutting-edge technical authoring and publishing for today's technical writers and content developers.
MadCap Flare is a powerful software application used to create, manage and publish technical, medical and policy documentation. Key features include its patented XML editor, multi-channel publishing, single-sourcing and integrated cloud-based editing, publishing, project and content management.
Patented XML Editor
The XML Editor is the primary editor in Flare. Author content using the built-in "What-You-See-Is-What-You-Get" (WYSIWYG) XML Editor, with print, web, tablet and mobile layout modes. Additionally, the patented Structure Bar technology allows you to easily manipulate and see a visual representation of your content structure without having to view the underlying XML.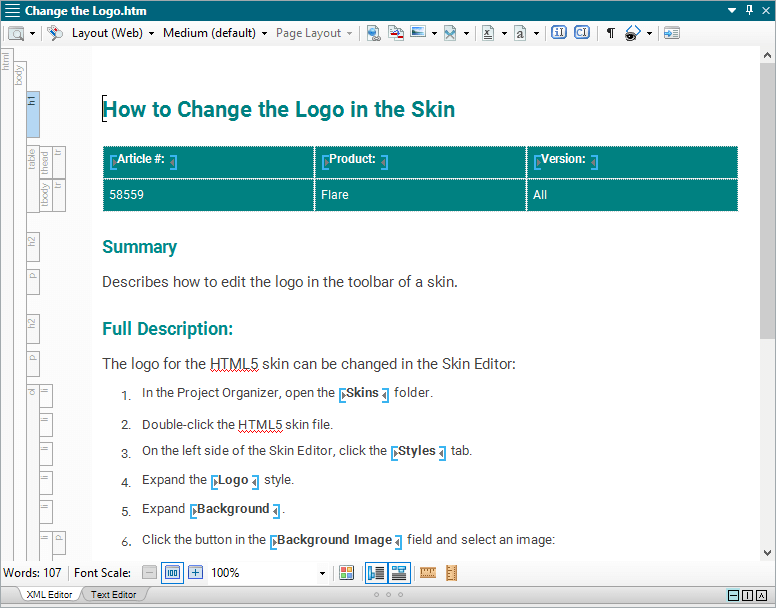 Additional Editors available in Flare include the Internal Text Editor, Stylesheet Editor, TOC Editor, Skin Editor, Page Layout Editor.
Advanced Single-source XML Authoring
Advanced single-source authoring features include topic-based authoring, conditions, snippets, variables, multiple tables of contents, and more.
Topic-based authoring
Save time by using advanced topic-based authoring features to maximize content reuse and publish to multiple deliverables and outputs.
Conditions
A condition can be applied to different areas of your content so that some sections show up in some of your outputs but not in others.
Snippets
A snippet can contain text, tables, images or anything else in a normal topic and acts like a miniature topic or a topic within a topic.
Variables
A variable is a brief, non-formatted piece of content, usually used for text such as company name, version numbers or dates.
Images and videos
Single-source images using MadCap Capture and MadCap Mimic, integrated multimedia applications that are included with Flare.