Cutting-edge technical authoring and publishing for today's technical writers and content developers.
MadCap Connect for Salesforce®
With MadCap Connect for Salesforce, you can publish MadCap Flare content directly to Salesforce Knowledge with just a few clicks.
"The Salesforce integration in Flare is outstanding. It's easy to configure and publishing content direct to Salesforce is seamless."
Tim Klimasewski
Director of Global Marketing Services | Spectracom
See What You Can Do with MadCap Connect for Salesforce
Publish content directly into Salesforce Knowledge
With MadCap Connect for Salesforce, authors can now take the content in Flare and publish directly to Salesforce Knowledge. In MadCap Flare 2017 r2, we've extended the capabilities of the publishing destination feature, giving you the option to publish Clean XHTML outputs directly to Salesforce Knowledge as Articles.
Reduce time spent on authoring
For authors looking to add their content to Salesforce Knowledge, the lack of a robust single-source, multi-channel authoring platform in Salesforce makes it challenging to create or import structured content. With MadCap Connect for Salesforce, authors can save hours of work manually copying and pasting content from Flare into Salesforce.
Control the look and feel of content
No need to manually reformat content in Salesforce every time a change is made. Update your content from Flare and let the plugin do the work of importing and maintaining your style for you.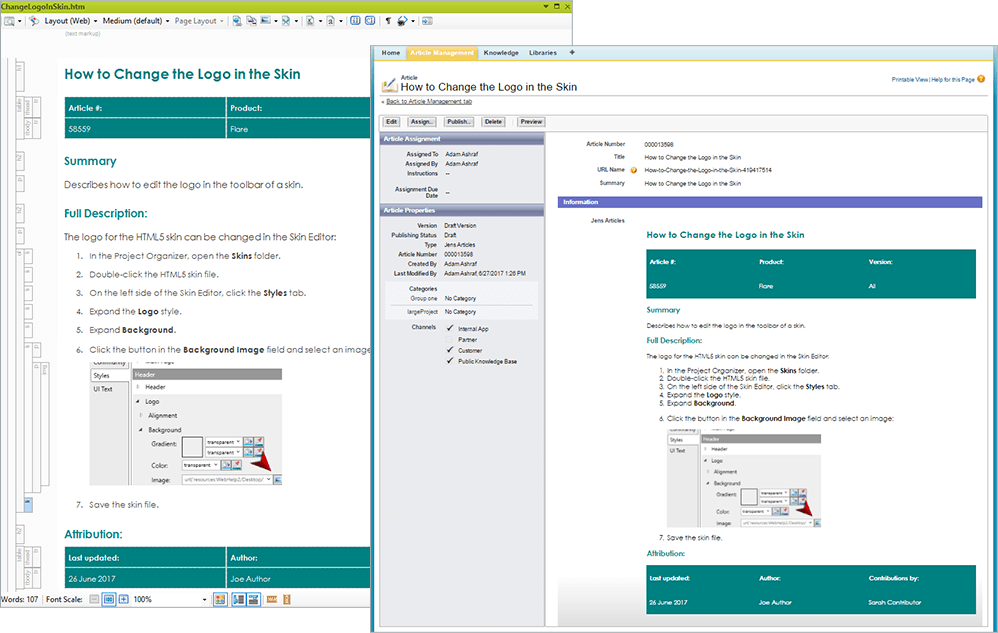 How to Publish MadCap Flare Content Directly to Salesforce Knowledge
Learn how to setup your MadCap Connect for Salesforce plugin with this helpful step-by-step guide from our Director of Product Evangelism.
Pricing Information
MadCap Connect for Salesforce plugin
Publish content directly to Salesforce using the MadCap Connect for Salesforce plugin.
Pricing is on a subscription basis for $1,499 per user, per year. Only users publishing content directly to Salesforce require the plugin.
Purchase the MadCap Authoring and Management System (AMS)
View Pricing
Ready to Get Started?
Our 30-Day Trials are Free and Fully Functional.