Secure cloud-based authoring, collaboration, workflow and project management for technical writers and documentation teams. Login to MadCap Central
Content and project management just got easier. MadCap Central is the only cloud-based solution that allows your team to easily track and manage tasks, organize workflows, schedule and automate processes, host and publish content, and extend your authoring capabilities with integrated subject matter expert (SME) contribution and review.
Easily Manage, Host and Publish Your Documentation in the Cloud with MadCap Central
MadCap Central provides a secure cloud-based content and project management environment integrated with powerful desktop-based authoring and publishing.

A Modern UI Makes Organizing Your Cloud-based Content Easy and Personalized
MadCap Central's user interface makes it easy to organize your content, projects, teams and users. A customizable dashboard makes working personalized and efficient.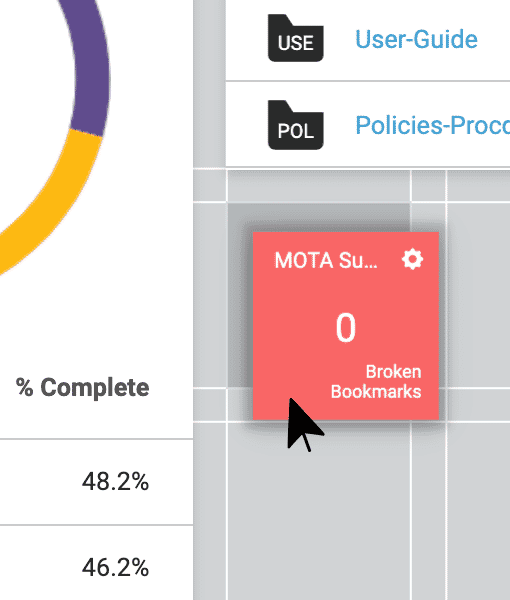 Customizable Dashboard
Widgets for quick and easy access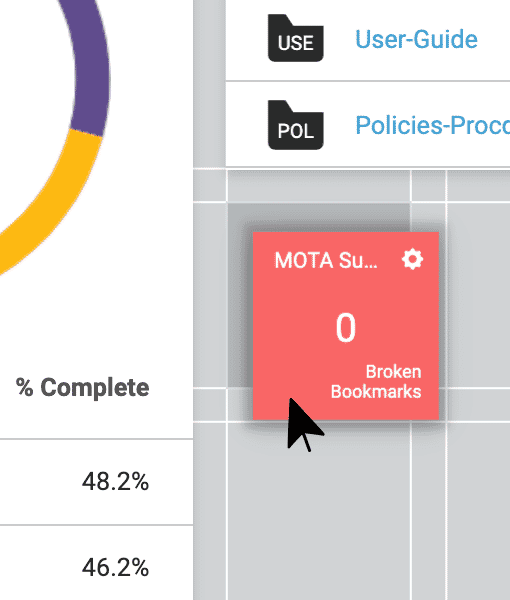 Projects
Manage all of your projects in one place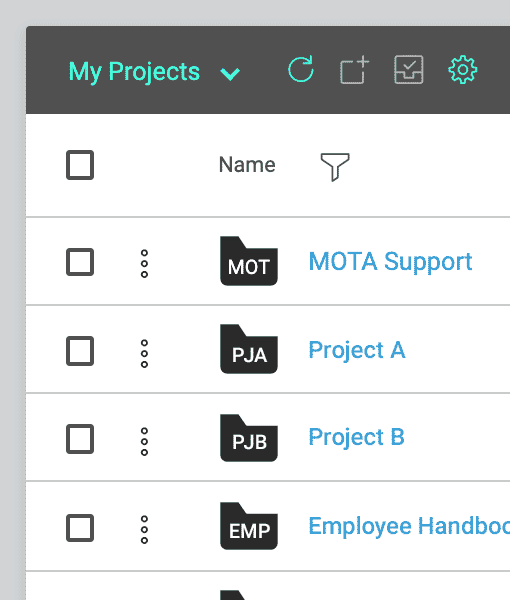 Tasks
Organize your tasks and project checklists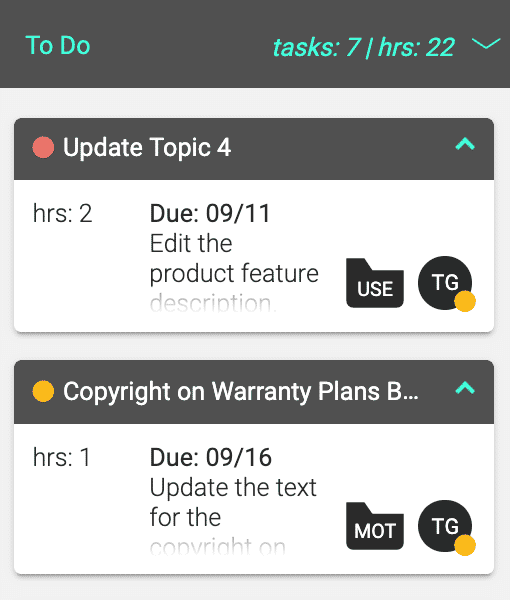 Teams and Users
Quickly add users and manage your teams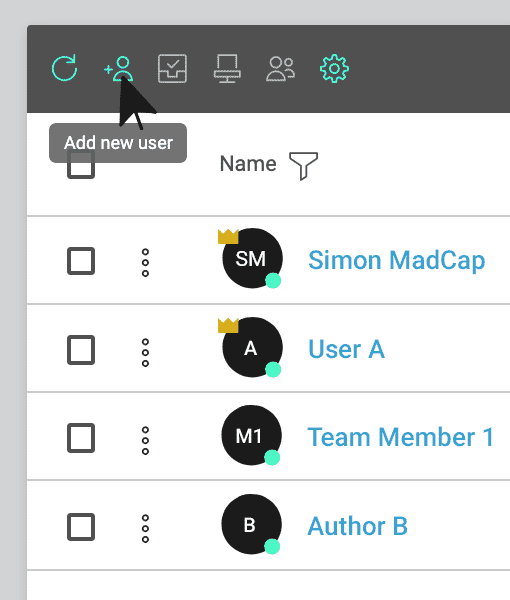 Reviews
Simplified contribution and review for SMEs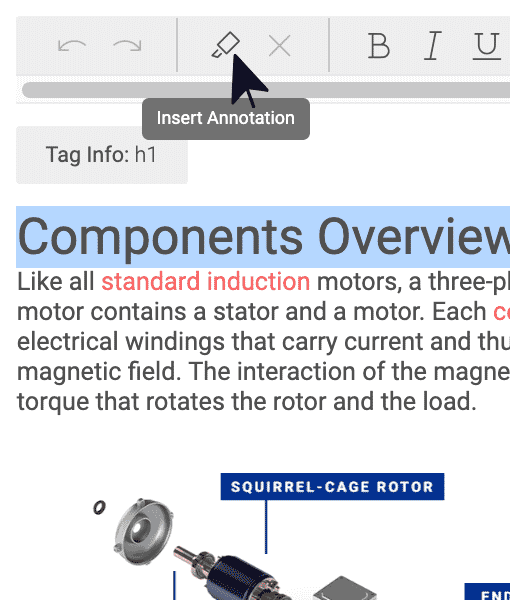 Translation Management
Easy "Send-for-Translation" workflow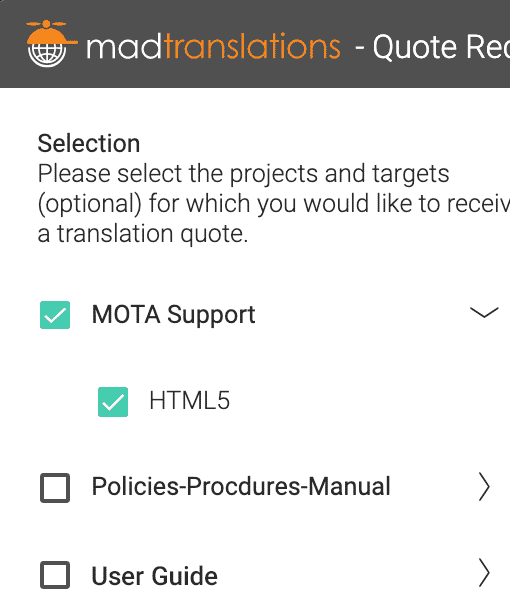 Analytics
View data analytics on your output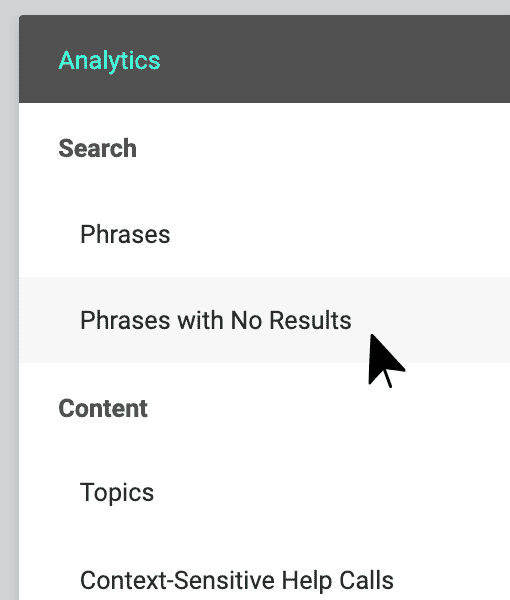 Hosting and Content Management
Easily Manage Your Projects in the Cloud
MadCap Central makes it easy to manage your Flare projects in the cloud. Watch the Getting Started video tutorial to learn more.

One Centralized Location to Host and Manage Your Content
With extensive project and content management capabilities, you can upload projects, import projects from other users, assign users to specific projects, set project statuses, receive notifications for activities and much more.

MadCap Central Allows Users To:

Upload and Host MadCap Flare Projects
Keep track of your MadCap Flare projects, all within MadCap Central. Uploading (or binding) your projects makes it easy to host your outputs directly through MadCap Central. You no longer need to rely on FTP publishing or get your IT department involved to publish live websites. Additionally, when you upload your Flare project, a copy is saved via cloud storage. Users with access to your account can keep local and cloud versions of the project, synchronizing changes with integrated source control.

Import Flare Projects
Need a copy of a Flare project that's been uploaded by another user? With MadCap Central, you can download Flare projects that have been uploaded to the cloud

Assign Users to Projects
Manage your resources and let your team know which projects to work on and prioritize next. Individual users or teams can be assigned to any project, or multiple projects at once.

Set and Manage Status of Projects
Manage the status of the project from beginning to end. When you upload a project, it is automatically set to "Activated". You can set a project to "Archive" if you want to keep a copy of the files in the cloud, but you no longer need the output. You may set a project to "Lock" when you no longer want to make changes, but you need to retain the output.

Monitor Projects with the Project Dashboard
When you open the Projects page in MadCap Central, you have three different ways to view projects:
Project Dashboard: As the default view for a project, the Project Dashboard can be populated with widgets, giving you additional information on the project.
Build Management: This view lets you generate, open and manage outputs from a target.
Repository: Helpful for troubleshooting files, the Repository view lets you see the read-only view of all the files in your project.

Get Notifications on Projects
MadCap Central can alert you when certain activities take place. In user settings, you can select how you receive notifications, either through the Notification Center, via email or Slack.
Get notified on when builds are started, stopped and completed; users are added and removed from a project; teams are edited; comments are left on tasks; projects are deleted; and much more.
No Need for IT Resources or Setting Up Web Servers to Host and Publish Content
Simplify your hosting and reduce IT resource dependencies. Host and publish your content securely online in a matter of clicks.
Manage Multiple Domains, Vanity URLs, Set Site Status to "Live" and More with Easy Site Management
Managing your sites is easy in MadCap Central. Manage any number of domains, set vanity URLs, set the output as Live and/or Private and associate users to sites.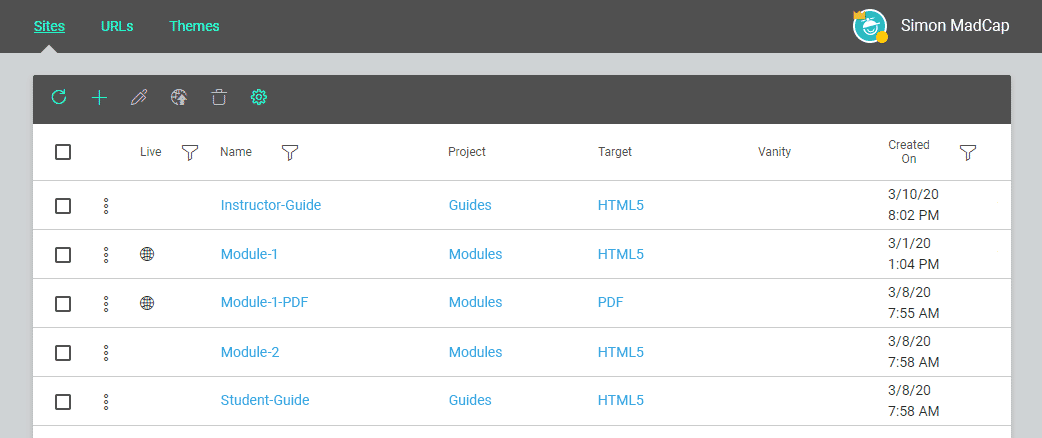 Project, Task, User and Team Management
Customize Your Dashboard and Add Widgets for Important Project Information
Customize your dashboard with widgets – objects that let you see important information at a glance – for quick and easy access to calendars, build history, cloud storage usage, project properties and more.

Manage Your Users, Profiles, Permissions and More in One Location
The Users tab lets you see and manage all of your users associated with your account. Manage profiles, add users, set permissions and more.
Watch the Video


Manage Users From a Single Page
The Users page lets you manage and view all users on a license key. From the Users page, you can view a user's details, status and recent activity.

Easily Invite Users
Users can be invited one at a time or added in bulk. Or if you have multiple users you need to add to a license, they can quickly be added by uploading a CSV file.

Set Custom Permissions for Users
Users can be granted a variety of permissions in MadCap Central. Permissions can be set globally for all projects or separately for individual projects. Decide which users have the ability to create tasks, upload new projects, run and schedule builds, and more.

Assign Users to Teams and Projects
Manage the status of the project from beginning to end. When you upload a project, it is automatically set to "Activated". You can set a project to "Archive" if you want to keep a copy of the files in the cloud, but you no longer need the output. You may set a project to "Lock" when you no longer want to make changes, but you need to retain the output.

Get Notified on Important Changes
Want to get notified when changes are made to a project? Users have the option to receive notifications for certain events, such as completed builds, newly created tasks and checklists, deleted users and more.
Organize and Communicate with Teams to Manage Projects Efficiently
Teams can be used to organize users into specific groups. Associate users with projects and quickly communicate with a specific set of users using the Message Center.
Watch the Video


Manage Teams from a Single Page
With the Teams page in MadCap Central, you have the ability to view all teams at a glance. The easy-to-access dashboard provides a convenient way to associate people with projects and lets you view the users and projects associated with each team.

Create Teams Based on Projects
Teams can be easily created within the MadCap Central dashboard. After the team is created, you can easily view the members and projects that are associated with the team. To connect a team and its members to an uploaded Flare project, simply link the team and the project within the dashboard.

Easily Communicate with Teams
Need to send an important update to an entire team? Save time with the Message Center tool and send messages to multiple people on a team, which makes it easy to communicate and collaborate with others.

Effortlessly Edit and Delete Teams
Team profiles can be easily edited by users with permissions, such as the team name or description. Projects and/or users associated with the team can also be added or removed.
Manage Projects with Project Checklists for Project-specific Workflows and Progress
Eliminate spreadsheets and any other non-integrated project management app by tracking and managing your Flare project workflow with Project Checklists.


Create a Project Files Checklist
Project file checklists are automatically associated to specific files (e.g., topics, snippets, master pages) in your project. Custom columns can be added for any number of specific types of activity you want to track, such as "Subject Matter Expert Review" and "Add to TOC", as well as an optional Note column to include any additional details required for the checklist item.

Create a Custom Checklist
Custom checklists can be created for anything you would like to track and manage, such as a product release "To Do" lists.

Create Checklist Templates
Checklist templates can be accessed across all projects uploaded to MadCap Central.

Track Your Progress
Set the appropriate status on each item as you work, and chart the percentage of completion as you work through your checklist.
Template Manager for Project Checklists
With the new Template Manager for Project Checklists, it is easy to create and save checklist templates that can be accessed across all projects uploaded to your MadCap Central license. This is particularly useful when creating checklists that share the same type, description, columns, rows or notes.

Track and Manage Tasks With Multiple Views
MadCap Central's task management features are an efficient way to manage the workflow of your MadCap Flare projects. Plan, track and visualize what needs to be completed with tasks, all managed within a single, cloud-based platform.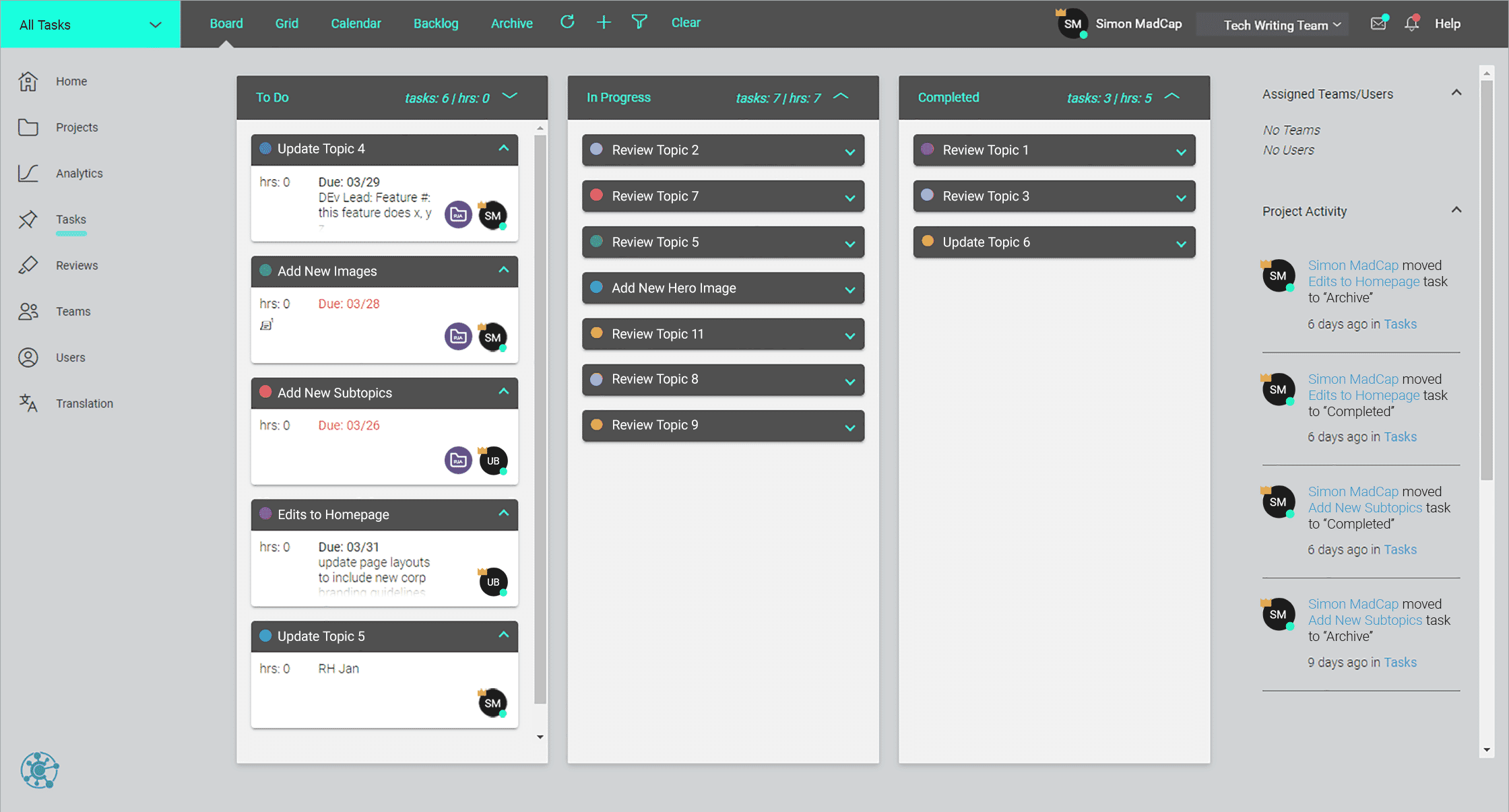 Create and Customize Tasks
Create tasks to help organize and streamline your workload. When you create a task in MadCap Central, you have the ability to configure the task with fields such as description, priority level, due dates, associated Flare project, assigned user and more.

Track Progress with Milestones
Follow tasks from start to finish by moving them along three different milestones: To Do, In Progress and Completed.

Easily Collaborate with Users
Start a discussion with assigned users by adding comments to the specific task. In addition, you can also attach files to a task, making it easier to collaborate with others.

Filter Tasks by Project, Date, User and More
Finding specific tasks is simple with MadCap Central. You can use the search field to locate the task, or use specific filters to sort by project, date, user and priority.

View Upcoming Tasks at a Glance
Manage the workflow of your entire project with the Calendar view, where you can see when tasks begin and end in relation to one another.
Get Notifications via Email, the Notification Center or Slack
Receive MadCap Central notifications via email, the Notification Center or on your Slack channels for specific activity categories such as:

Users: Receive a notification if you have been added to or removed from a project
Builds: Receive a notification if a target from a project is generated (manual, scheduled start or rebuild)
Teams: Receive a notification if a team is added to a project or removed from one
Tasks: Receive a notification if comments or files are added to a task
Projects: Receive a notification if a project's status (i.e., Activated, Locked, Archived) is changed
And many more
CLOUD-BASED CONTRIBUTION & REVIEW
Cloud-based Editor for Streamlined Contribution and Review with MadCap Flare
Allow anyone in your organization to contribute and review Flare content using MadCap Central's cloud-based editor. Subject matter experts, authors and other non-Flare users can easily create and review content using an integrated cloud-based workflow.

Benefits of this Review Workflow Include:

Cloud-based Editor
Subject matter experts do not need to download and install any software to access or edit a file. The contribution and editing workflow is simple, completely integrated and takes place in the cloud.

Concurrent Multi-User Authoring and Review
Multiple people — SMEs, authors and non-Flare users alike — can contribute, make changes and add comments to the same topic or snippet with simultaneous editing.

Easy-to-Use Interface
The lightweight editor offers a streamlined interface, and SMEs only see options and features that are relevant to the contribution and review process.

Team Collaboration
Enhance team collaboration with SMEs (and other authors) by viewing and working with the same Flare content and projects concurrently.
Streamlined "Send-for-Translation" Workflow for Your Projects and Files
You can now easily bundle and send projects and files for which you need a translation estimate directly from MadCap Central. Simply select the project or document you would like to be translated and a quote request will be generated.
Learn more about MadTranslations

Direct Publishing from Flare to MadCap Central
Publish your outputs directly from within MadCap Flare to MadCap Central with ease.

Secure Hosting and Simplified Publishing in the Cloud
MadCap Central leverages the security, power and flexibility of the cloud to mitigate or eliminate many of the technical hurdles faced by both content creators and information technology professionals.

Secure Hosting
Security and privacy is our top priority. All of your content is hosted on Microsoft® Azure to ensure your content and data is safe and secure. All data is hosted in secure SSAE 16 / SOC 2 certified Microsoft® Azure data centers, and data is encrypted both in transfer and at rest, to better protect your information. We focused on selecting a security center that understands the importance of privacy and complies with the highest international and industry-specific compliance standards and uptime guarantees.
Microsoft® Azure regularly undergoes rigorous third-party audits to ensure and verify the highest level of security controls. For more information, visit the Microsoft Trust Center here.
You can download our MadCap Central Security Whitepaper here.

Data Centers and Disaster Recovery
The infrastructure for MadCap Central is hosted by Microsoft® Azure, leveraging secured data centers worldwide. These Azure data centers are ISO27001 certified. For more information, visit the Microsoft Azure global infrastructure site here

Web Server Hosting and Management
Every MadCap Central subscription includes access to our highly scalable cloud-based build server.
Set Websites and Content to Private or Public on the Fly
Set your documentation portals, including access to PDF files, to public or private viewing with just a few clicks.

Host and Publish Secure Private Output with Password Protected User Access
MadCap Central makes it easy to add a layer of security to your published output. Simply set your output to private and require your Authors, SMEs and Viewers to access any privatized output with login credentials.

Automate, Manage and Publish Builds Quickly and Easily
Managing builds in MadCap Central is easy. Schedule builds, set builds to "Live" for easy publishing and view the build log for details such as warnings or errors during builds. Plus, MadCap Central hosts your build output for you, meaning you no longer need to rely on other departments (such as IT) to assist with the publishing process.


Schedule and Automate Builds
Generating outputs for a project can easily be done within MadCap Central. You can either build targets manually, or schedule targets to be generated at a later date.

Fix and Troubleshoot with the Build Log
Anytime you build a target, a build log is automatically created. The build log lets you see detailed information on any warning or errors that may have occurred while building the project.

Set Builds to "Live" or "Keep"
Once your target is successfully generated, you can mark the build as "Live" or "Keep". Setting a build as "Live" means the output can be viewed by the public. Or mark a build as "Keep", in case you need to roll back to a previous version of the output.

Set Vanity URL Paths for Outputs
Vanity URLs consist of your license (i.e., company) name, followed by "mcoutput.com". When a build is set to "Live", the build is hosted by MadCap Central and given a URL path destination, based on your vanity URL (e.g., https://fictionsoft.mcoutput.com/vanity/Default.htm) .

Use Your Custom Domain Name for Published Outputs
Using the CNAME (Canonical Name) alias, you can now easily map your own host domain to your published output from MadCap Central.

Receive Notifications on Builds
Need notifications on when a build has started or stopped? Or when a build is completed or set as "Live"? Get notifications through the Notification Center, or sent directly by email or Slack.
Manage Your Account Settings, Purchase Additional Seats and More
Manage your MadCap Central account settings, such as set up Slack integration, or purchase additional licenses for Authors or Subject Matter Experts, all within the MadCap Central interface.

Scalable for Any Size Organization or Project
A single user or a team of hundreds, MadCap Central was built for scalability. Pricing is simple and adding additional storage is easy.

REAL-TIME ACTIONABLE ANALYTICS ON YOUR OUTPUT
Maximize Customer Self-Help and Improve Content Usefulness by Gaining Valuable Insight Into User Interactivity
Are your end users finding the content they need? How many times did a user search for content that provided no results? Should you create micro content for particular search phrases? All of these critical questions can be answered with data analytics on your Flare-generated content.
Don't "drive blindfolded", take the guessing out of your content quality strategy
Easy set up in just minutes so you can start gathering data analytics immediately
Track usage on any hosted website or desktop output
Content can be hosted anywhere, not just with MadCap Central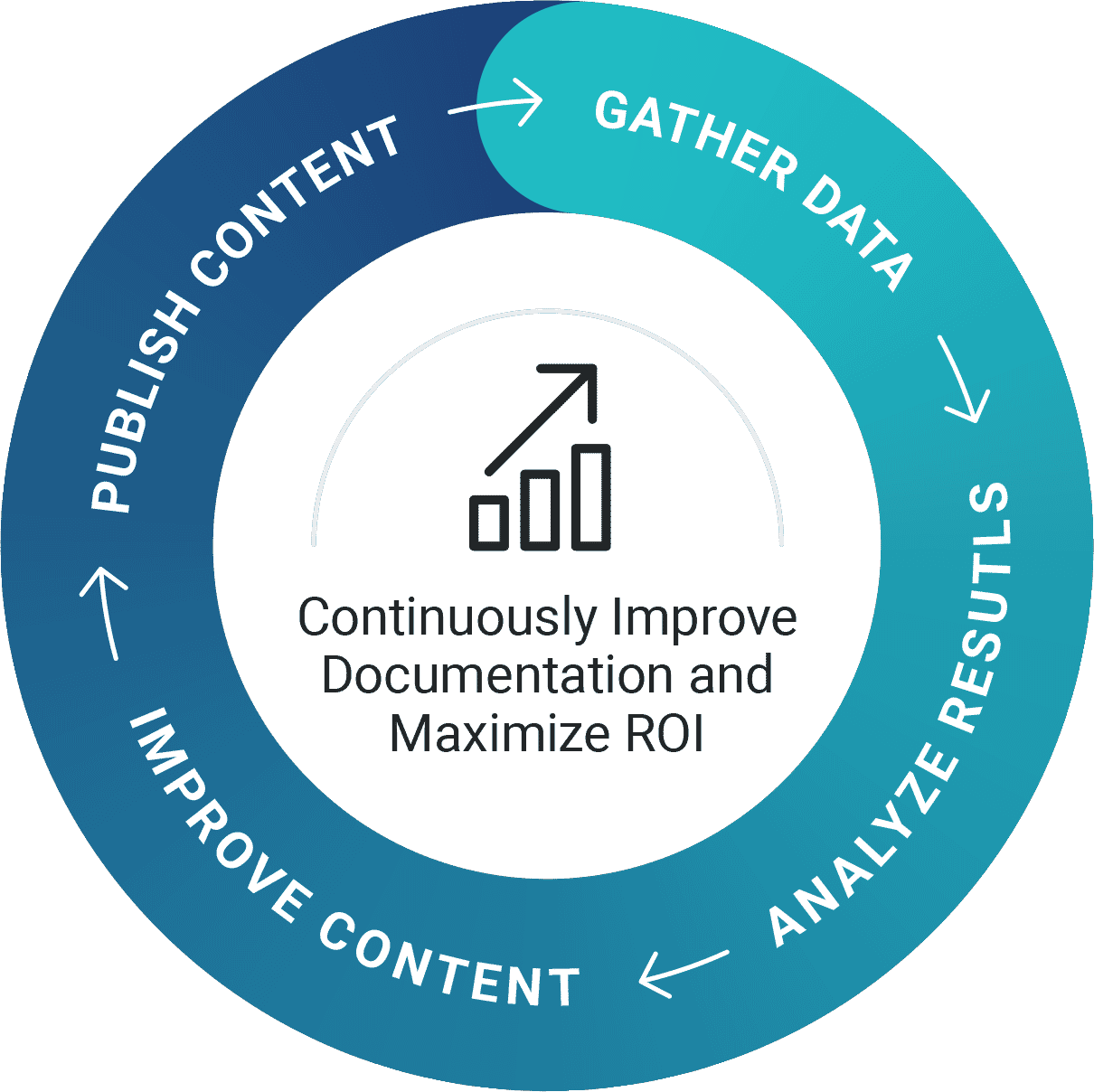 Analytics Reports Available
Search
Search Queries
Search Queries with No Results
Content
Topic Views
Context-Sensitive Help Calls
Demographics
Browser Statistics
Operating System Statistics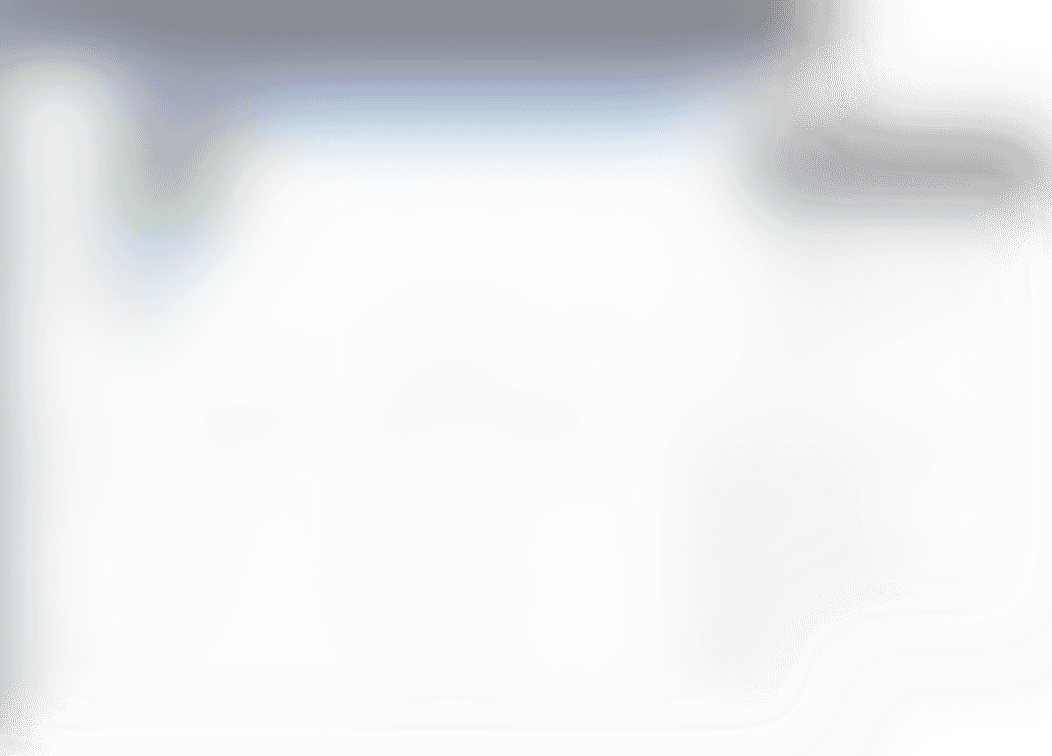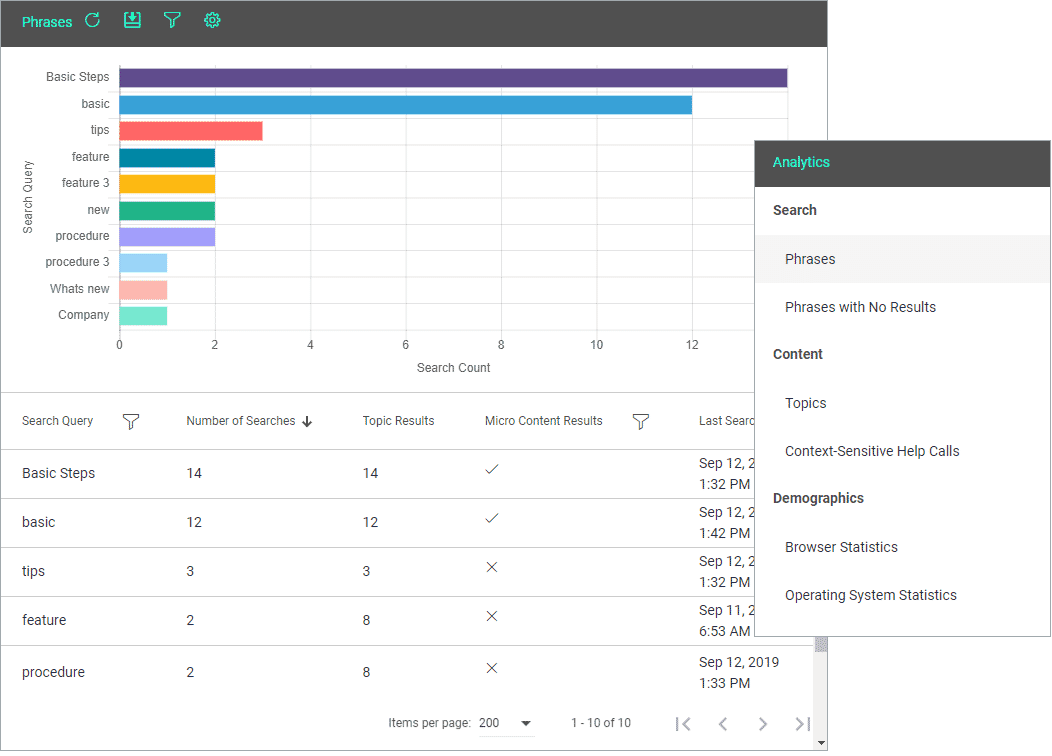 Gather Usage Data On Any Content – Private, Public, Desktop or In-product Help
Unlike most analytics solutions, your Flare-generated content can be hosted anywhere to start gathering valuable insights into user behavior. Content can be accessed when hosted on MadCap Central, on a third-party web server, on your own internal desktop network accessible only to your employees and internal network users, or via your in-product Help documentation.

We use the output analytics feature in MadCap Central and find it easy and convenient. We use the analytics for all of our MadCap Flare projects, regardless of whether they are hosted with MadCap Central or not.
NIGEL LONGLEY | Learning Material Consultant, Construction Industry Solutions Ltd (COINS)
Micro Content and Data Analytics Are Changing the Content Development Game
How can you make sure you are giving your end users the information they need and want the most? By combining micro content from MadCap Flare and data analytics from MadCap Central, you can improve your content quality and ensure your users are finding the most relevant and accurate content they need quickly and easily.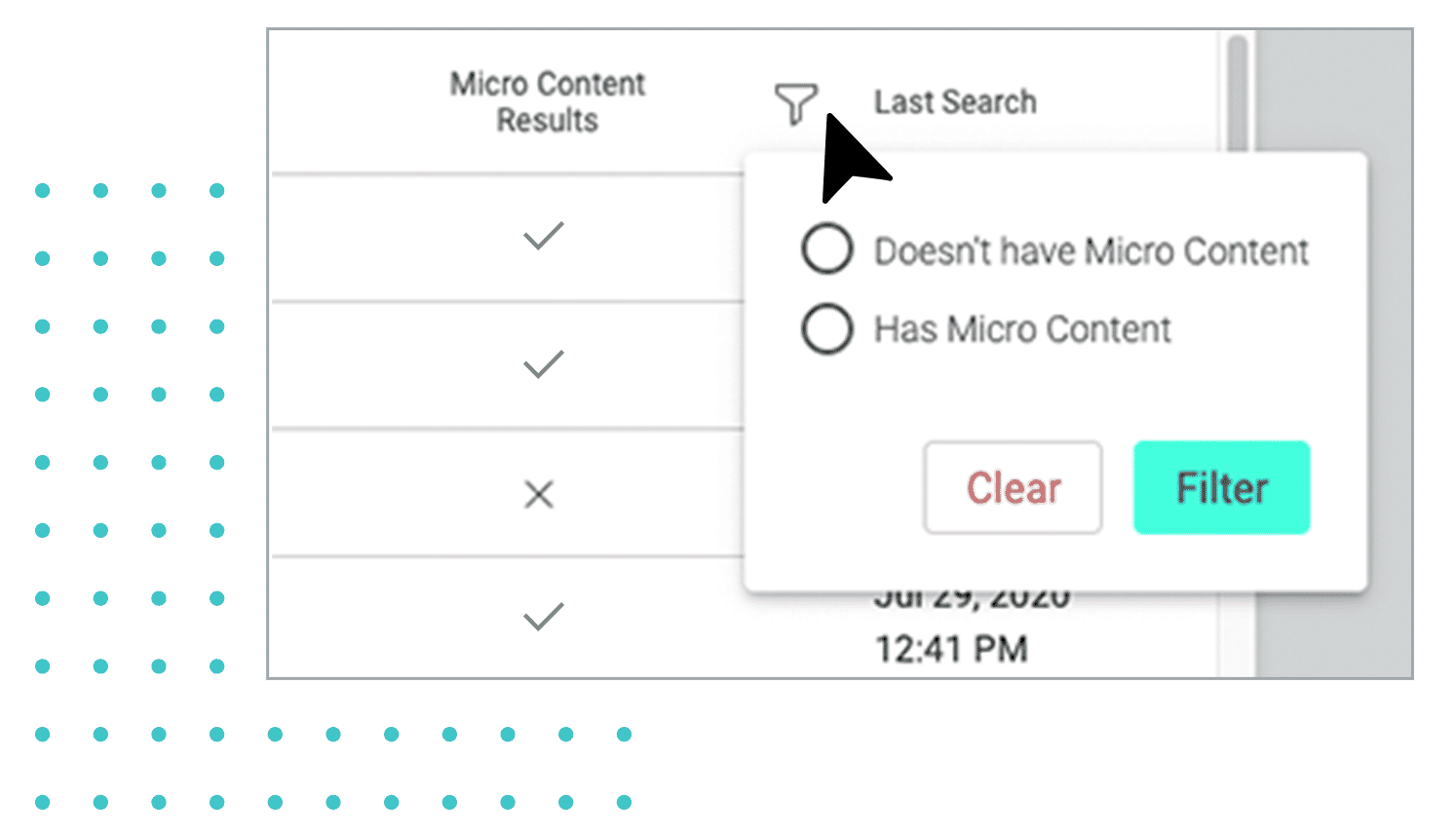 We love the micro content feature in MadCap Flare, and we have created hundreds of specialized micro content pieces in our Learning Center.
Casey Schroeder | Lead Content Strategist, 84.51°
Ready to Get Started?
Our 30-Day Trials are Free and Fully Functional.