Advanced computer-aided translation (CAT) management for technical authors, documentation teams and translators.
New Support for Code Snippets from MadCap Flare 2020
MadCap Flare 2020 introduced a new Code Snippet Editor to easily create and insert code snippets into your documentation in dozens of coding languages, such as JavaScript and CSS. You can now use MadCap Lingo to translate code snippet captions from your Flare projects, as well as view a preview for code snippets in the file preview pane.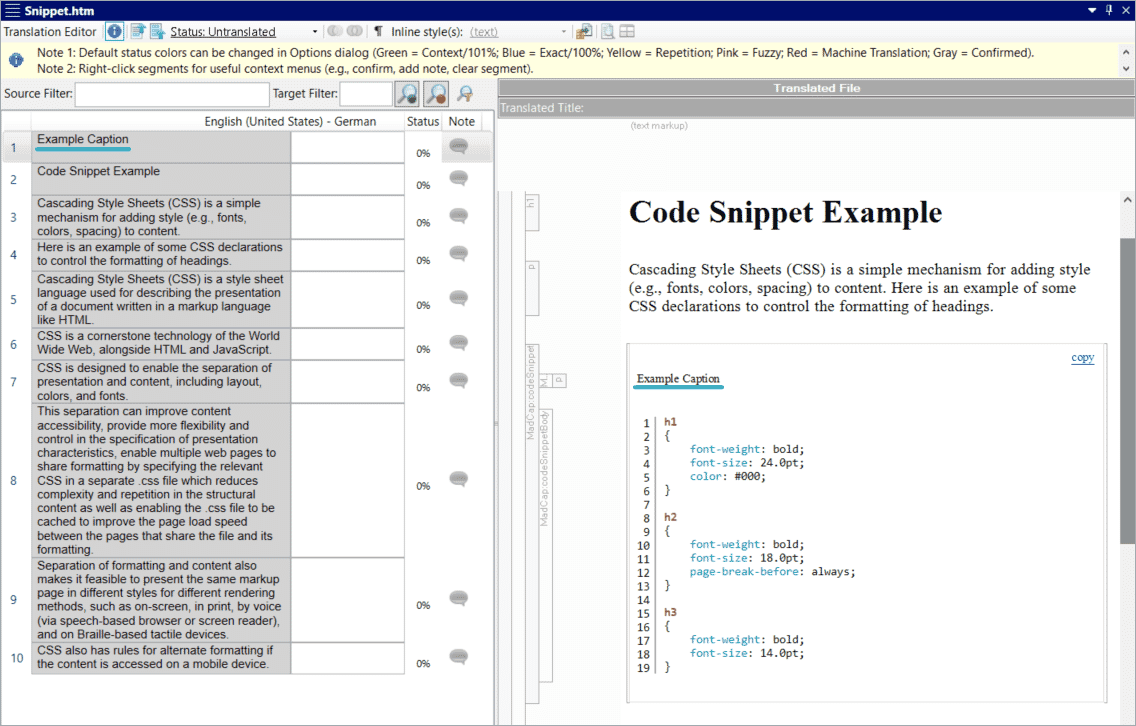 Enhancements to Find and Replace
New enhancements to Find and Replace include the ability to switch views between all results or first result per file, as well as a new column to show any issues that occurred from replace actions.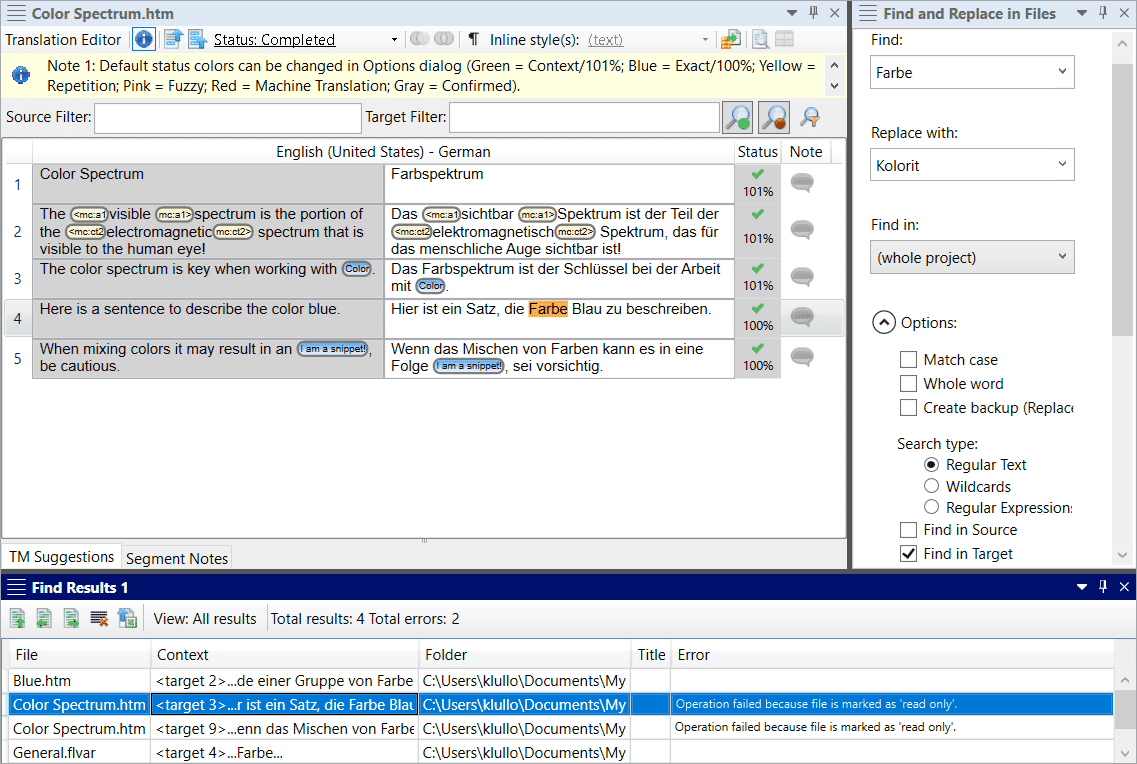 New Git for Windows Integration
Git Support in MadCap Lingo now integrates with Git for Windows to provide improved performance for network related functions such as Pull, Push, Import and Sync.

DeepL Machine Translation Integration
You can now use DeepL, the neural machine translation engine, as your machine translation provider.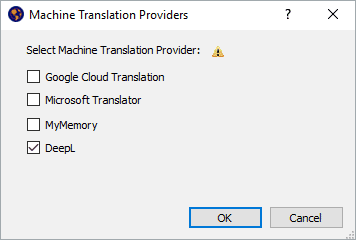 All-New Support for Micro Content Files from MadCap Flare
Micro content files can now be translated in MadCap Lingo. Micro content is short, concise information that stands alone, maximizes and expands re-use of content beyond topic-based authoring, and is easily consumable by machine learning and AI applications.

Source Control Enhancements for Git, including Branch Merging and Revert Commit Support
Using Git source control for your MadCap Lingo projects? You can now merge branches and revert commits you have made in branches.
Export All Languages Enabled for a Single Project
If you have a multilingual project, you can export all of the languages enabled for that project at one time instead of exporting all languages individually. For individual files, you can also append language codes to the exported file names instead of having them exported to separate folders per language.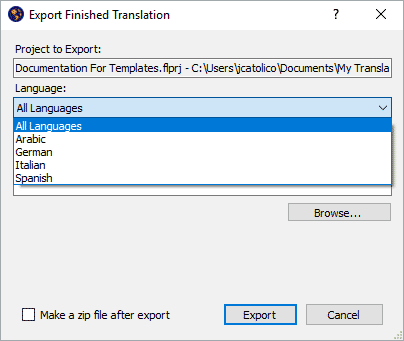 Enhanced Thesaurus Support
You can now look up synonyms for terms in your target segments
through the Thesaurus window pane.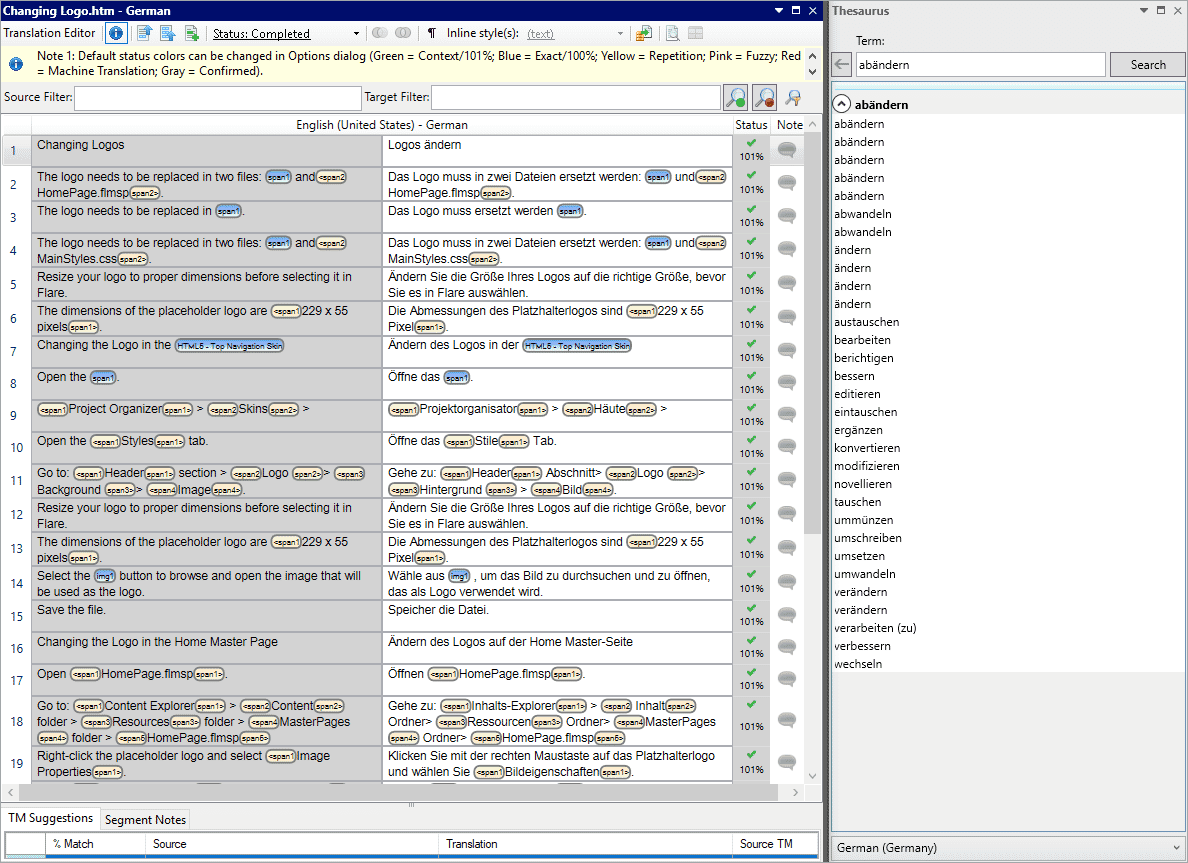 Adobe® FrameMaker® 2019 Support
You can now translate your content from Adobe® FrameMaker® 2019 files in MadCap Lingo.
Language Drop-down
in File List Window
You can now select the language of your project in the File List window, in addition
to the Project Properties.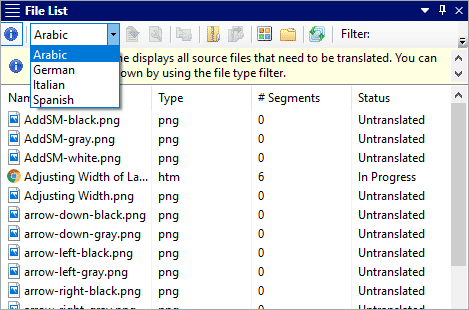 Redesigned Start Page for Easy Access to Recent Projects, Pinned Favorites and More
A redesigned Start Page makes it easy to access your projects, including the ability to pin your favorite or most commonly accessed projects to the top of your list. You can also search and filter from your recent and pinned projects to quickly find projects.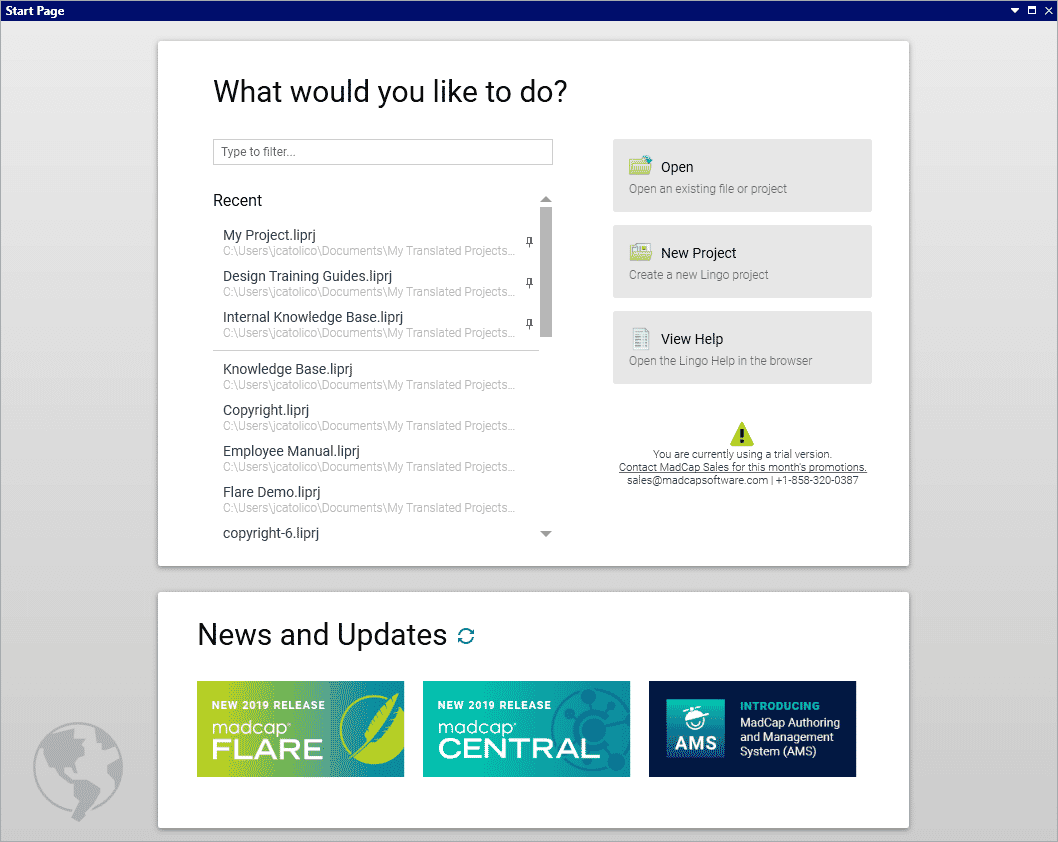 New File Types Support
Added file support now includes
JSON and SVG files for translation.
MadCap Lingo
10.2 Release
New File Support for Adobe® FrameMaker® 2017
Custom Installation Support
Find and Replace Enhancements
Microsoft® Team Foundation Server 2017 and 2018 Support
MadCap Lingo
10.1 Release
Send Multiple Targets for Translation in a Single File
Show or Hide Non-Breaking Hyphens and Spaces
Import Alternate Tag Segments in Translation Memories
MadCap Lingo
10 Release
Project Linking and Sync
Font Mapping
Index Keyword and Glossary Term Sort Orders
Language Skins
Multiple DITA Enhancements, including Content Reference Support, DITA Element Types and Dynamic Attribute Filtering
Dynamic Condition and Target Filtering
Snippet and Variable Flattening
Integrated Source Control Support, including Subversion, Git, Team Foundation Server and Perforce
Batch and Multi-Language Image Replacement
New File Support, including Support for Unrecognized File Types
Redesigned Translation Statistics and Quality Assurance Reports
New Table of Contents View Pane