Meet MadCap Flare
Whether you need to create technical documentation for online Help, software and API documentation, policy & procedure manuals, knowledge bases or user guides, MadCap Flare allows you to create, manage and publish content to a variety of formats, including print, online, desktop and mobile.
Authoring, Publishing and Content Management
A complete solution for technical communicators and content developers, MadCap Flare offers advanced features to maximize authoring efficiency and content reuse, including: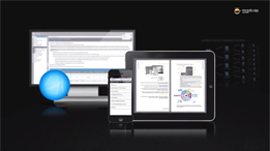 See What's New in Flare 11
View Flare's Online Help
Reach Your Audience Anywhere with Advanced
Multi-channel Publishing and Responsive HTML5 Output
Ensure your content is accessible to your end users, wherever they are, and however they prefer to consume your content.
Maximize Content Reuse with Topic-Based Authoring
Topic-based authoring is a modular content creation approach that supports XML content reuse, content management, and makes the dynamic assembly of personalized information possible.
Create customized content or different variations of the same document without creating new documents, such as:
Beginner and Advanced Guides
Policy and Procedure Manuals based on city, region or country
Employee Handbooks for every level within the organization
Admin and Programmer Guides
And much more
Manage Your Content from a Single Source
Save time by using advanced topic-based authoring features that allow for maximum content reuse and publishing to multiple deliverables and outputs.
Use Flare not only to publish to multiple devices and platforms, but to re-purpose your content for multiple audiences
and purposes
Single source images with MadCap Capture, bundled free with Flare
Content changes are made universally from a single source and updated across projects for consistent, accurate documentation
Authors can focus on creating content instead of constantly formatting and reformatting
Projects and content are accurate and consistent across multiple deliverables and completed faster with far less content duplication
After converting our first project to Flare, we experienced a five-fold reduction in the total time required to generate output for a product with three deliverables in three different formats in 14 languages totaling 126 individual target files —going down from roughly 25 hours to about 5 hours"
—Jason Micallef | Technical Communications Manager GFI Software
Create Professional Looking Print, Online and Mobile Content in Minutes with Built-in Project Templates
With 20 out-of-the-box project templates, you can start using today's leading technical authoring tool in minutes. Publish stunning, professionally designed print brochures and books, online Help systems, eBooks, and more without the need for additional graphic design resources.
Project templates include:
Knowledge Base
Online (Basic / Advanced)
Print & Online (Basic / Advanced)
Brochures (3fold, 4fold)
Book & eBook (Basic / Advanced)
Policies & Procedures (Basic / Advanced)
Product Foldout (3fold, 4fold, 5fold, 6fold, 12fold)
User Guide (Basic / Advanced)
Slideshow
Scalable for Enterprise
A single user or team of hundreds, Flare was built for scalability.
Flare offers advanced publishing features, including batch target builds for automated publishing:
Schedule any number of builds for a particular date or time
Use the command line publishing for multiple targets
Floating/Enterprise licenses include:
Unlimited installations/activations across company
Bundled maintenance (1, 2 and 3 year contract available) for Floating
Flexibility – add any number of users at any time using the same license key
Installation on a network server and accessed remotely
Flexible and Future-proof
Flare is built on open standards with support for XML, CSS, and HTML, all designed to keep your content completely open, transparent and accessible.
With Flare, you will never be locked into a proprietary system:
Open Architecture
All Flare files are separate XHTML, XML or CSS documents—topics, TOCs, browse sequences, targets, skins, snippets, glossaries, destinations, condition tag sets, variable sets, and more—meaning they can be opened in any editor, including Notepad. Files and topics can even be programmatically created outside of Flare and copied into the Flare project structure to be used instantly by Flare.
Standard XHTML Content with W3C Schema Compliance
Flare content conforms to industry standard schema requirements from the World Wide Web Consortium (W3C). Flare's code adheres to the W3C XHTML Schema specification, making it easy to integrate with other XML or XHTML applications.
Analytics, Reporting & Social Collaboration
Combine back-end reporting and analytics along with front-end social collaboration with MadCap Pulse to track user satisfaction and improve content.
Team Collaboration and Project Management
A streamlined approach to team collaboration, Flare provides workflows designed for efficient content development and management.
Contribution and review for managers and subject matter experts
Free review mode with MadCap Contributor
Global project linking for large teams
Manage complex projects with reports, file tagging and task assignments
Contribution & Review
Enjoy close collaboration between authors, subject matter experts and other content contributors with Flare's built-in topic review and contribution features.
Subject Matter Experts (SMEs) can utilize MadCap Contributor to make changes and annotations:
Reviews: Email topics for feedback and changes directly from within Flare or leverage Flare and Contributor's external resources and SharePoint integration to send review packages
Contributions: SMEs and other content contributors can create new documents and files for inclusion into your documentation
Note: The trial version of MadCap Contributor includes a non-expiring, free review with annotation mode, allowing for perpetual review between SME, managers and Flare authors.
Leverage Existing Content
Flare makes it easy to import a wide range of file types into your new XML-based authoring environment. Migrate legacy content with easy import of Adobe® RoboHelp® and FrameMaker®, Microsoft® Word™, XHTML, HTM, CHM, DITA and many more.
Import content from other applications directly into Flare
Enhanced FrameMaker® import support, including:

Master Pages automatically converted to Page Layouts
Import FrameMaker® images with call-outs
Proprietary FrameMaker® Equations automatically converted to MathML on import
For more information on switching from RoboHelp® and FrameMaker®, visit our resource section here.
Did You Know? Importing Best Practices.
More than 30 best-practice conversion topics are discussed in the support guide – covering everything from TOCs to graphics to style sheets.


Get a Visual Representation of the Content with an Advanced WYSIWYG XML Editor
Flare's visual XML Editor is packed with features designed to provide authoring efficiency and content creation in a familiar, easy-to-use Microsoft® Word-like authoring environment. The patented Structure Bar technology allows you to simultaneously create/edit content and view a "what-you-see-is-what-you-get" (WYSIWYG) representation of the underlying XML structure of a document without having to view the raw XML code.
Edit or rearrange content using Structure Bars to:
Drag and drop content for quick and easy editing
Apply conditional tags
Revise formatting
Re-number/re-order lists
And more
Real-time Split View Editor
A synchronized spilt view shows both the XML Editor and the Text Editor in real time, with horizontal and vertical orientation options, auto complete and code validation with syntax coloring.
Web and Print Editing Modes
The XML Editor includes two authoring/editing modes – Web Layout and Print Layout mode. Toggle between the two display modes see how content will appear in each medium.
Content Management and Source Control
MadCap Flare includes support for every source control tool on the market by virtue of the fact that Flare uses a wide open architecture. Instead of using proprietary files and databases, all content and project files in Flare are stored as independent XML files.
Perforce, Apache, Subversion, Microsoft® Team Foundation® and Visual Source Safe® are directly integrated and accessed from Flare
Native Source Control Integration for Subversion, Team Foundation Server® and Visual SourceSafe (third-party plug-ins not required)
Mappings can be made to any local, network, or SharePoint™ resource
Plus, integration with all industry source control systems that use the MS SCC API interface
Not using source control? Flare's External Resources feature allows files and folders to be mapped and shared among any number of projects or users.
Multi-language Authoring, Translation and Publishing
Flare was built to support multi-language authoring, translation and publishing. Flare supports Unicode language characters, double-byte Asian languages and Eastern European languages, as well as right-to-left language authoring and publishing including Hebrew, Arabic and Persian.
Advanced single-sourcing features make translation more seamless in Flare, such as easy access to content, snippets, variables and more. Integration with MadCap Lingo provides unparalleled support for the translation and localization process.
Controlled Language/Simplified Technical English support

Through the integration with Acrolinx and Etteplan | Tedopres HyperSTE, authors can use a standardized vocabulary and style to improve consistency, eliminate ambiguity and reduce complexity. Ensure compliance with corporate terminology and style guide rules using advanced interactive checker and quality measurement features.

Fully-integrated translation workflow with MadCap Lingo

Seamless transfer of content between Flare and MadCap Lingo using Project Packager
Use MadCap Lingo to translate content or package content for translation
Gain visibility with reports such as word and segment count, exact matches already in translation memory, content requiring translation and more

Language and business services with MadTranslations

Complete end-to-end authoring, consulting, translation and publishing services
Tools and expertise in maximizing content re-use, from initial authoring stage through final translation stage
View VERTU Ti's Online User Guides and PDFs
Accessibility
Create documentation that is accessible to users with visual and hearing impairments.
Section 508 and WCAG (Web Content Accessibility Guidelines) compliant

View the Section 508 Voluntary Product Accessibility Template (VPAT) for MadCap Flare (PDF)

Insert alt and title attributes to links, images, QR codes, equations and more
Receive compiler warnings when alt and title text is missing. Receive warnings when:
Image elements are missing alternate text
Equation elements are missing alternate text
QR code elements are missing alternate text
Tables are missing captions and summaries
Tables are missing header elements
Form elements are missing labels
Frame elements are missing titles and names
A Fully Integrated Suite for Content Development
The MadPak Suite includes six fully integrated technical communication and content development tools for authoring & publishing, contribution & review, analysis & reporting, translation management and multimedia creation.