New Success Story
IRIS Software Group – a Leading Developer of Innovative Administrative Business Productivity Solutions – Improves Customer Experience and Reduces Support Demands by Using MadCap Software

The Help Hub and the ability to get information from both our Help Centers and Salesforce® has been really powerful in terms of internal knowledge sharing and the customer experience.
– CAROLINE BOYLE, Head of Content Design, IRIS Software Group
New Release
Enterprise Single Sign-On (SSO) Streamlines User and Password Management
With single sign-on, administrators eliminate the need to manually manage users and passwords in MadCap Central.
Enterprise SSO offers many key benefits for organizations:
Increase Employee and IT Productivity
Allow users to gain quick and easy access to MadCap Central from any location using SSO.

Strengthen Authentication Security
Leverage existing identity providers (IdPs) to simplify user authentication and strengthen security.

Simplify Admin Tasks
Administrators can rely on the identity provider to manage users and access instead of manually adding and removing users.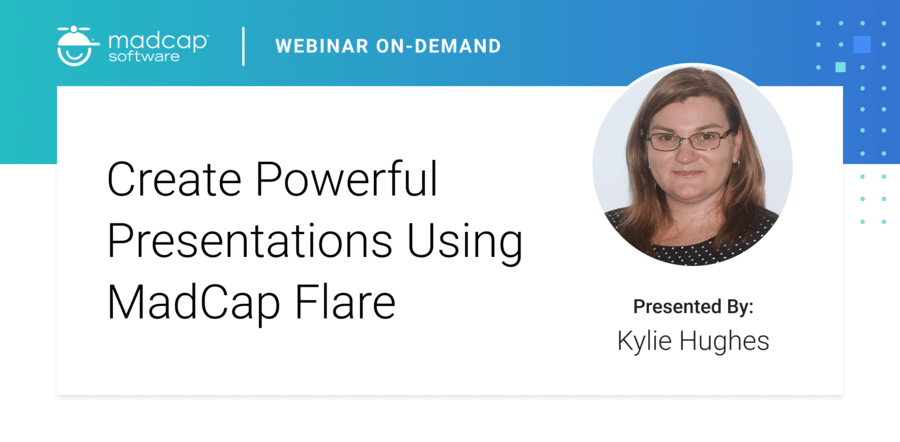 Watch our latest webinar to learn how to take your presentations to the next level using a MadCap Flare HTML5 output as a presentation tool including:
Why you need to make the switch
Make an impact with your audience
Layout variations to give the wow factor
Use your mouse and pointer effectively

Early Bird Registration
Register by December 31 to Save Up to $1,400 on MadWorld
We're thrilled to announce the MadWorld 2023 San Diego registration is now open. Taking place October 8-11, 2023, in San Diego, California, you can save on both the In-Person and MadWorld @ Home virtual packages when you register by December 31.
Call for Presentations Now Open
Now is your chance to submit your presentation ideas for MadWorld 2023. But don't sit on those great ideas; the deadline to submit is January 20, 2023.

Between now and December 15th, you can secure our current pricing on software license additions and up to 5-10% savings on pre-paid 2-year or 3-year terms to receive price protection for the next few years.
Contact our sales account team to lock in your rates now.