Cutting-edge technical authoring and publishing for today's technical writers and content developers.
New Markdown Import
You can now import files written in markdown into MadCap Flare, including support for CommonMark.
Watch the Video
The new Markdown import feature is a really welcome addition to MadCap Flare. It enables you to get Markdown content into Flare quickly and easily, with all formatting mapped to the appropriate styles. I'll be using this a lot!
MATTHEW ELLISON | Director, UA Europe
A New Layout Resizer Provides an Entirely New Level of Responsive Design Handling and Control
A new and intuitive layout resizer allows you to view and adjust your content for different screen sizes, create new media queries and more directly from the XML Editor.
Watch the Video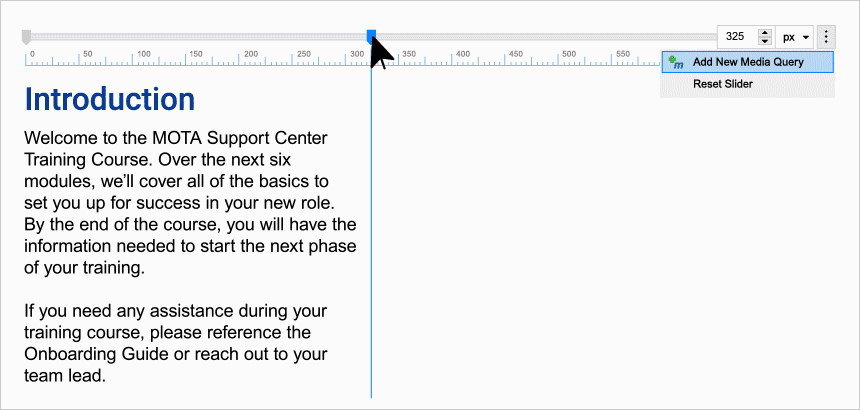 The new Layout Resizer in MadCap Flare 2021 adds flexibility to an already powerful set of responsive design features. Authors can use it to go beyond Flare's predefined breakpoints to meet their own custom responsive design needs.
NEIL PERLIN | President, Hyper/Word Services
Table and Image Support for Cloud-based Reviews in MadCap Central
Subject matter experts can now insert tables and images during the review process.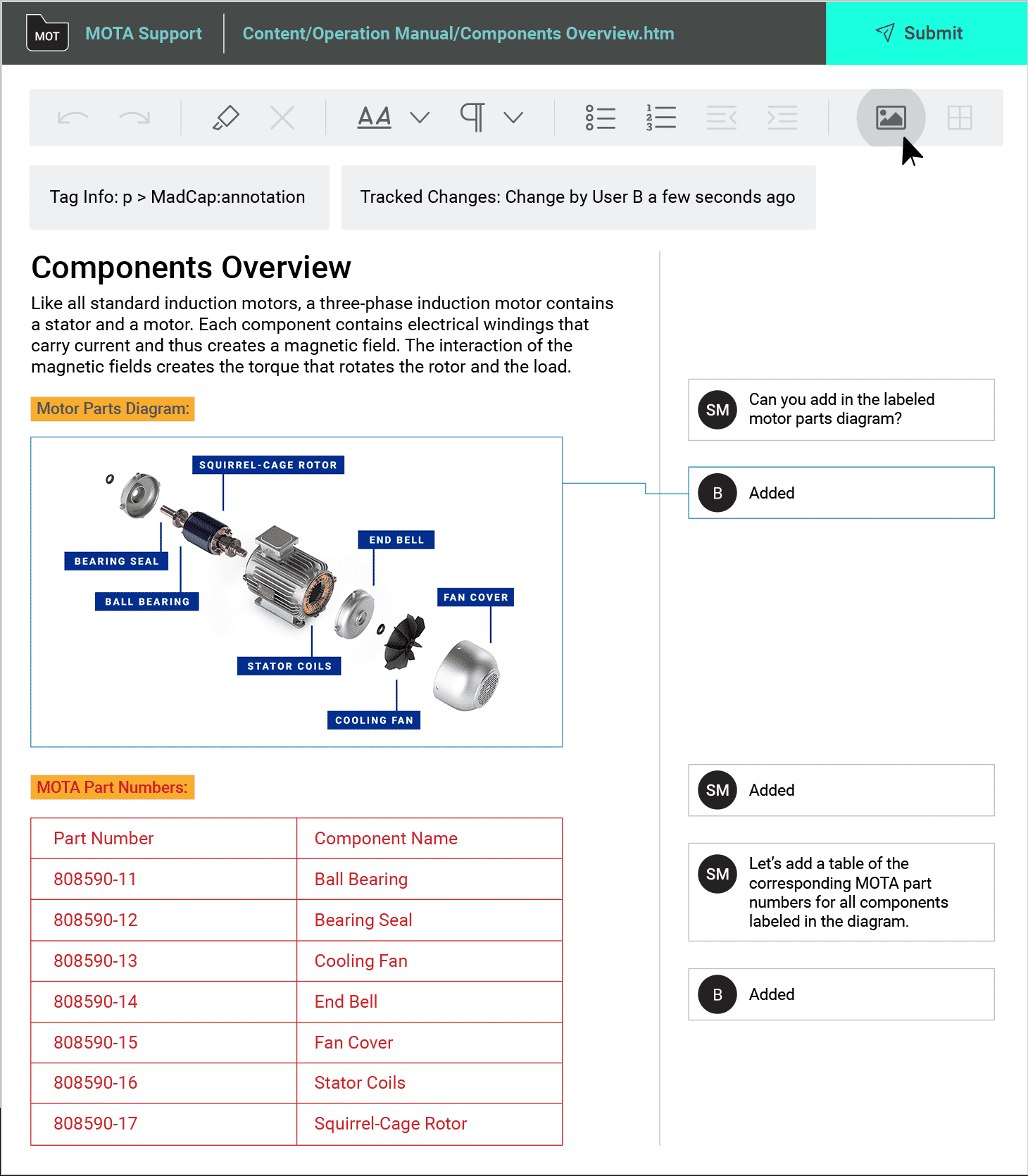 Adding images right in MadCap Central during the review process is quick and easy! This will greatly improve review workflows for my clients and SMEs.
NITA BECK | Owner, Technical Communications Strategist, Nita Beck Communications
A Completely Redesigned Start Page
The new Start Page has been completely redesigned for improved usability and easier access to resources.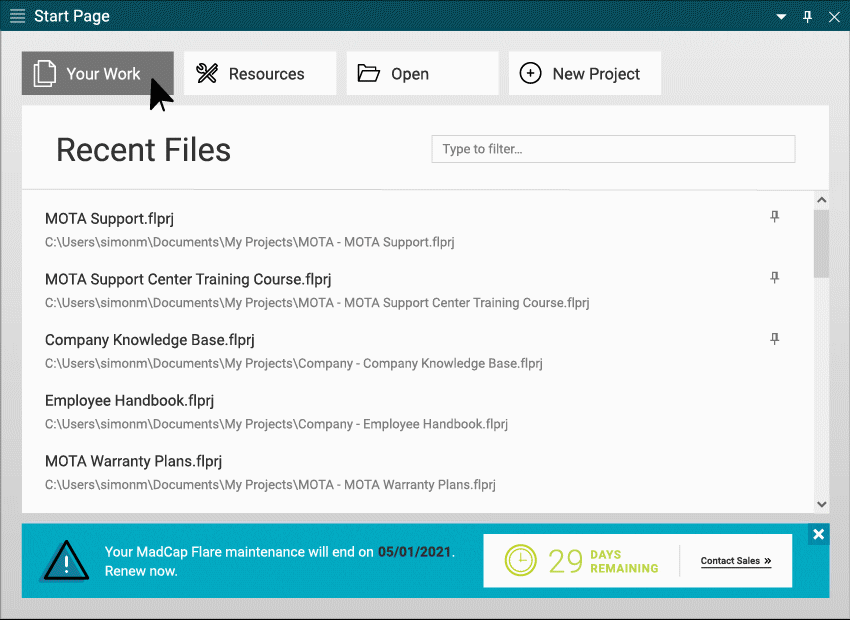 New PDF Universal Access Support
New PDF support enhances the readability of a document for use with screen readers and other assistive technology.
FrameMaker® 2020 Import
Import legacy content from FrameMaker® with ease.
Plus: Bug Fixes, Performance Enhancements and More
Upgrade Your Content Development Workflow
Take Advantage of On-Premises Authoring and the Convenience of the Cloud to Streamline Content Delivery with the MadCap Authoring and Management System (AMS).
Upgrade Now
2020 r3 release:
December 2020
Browser Content Display Updated to Use New Chromium
2020 r2 release:
October 2020
New Micro Content Styles Allow You to Customize the Look of Your Micro Content Search Results, Context-sensitive Help Calls and More
Major New Enhancements to List Creation and Management, Including Definition Lists
Style Your Variables in Both the XML Editor and Your Published Content
MadCap Connect for Salesforce® Publishing Enhancements
MadCap Connect for Zendesk® Publishing Enhancements
Accessible Rich Internet Applications (ARIA) and Tables Azure DevOps Source Control Support
2020 release:
May 2020
Micro Content Authoring Adds New Enhancements for Improved User Experience
Host and Publish Secure Private Output with Password Protected User Access in MadCap Central
Creating API Documentation Has Never Been Easier: Now Add Code Snippets with Syntax Highlighting in Dozens of Coding Languages
Publish Your Single-Sourced Content to ServiceNow® with the MadCap Connect Plugin
Major Enhancements to Find and Replace: Find Text and Find Elements Authoring Improvements with Collapse and Expand Tags in the XML Editor
2019 r2 release:
October 2019
Converting Microsoft® Word Files Has Never Been Easier with Effortless Drag and Drop and a Completely Redesigned Import Wizard
Drag and Drop Any File Directly Into Flare for Simplified Content Import
Improve Your Documentation and Customer Satisfaction with Business Intelligence and Data Analytics on Your Output
Direct Publishing from Flare to MadCap Central
Patent Pending Responsive Content Personalization Based on Device and Format
Now Import Atlassian Confluence® Files
Zendesk® Publishing Enhancements
Accessibility Improvements for HTML5 Output
FrameMaker® 2019 Import Support
2019 release:
April 2019
Micro Content Authoring Powers Search, Feeds Chatbots, Enhances Virtual & Augmented Reality Applications, and More
Publish Flare Content Directly to Zendesk
CSS Variables Reduce Clutter, Save Time and Ensure Consistency in Your Stylesheets
User Interface Localized in Chinese
Enhancements for Elasticsearch
User Interface Improvements
Redesigned Start Page for Easy Access to Recent Projects, Pinned Favorites and More
Updated Project Library and Templates
2018 r2 release:
october 2018
Source Control Enhancements for Git, Including Branch Merging and Revert Commit Support
Security Improvements for HTML5 Output
jQuery 3.3.1 Support for Online Outputs
Bind Your MadCap Central Projects Securely Using the HTTPS or SSH Protocol
2018 r1 release:
may 2018
New Cloud-based Editing with MadCap Central for Streamlined Contribution and Review
Extend Your Search with Powerful Elasticsearch for HTML5 Output
The Power of MadCap Analyzer Is Now Built Into MadCap Flare
A New Side Navigation HTML5 Output for Improved SEO and User Experience
MadCap Connect for Salesforce® Improvements, Including Support for Multiple Languages and Salesforce® Lightning
Enhanced User Experience with Automatically Synchronized TOCs
New Support for SharePoint 2016, SharePoint 365 and Team Foundation Server 2018
MadCap Mimic and MadCap Capture Now Bundled Free with MadCap Flare
2017 r3 release:
october 2017
New Style Inspector to View and Edit Your CSS Properties
UI Enhancements for the Stylesheet Editor, Previews and More
Advanced Microsoft® Excel Import
Text Analysis for Readability, Average Sentence Length and More
Thesaurus Support
New Responsive Top Navigation Templates
2017 r2 release:
May 2017
Salesforce® Integration
Google Search Integration for Custom Search Engine (CSE)
Faster Compile Times
Top Navigation and User Experience Enhancements
FrameMaker® 2017 Import Support
Favicon Support for HTML5 Outputs
2017 r1 release:
January 2017
MadCap Central Integration for Powerful Cloud-based Content Management
Live Dynamic Preview Window for Your Output Including Print, HTML5 and More
Pin Your Variables for Quick and Easy Access
All-New Clean XHTML Output
Associate Conditions and File Tags to New Files
Microsoft® Word Equations Converted to MathML on Import
Synchronization of Topic Title and TOC Entries
Ready to Get Started?
Our 30-Day Trials are Free and Fully Functional.