The latest update to MadCap Central (May 2020 Release) brings a number of new enhancements and features for the cloud-based solution for documentation teams. In this post, we'll take a look at what's new, including:
The ability to host and publish private output with password protected user access
A new Site management page for target and build management
A new user type called "Viewer" that is free and unlimited
Additional updates and enhancements
An entirely new page called "Sites" has been added to MadCap Central. With Sites, you can now manage and view all of your builds, across multiple projects and targets in one convenient location.


Once you add and configure your sites, you can expand any row on this new Sites page to see output information and links associated with a specific site. This is just like the Builds page which is accessible when you access your project from the Project page, but now organized in a single view:


There are few noteworthy changes to point out about this new Sites page:
Previously, you could only have one domain (or URL) for your license. But with the introduction of sites, you can now have as many as you want. In addition, you can control which projects, targets, and builds use which domains. A host mapped domain is set on the Sites page, instead of the License Settings dialog.
Build vanities and target vanities are now known as "site vanities" and are managed via the Sites page, instead of the Builds page. The license vanity can also be set on the Sites page (URLs page view), instead of in the License Settings dialog.
Sites, and therefore the outputs associated with them, can be set to "live" on the Sites page, instead of on the Builds page for each project.
The Sites page also has a URLs page view: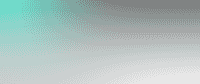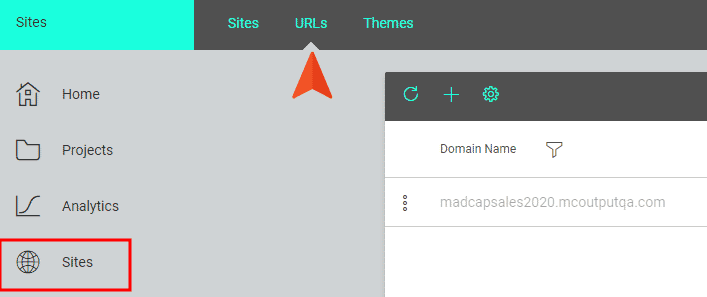 The Themes page is another great addition to MadCap Central, letting you control how different interface elements look for each private site to resemble your own marketing and branding. Read more on private sites below. Some of these elements include the login fields, card colors, gradients, page loaders, 404 pages, company logos and more. You may choose to have one theme for all of your sites or create multiple themes if different outputs have different branding requirements. If you do not create a theme, the default theme provided by MadCap Central will be used.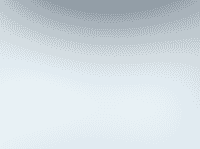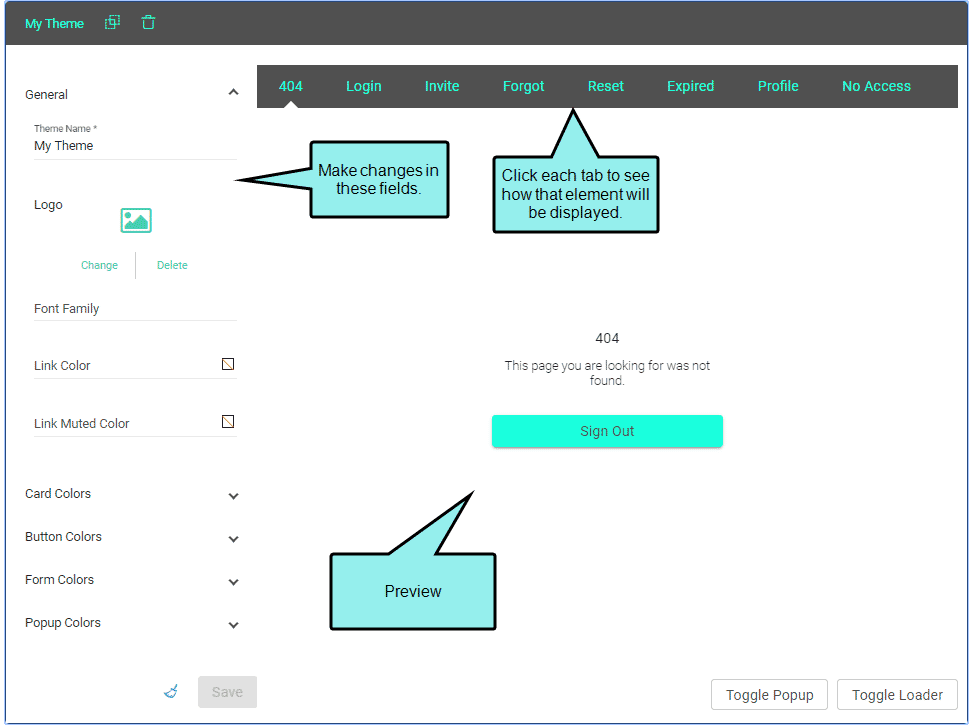 You can also duplicate an existing theme if you want to quickly create a new theme for a different site that will have some of the same settings.
Below is an example of what a branded login page to a private site can look like using Themes.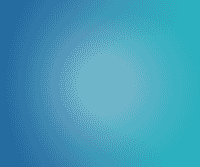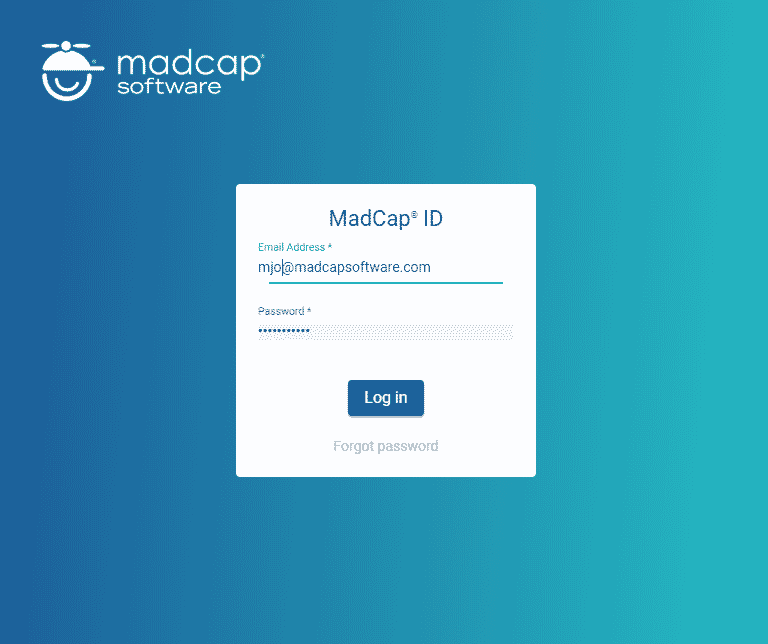 Host and Publish Privatized Output
The Sites page is where you can now set live builds to "private" which means users will need to log in with an email and password in order to view the content.
Without credentials, users cannot see the output. This makes it ideal for SMEs, employees, or customers to access your target outputs securely. Different groups of users, such as SMEs and employees can be grouped into teams. These teams are then associated with private sites.
Any of the outputs supported on MadCap Central can be set to private, including HTML5 and PDF. Some output formats (such as .CHM, and Word) cannot be viewed from MadCap Central, they have to be downloaded first. So if you have any of these output types set as private, users will still be prompted to log in, and then the output files are downloaded.
User Types Now Include Viewer, Author and Subject Matter Expert
A new user type has been added to MadCap Central called "Viewer." Any number of Viewers can be invited to MadCap Central at no cost, and these would be individuals who do not access MadCap Central itself (like Authors and SMEs do); their only function is to view output. Viewers and SMEs can be grouped into teams, which are then associated with private sites.
MadCap Central admins can add Viewers one by one, or in bulk, to save time. When viewers are being added (individually or in bulk), they can be quickly associated with teams: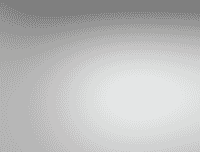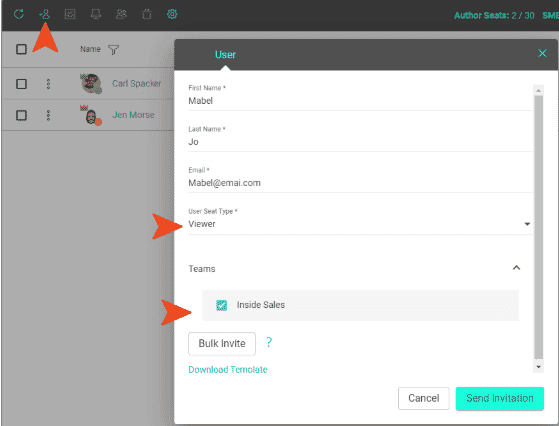 Additional Enhancements: Tasks, Settings, and Context Menus
The Tasks dialog, which is used when creating and editing tasks, has been redesigned.
There are now three tabs for organizing the fields: Details, Discussion, and Attachments. Fields have also been reorganized, making them easier to scan and edit. Also, a new Status field has been added, which you can use instead of the Move option to select the milestone or location for the task.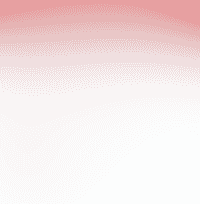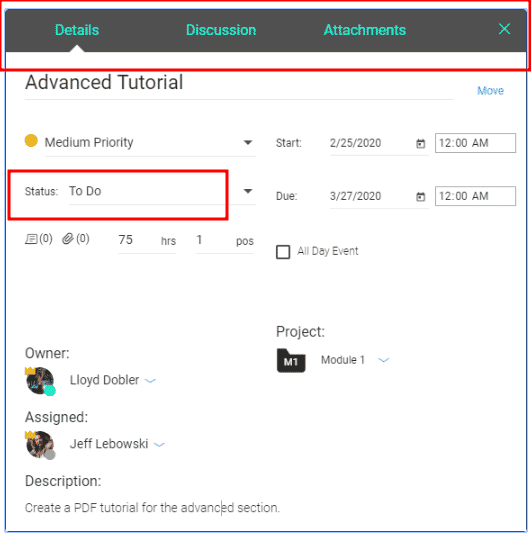 Settings and Profile Enhancements
Various changes have been made to the dialogs used for user settings (profiles) and license settings, making them easier to use.
The Team Profile dialog has also been modified, with new options on the left of the dialog and an option to edit the users, projects and sites associated with the team in the upper-right: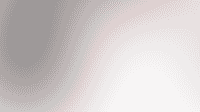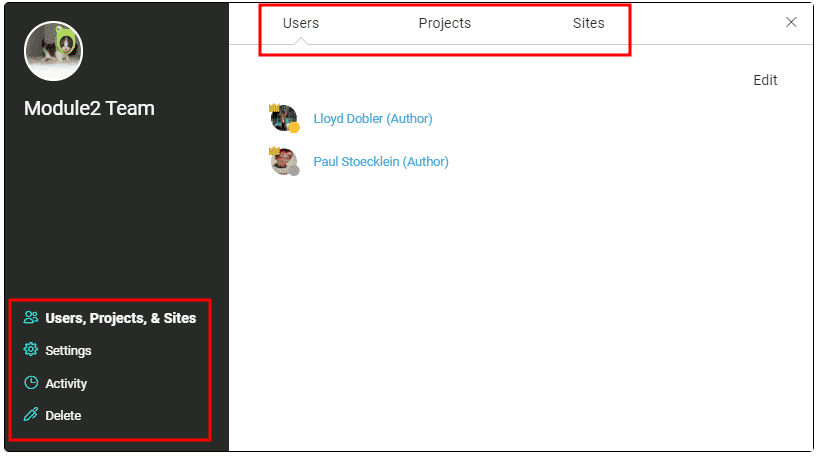 Three-Dot (Context) Menus
In various places throughout the interface, you might notice some three-dot (context) menus. After clicking these dots, you will see a drop-down menu, letting you select options related to that part of the interface: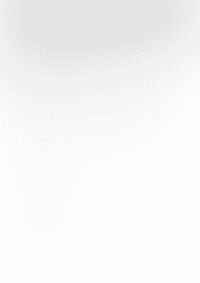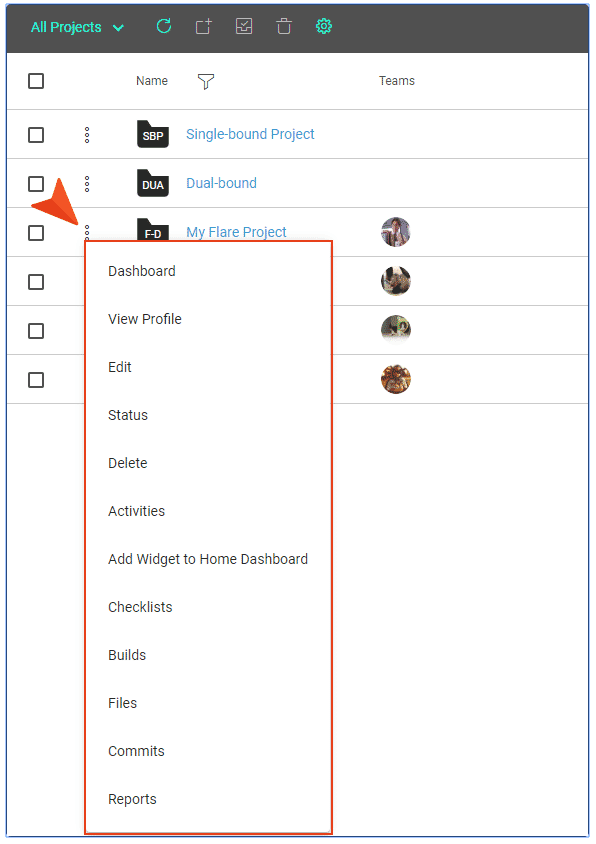 Register for Our Free Upcoming Webinar
Can't make it live? Register anyway! We will send you a link to the recording.
Get Started on a Free 30-Day Trial
As always, our free trials are fully functional, allowing you to deploy and test the product without any limitations. Plus, we can walk you through the features with a live product demonstration.
We hope you enjoy this latest release of MadCap Central! If you have any questions, feel free to reach out at jmorse@madcapsoftware.com.