With the release of MadCap Flare 2020, we have added many enhancements that make micro content more flexible and more customizable in your outputs.
Micro content can be text, images, and/or video that can be consumed by a reader in about 10-20 seconds. We see micro content often when we use Google. When you search in Google, you may see a featured result at the very top of the search results. Sometimes it's text, other times it includes images, links to videos or a combination of all of those things. Have a question? Here's a quick answer. That's micro content. Other uses of micro content include: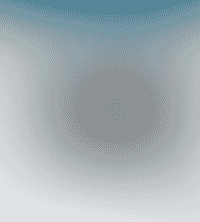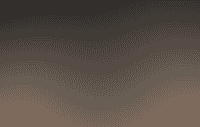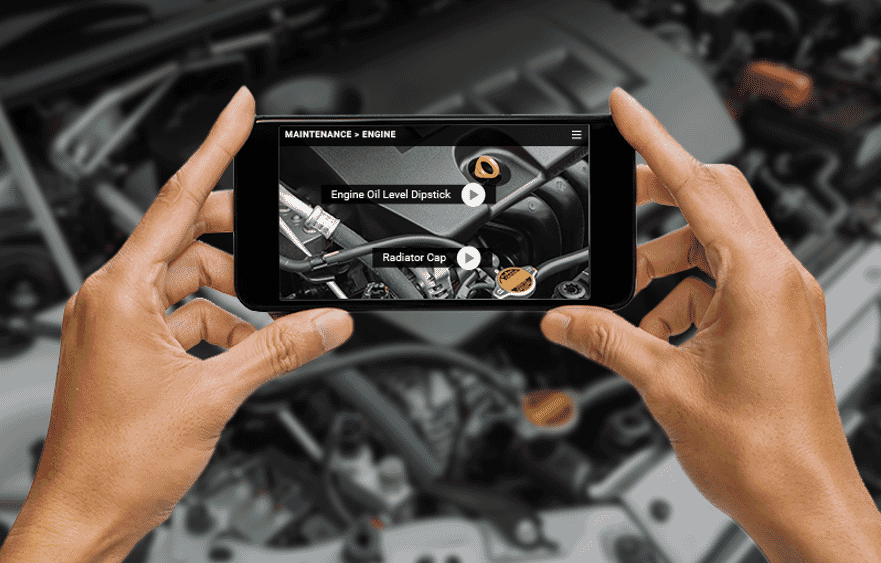 Micro content can also be useful for creating FAQs, and embedded help.
While MadCap Software didn't invent micro content, MadCap Flare is leading the charge by offering an easy way to create and manage micro content for different applications.
In early 2019 Flare introduced the ability to author micro content as a way to create featured search results, like we see with Google, which is a great way to increase the findability of content for your readers. Readers have a question, they search and are presented with a concise, curated answer in addition to a list of relevant search results.
In Flare 2020, major enhancements have been made to micro content authoring, including:
Support for conditions on individual micro content phrases
Support for micro content conditions and micro content variables (like snippet conditions and variables, but for micro content only)
Ability to assign context-sensitive help identifiers (CSH IDs) to micro content phrases - ideal for leveraging micro content for embedded, in-app help.
Access to phrase properties to control how micro content is compiled
Conditions on Micro Content Phrases
This feature allows you to apply conditions to your micro content phrases so that you can control which micro content phrases will be included and excluded from your outputs. To apply conditions to micro content phrases, you can right-click your micro content phrase and select Properties. This will open the new micro content properties dialog. Here, you can select the Conditional Text tab and select the condition(s) you would like to apply to your micro content phrase.


With the conditions applied to phrases, we can now control which individual phrases are included or excluded at the target level.
Another major enhancement with micro content is the ability to set rules for how content will display within your micro content search results. If your micro content phrase is linked to a topic or a snippet, you would be able to set conditions on content within your topic or snippet, and control which content will be excluded from your micro content search results, while still being included within the topic in the output. Since linking phrases to existing topics and snippets is a great way to ensure you are reusing as much content as possible, this gives authors much more control over the linked response. Let's take a look at an example.
Suppose you have a topic that includes instructions on how to do something. This procedure may include steps to follow such as  text, images and maybe even video tutorials to support the procedure. When your reader does a search for this procedure, you want it to be the first thing on the top of the search results. In the micro content editor in Flare, you can create different phrases and queries that link to this procedure. Since micro content is intended to be short and concise, you might not want the long procedure to display. You can now use micro content conditions to control what displays as the featured search result, versus what displays when you select the entire procedure from the list of search results.
For this example, I have created a separate condition tag set specifically for micro content conditions to keep things organized. The tag "TopicOnly" is applied to the topic content that I only want to see when we look at the entire topic.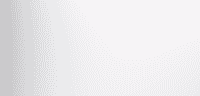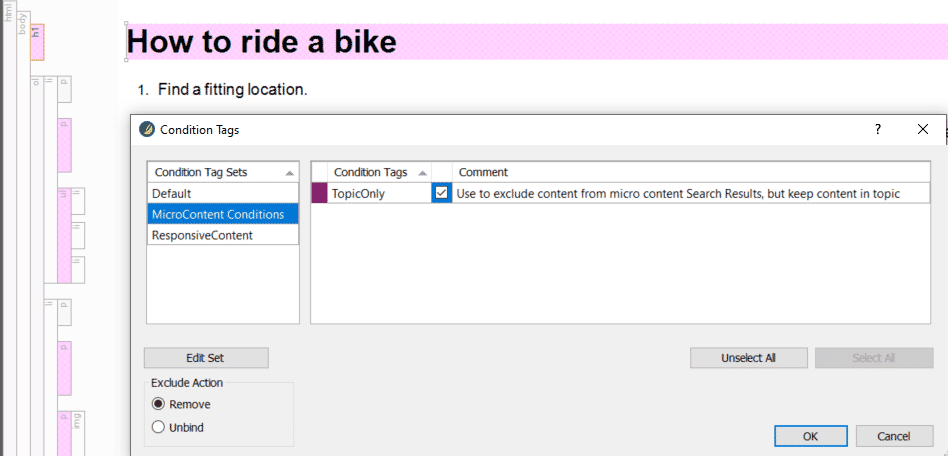 Next, we'll right-click the micro content phrase that is linked to this topic and select Properties > Micro Content Conditions, and set the "TopicOnly" condition to be excluded from the micro content search result.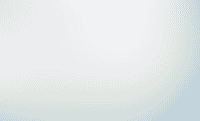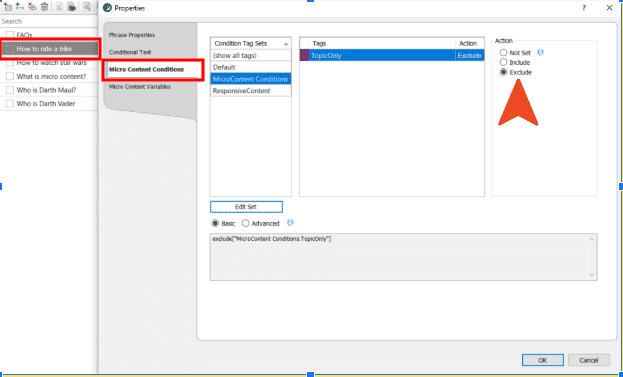 Below is an example of what this will look like in the output.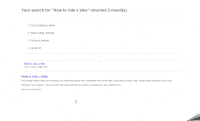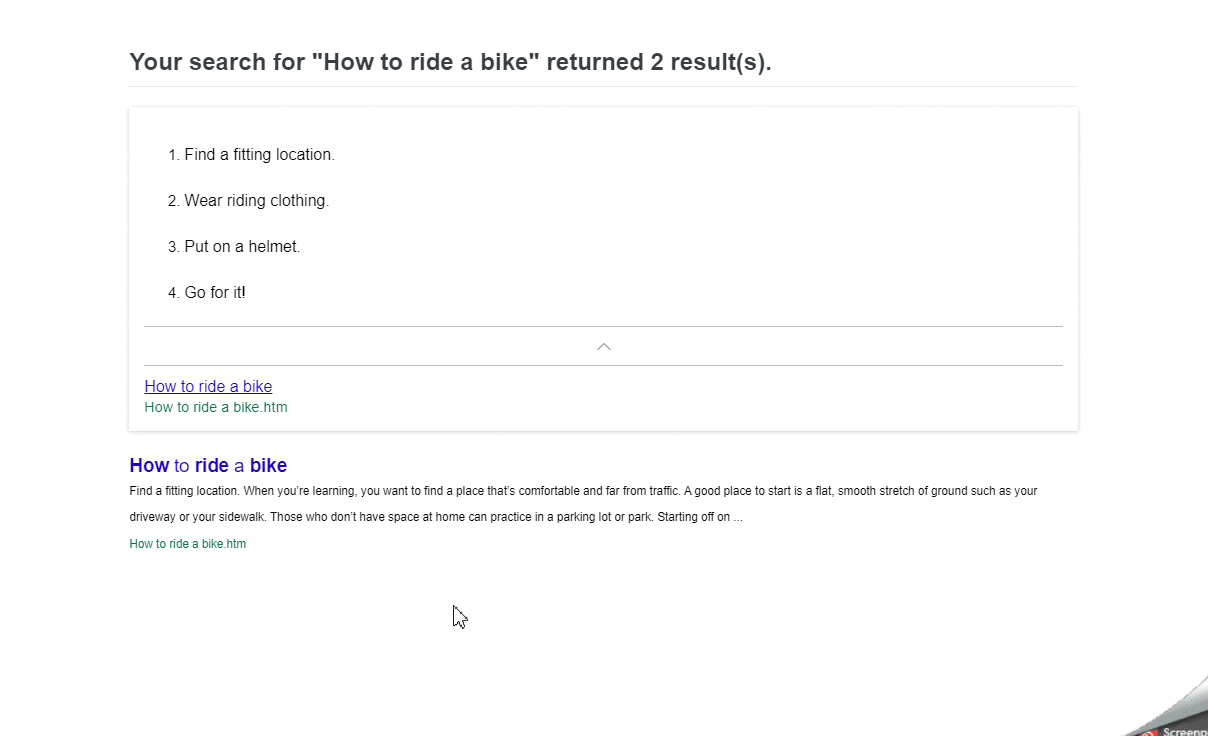 If the reader chose to click the linked file at the bottom of the micro content result, the entire procedure would appear.
There might be times when you want to change the definition to display for a variable, depending on whether it is viewed in a regular topic in the output or when it is viewed as micro content (e.g., in search results). Micro content variables can be used to control what is displayed in the linked response. In order to change a variable definition for text you can right-click the phrase and select Properties > Micro Content Variables, then click within the Definition field to choose an alternate variable definition.


The Alias Editor has been updated so that context-sensitive help identifiers can be assigned to micro content phrases. Since mico content is intended to be short and concise, this new feature makes it ideal to support field level or embedded help in an application. Here is an example of how it can look within an application: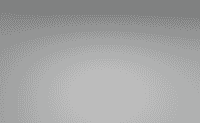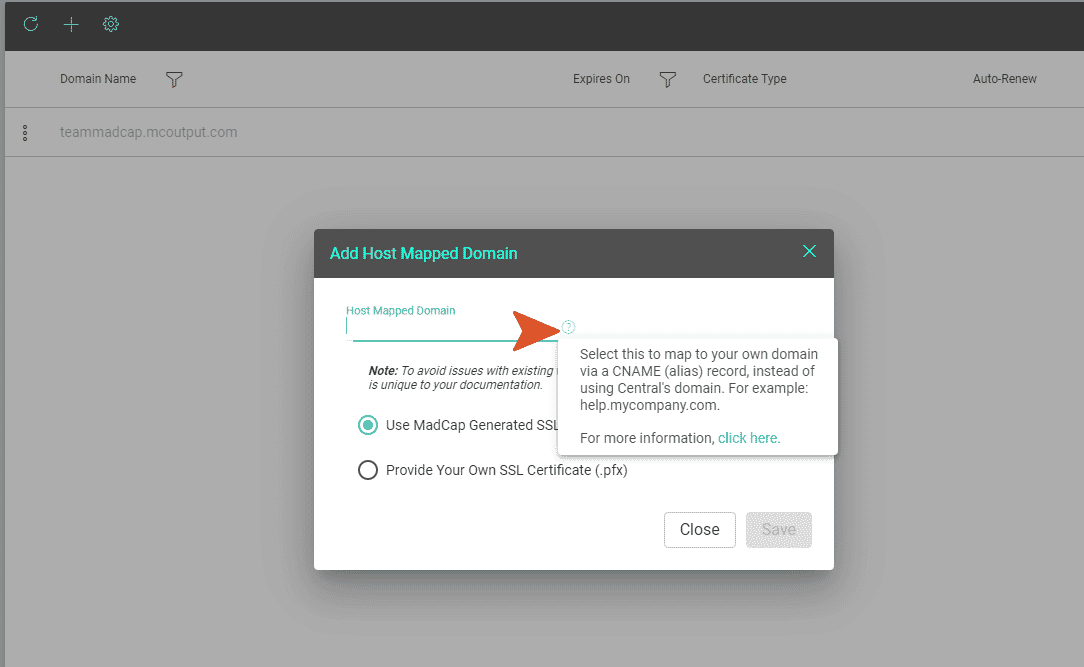 You can right-click on any micro content phrase to access its properties. In this dialog you can modify the Phrase ID, change the Phrase Title and choose if you would like the micro content to be included in search results.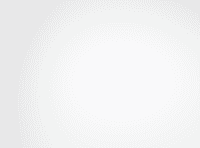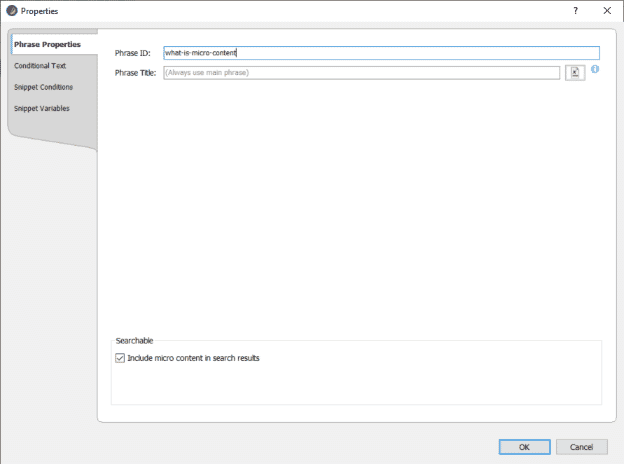 The default phrase ID will be a lowercase version of the phrase with spaces and special characters replaced by hyphens. The phrase ID is used for the generated micro content file name and also appears in the Alias Editor when selecting CSH IDs. Ability to control the phrase ID is useful as it also controls the name of the generated micro content file.  This also allows you to keep the same ID for use in field-level help while your phrases can change.
This is the title tag for the generated micro content file. If not set, the default phrase title is the main phrase for the micro content phrase/response pair. This title can be used if you create CSH that displays in a browser window, and want to control the text that displays in the browser tab that opens as a result. There is also a button to the right of the Phrase Title field that lets you insert variables as part of the title, if you want to control the text using a variable definition.
If the option Include micro content in search results is deselected, Flare will create the micro content file and pass it through to the output, but the micro content will not show up as a featured search result in the HTML5 output. For example, say you have a micro content phrase called "photo size" and the response for this phrase describes what you need to add to a specific field somewhere in your product software user interface.
You associate this phrase to a new CSH ID in the Alias Editor, with the idea of producing field-level Help. When a user clicks or hovers over a Help button next to this field, the short micro content response for this phrase appears, like this: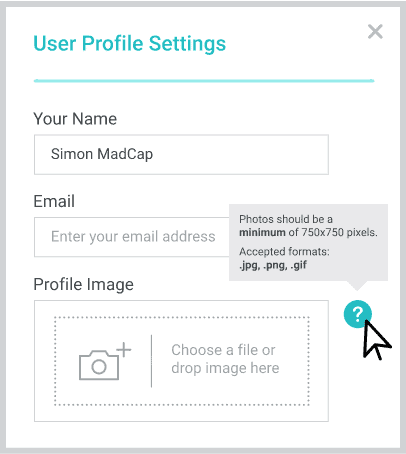 However, when users search for "photo size" in your online Help documentation, this same response displays in the search results by default. The problem is that your response was really intended for field-level Help only, and requires different wording or more information for it to make complete sense without the context of the interface.
Therefore, you deselect the Searchable option in the Properties dialog. As a result, the response will still be shown in the field-level Help, but it will not be included in the search results.
As mentioned, there are multiple potential uses for micro content, and MadCap Flare is leading the industry in innovation and leveraging this type of content in different ways. For more information on creating and using micro content, please visit this topic in our online Help.
For information on all the new features in MadCap Flare 2020, or to download a free 30-day trial, check out the what's new section on our website.
Did you miss our live webinar on all of the new enhancements to MadCap Flare 2020 and the MadCap Central May 2020 release? Watch the recording, or register for additional upcoming webinars. Are you using micro content in your projects, or do you have any questions? We would love to hear from you! Drop a comment below!