Cutting-edge technical authoring and publishing for today's technical writers and content developers.
Browser Content Display Updated to Use New Chromium
MadCap Flare now uses Chromium to display browser content in the application. The much anticipated update replaces the Microsoft® Internet Explorer browser and updates all back-end browser display functions, such as logging into Salesforce® from Flare to other tasks such as using the HTML5 Skin Editor.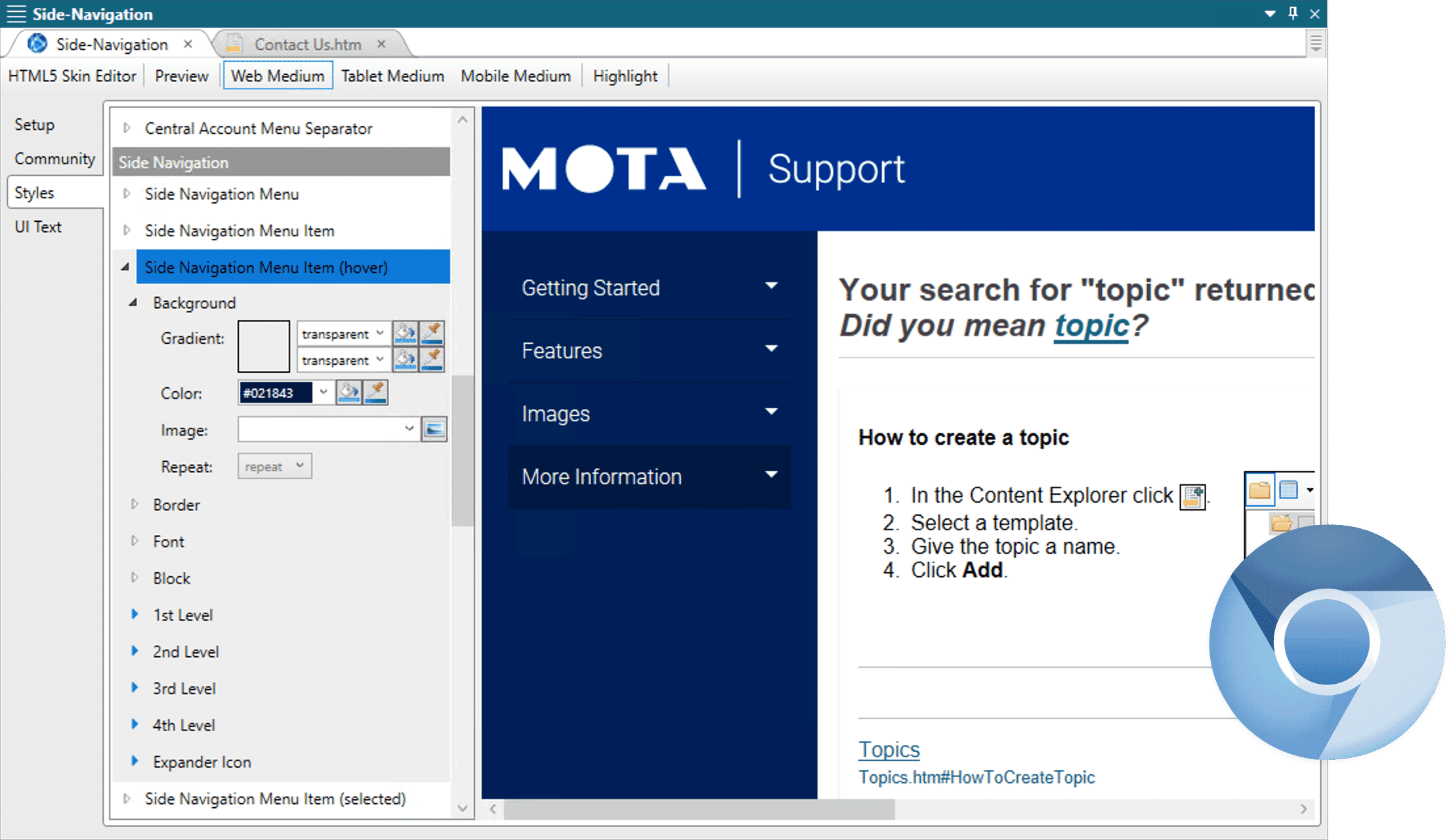 New Micro Content Styles Allow You to Customize the Look of Your Micro Content Search Results, Context-sensitive Help Calls and More
You can now use custom styles when content is viewed as micro content, as opposed to how it looks in the full topic. This can be applied to featured snippets in search, context-sensitive Help calls and more.
By associating a micro content file with a particular stylesheet, you can customize how your micro content appears, for example, in the online Help topic vs search results: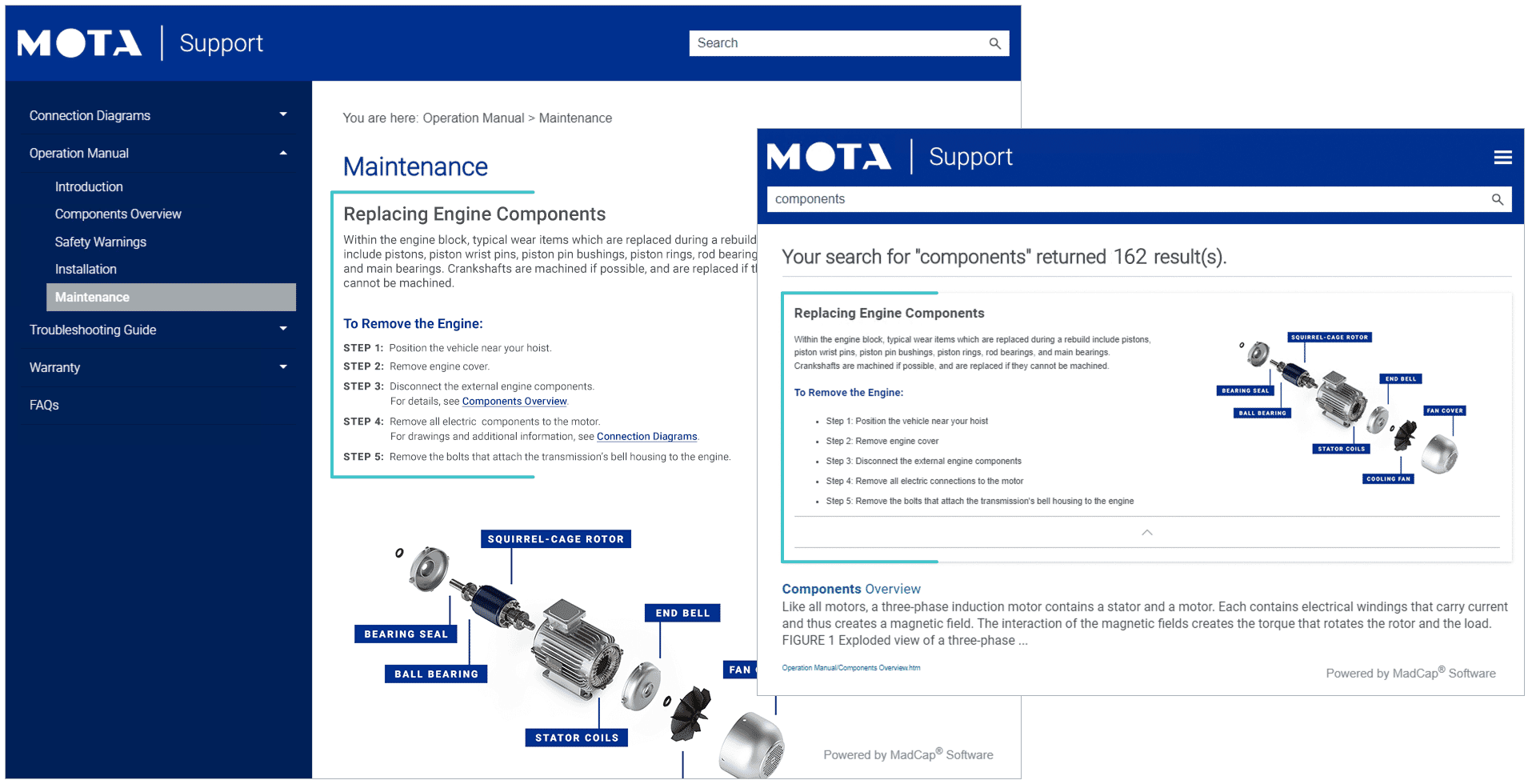 You can also customize how your micro content appears in the topic vs how it is displayed in-product for the context-sensitive Help calls: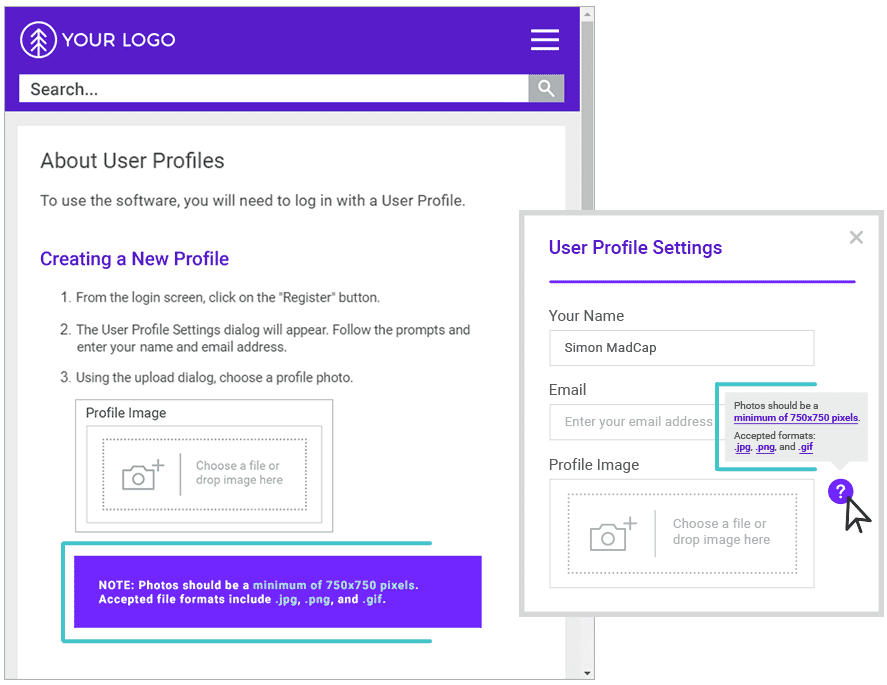 Major New Enhancements to List Creation and Management, Including Definition Lists
New enhancements make list creation and management easier than ever. You can now add definition lists directly from the UI of Flare, as well as take advantage of several other enhancements to list creation.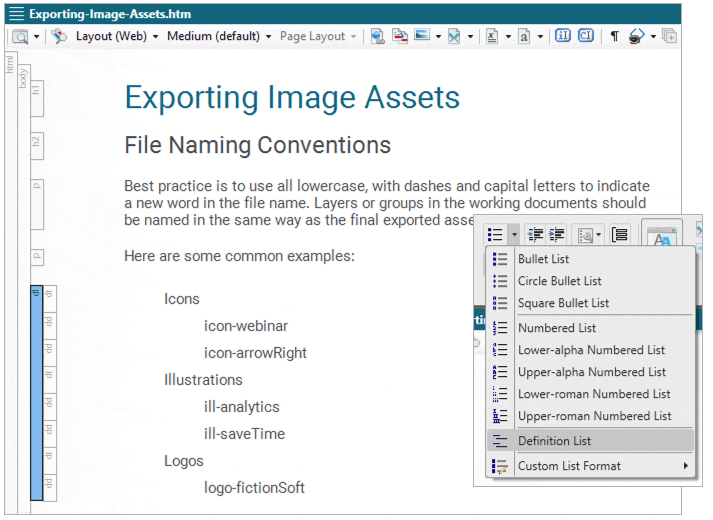 Why Are Definition Lists So Cool?
By using definition list tags, you are providing context for the content. Not only do end users recognize they are looking at a list of definitions and terms, but this kind of semantic markup allows metadata to be associated with it, allowing the information to be more easily extracted automatically.
Definition lists can represent information similar to a table.
A definition list does not have bullets or numbers.
Snippets and Definition Lists: Did You Know?
While creating snippets for parts of a table can be quite difficult, if not impossible, producing snippets from parts of a definition list is easy.
Additional List Enhancements
Paragraph Tags Inside All List Items
These tags are helpful if you tend to add a lot of information between list items, such as images, notes or just paragraphs.
Floating Icon and Default Options
A useful way to manage your default list options when creating a new list.
Paragraph and Simple Items
Plus, view additional options if the new list is not next to another list of the same type.
Merging Lists
Easily merge lists if the new list is next to another one of the same type or select to merge multiple consecutive lists together.
Sorting
Sort lists by ascending, descending or sort at build.
Built-in support for definition lists will be great for us when creating button/description lists. Now we can create a class of definition lists to make them look amazing, more semantically rich, and be more accessible. It's a big win for us and our customers.
Paul Pehrson | Sr. Information Developer, Venafi
Style Your Variables in Both the XML Editor and Your Published Content
A styled variable lets you change the way a variable looks—making it easier for you to identify your variables in the XML Editor and in any generated output type.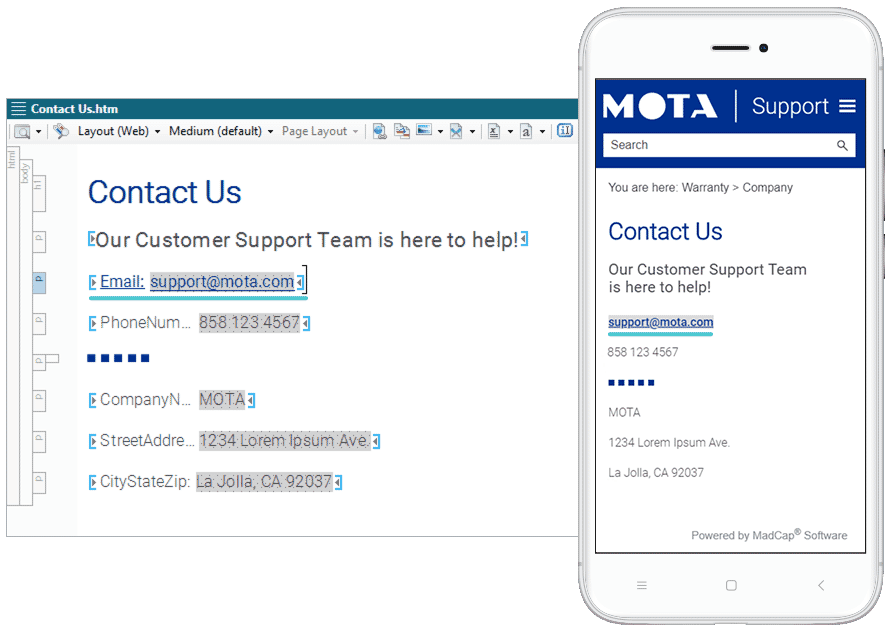 MadCap Connect for Salesforce® Publishing Enhancements
The latest enhancements give you greater flexibility and control when publishing your Flare content directly to Salesforce®.
Rich Text Field Option

From a new Rich Text field, you can now choose a specific Salesforce® rich text field that is associated with the selected article type.

Shared Asset Library

Publish logs can now be stored in a Shared Asset Library in Salesforce® to help multiple authors on a shared Flare project better manage publishing.

Category Mapping

Control how each topic from Flare is categorized in Salesforce®.

URL Naming Options

You can now customize the URL Name used for the articles published to Salesforce®. You can also update existing Salesforce® articles with a matching URL Name.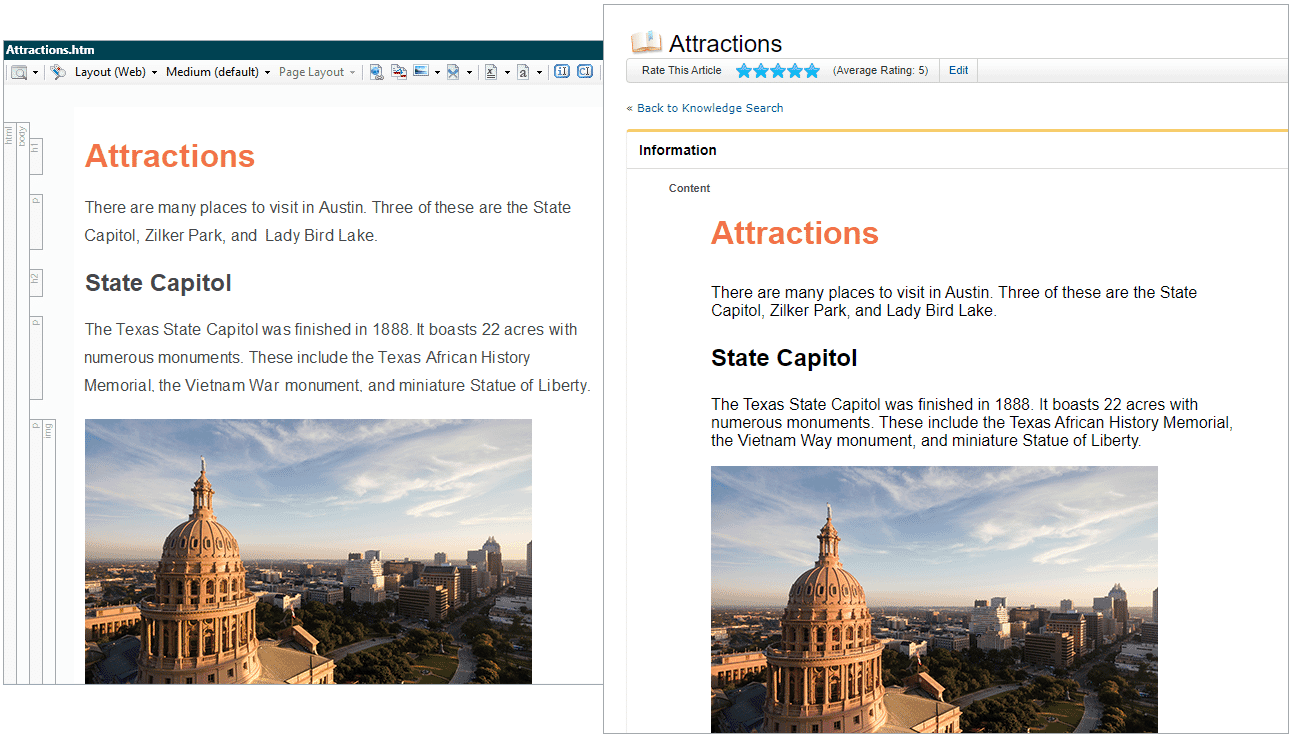 MadCap Connect for Zendesk® Publishing Enhancements
New enhancements to Zendesk® publishing give you greater flexibility and control. If you are using a table of contents (TOC) to define your structure, you can now create sub-sections from lower level TOC books when you publish to Zendesk.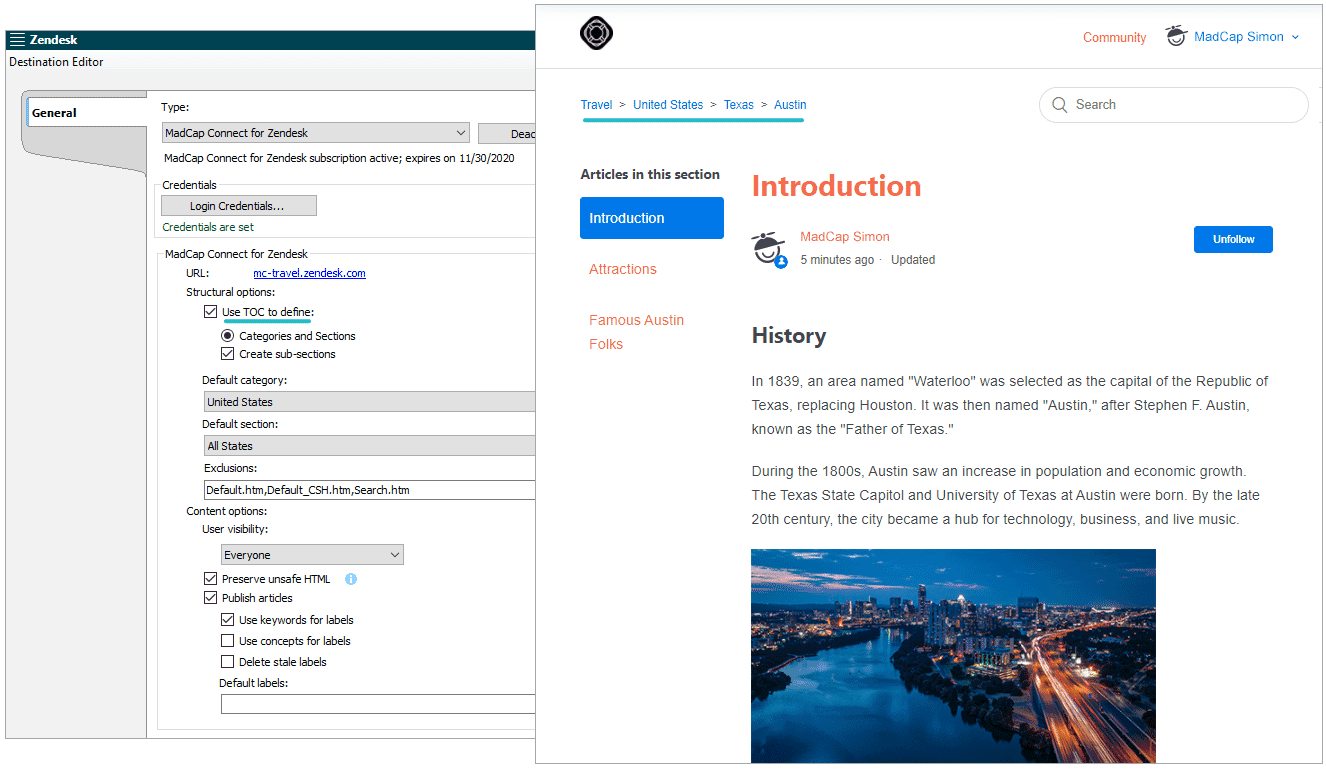 Accessible Rich Internet Applications (ARIA) and Tables
Flare now adds Accessible Rich Internet Applications (ARIA) attributes to new tables automatically. This helps make tables more accessible in your HTML5 output by letting users know where the cursor is located in the table.

Azure DevOps Source Control Support
Flare now supports Azure DevOps source control as part of the Team Foundation Server (TFS) integration.

Micro Content Authoring Adds New Enhancements for Improved User Experience
Only MadCap Flare gives you the ability to go beyond topic-based authoring with built-in micro content authoring.
Watch the Video
CONTEXT-SENSITIVE HELP (CSH) IDENTIFIERS
Associate context-sensitive Help identifiers (IDs) with micro content phrases, ideal for field-level or embedded Help.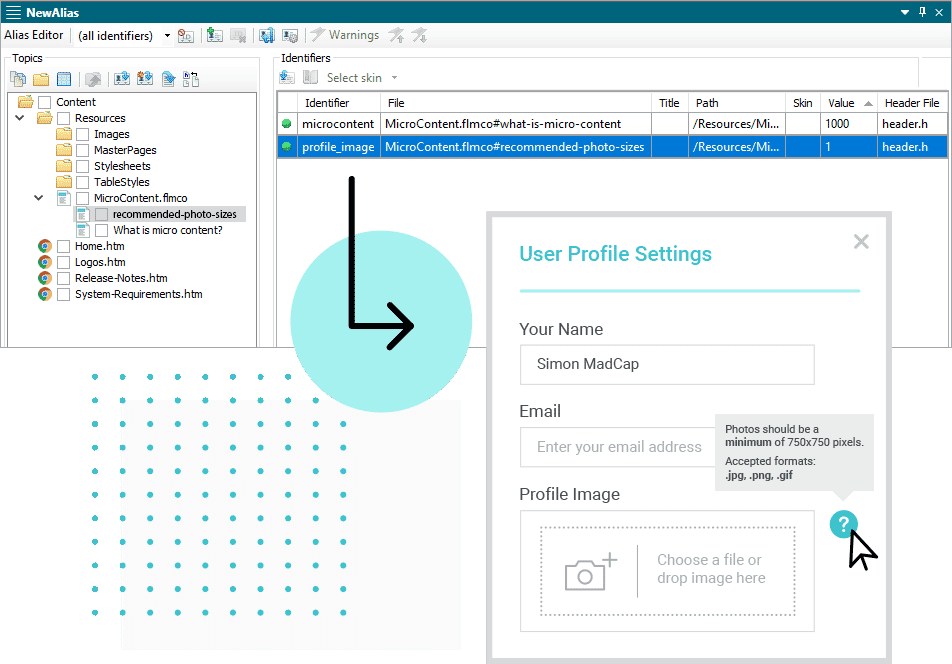 My company is in the process of converting all in-app Help to micro content using the new context-sensitive IDs. It's amazing! Now we can control tool tips and in app help from within Flare!
Paul Pehrson | Sr. Information Developer, Venafi
Micro Content Conditions
Micro content conditions allow you to show or hide certain content depending on where it is being viewed (e.g., in a topic or as micro content in search results).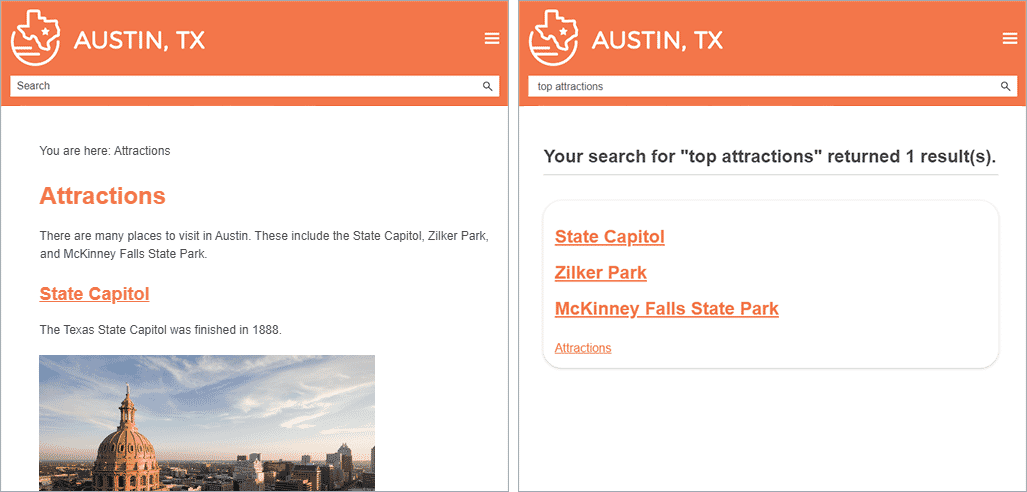 ADDITIONAL ENHANCEMENTS
Additional new enhancements to micro content authoring include the ability to apply conditions to micro content phrases, allowing you to separate which phrases should be included in different outputs, the addition of micro content variables, as well as the ability to edit properties for micro content phrases.
Host and Publish Secure Private Output with Password Protected User Access in MadCap Central
You can now host and publish private output that requires a user to log in using an email address and password credentials. Without credentials, users cannot access the site, making this option ideal for internal employees or customer documentation that should not be accessed by the public.
Creating API Documentation Has Never Been Easier: Now Add Code Snippets with Syntax Highlighting in Dozens of Coding Languages
A new Code Snippet Editor allows you to easily create and insert code snippets into your documentation in dozens of coding languages, such as JavaScript and CSS. Syntax highlighting and numbering makes it easy for your users to view the code snippets.
Watch the Video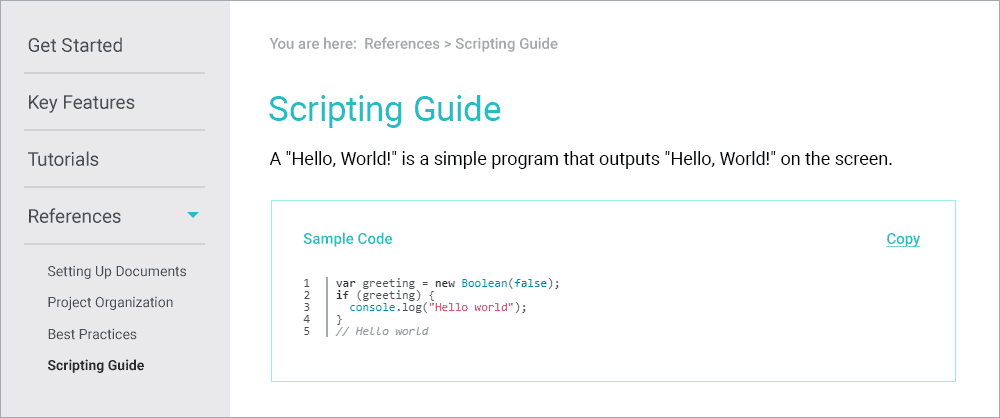 A built-in code snippet editor, syntax highlighting, and a copy button – brilliant! And the fact that it works great in print outputs is a game changer for MadCap Flare 2020.
Shahrooz Kamali | Senior Manager, Technical Documentation, Plex Systems
Publish Your Single-Sourced Content to ServiceNow® with the MadCap Connect Plugin
The latest MadCap Connect plugin adds publishing capabilities to ServiceNow®. Publishing your Flare single-sourced content to ServiceNow® knowledge bases is quick and easy.
Major Enhancements to Find and Replace: Find Text and Find Elements
Significant enhancements have been added to the Find and Replace feature, including the ability to find specific elements in your content such as changing all H3 tags to H2, or replacing the "Mobile" conditional attribute with "Tablet" and much more.
Watch the Video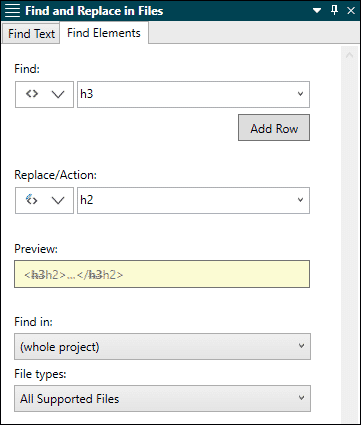 The new Find and Replace Elements functionality in MadCap Flare 2020 makes it so much more efficient to do extensive updates to your topic markup. You can now easily search for elements such as a Tag, Class, Style ID, Inline Formatting or Attribute, and update them at scale.
Daniel Ferguson | Founder & President, Smart Output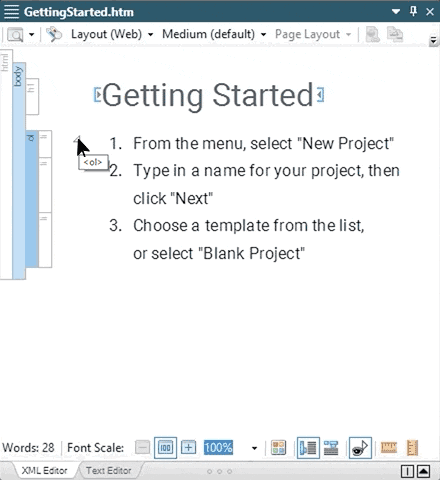 Authoring Improvements with Collapse and Expand Tags in the XML Editor
When working in the XML Editor, you can now collapse or expand tags (i.e., chunks of content) to make it easier to view and find content in long topics.
Watch the Video
2019 r2 release:
October 2019
Converting Microsoft® Word Files Has Never Been Easier with Effortless Drag and Drop and a Completely Redesigned Import Wizard
Drag and Drop Any File Directly Into Flare for Simplified Content Import
Improve Your Documentation and Customer Satisfaction with Business Intelligence and Data Analytics on Your Output
Direct Publishing from Flare to MadCap Central
Patent Pending Responsive Content Personalization Based on Device and Format
Now Import Atlassian Confluence® Files
Zendesk® Publishing Enhancements
Accessibility Improvements for HTML5 Output
FrameMaker® 2019 Import Support
2019 release:
April 2019
Micro Content Authoring Powers Search, Feeds Chatbots, Enhances Virtual & Augmented Reality Applications, and More
Publish Flare Content Directly to Zendesk
CSS Variables Reduce Clutter, Save Time and Ensure Consistency in Your Stylesheets
User Interface Localized in Chinese
Enhancements for Elasticsearch
User Interface Improvements
Redesigned Start Page for Easy Access to Recent Projects, Pinned Favorites and More
Updated Project Library and Templates
2018 r2 release:
october 2018
Source Control Enhancements for Git, Including Branch Merging and Revert Commit Support
Security Improvements for HTML5 Output
jQuery 3.3.1 Support for Online Outputs
Bind Your MadCap Central Projects Securely Using the HTTPS or SSH Protocol
2018 r1 release:
may 2018
New Cloud-based Editing with MadCap Central for Streamlined Contribution and Review
Extend Your Search with Powerful Elasticsearch for HTML5 Output
The Power of MadCap Analyzer Is Now Built Into MadCap Flare
A New Side Navigation HTML5 Output for Improved SEO and User Experience
MadCap Connect for Salesforce® Improvements, Including Support for Multiple Languages and Salesforce® Lightning
Enhanced User Experience with Automatically Synchronized TOCs
New Support for SharePoint 2016, SharePoint 365 and Team Foundation Server 2018
MadCap Mimic and MadCap Capture Now Bundled Free with MadCap Flare
2017 r3 release:
october 2017
New Style Inspector to View and Edit Your CSS Properties
UI Enhancements for the Stylesheet Editor, Previews and More
Advanced Microsoft® Excel Import
Text Analysis for Readability, Average Sentence Length and More
Thesaurus Support
New Responsive Top Navigation Templates
2017 r2 release:
May 2017
Salesforce® Integration
Google Search Integration for Custom Search Engine (CSE)
Faster Compile Times
Top Navigation and User Experience Enhancements
FrameMaker® 2017 Import Support
Favicon Support for HTML5 Outputs
2017 r1 release: January 2017
MadCap Central Integration for Powerful Cloud-based Content Management
Live Dynamic Preview Window for Your Output Including Print, HTML5 and More
Pin Your Variables for Quick and Easy Access
All-New Clean XHTML Output
Associate Conditions and File Tags to New Files
Microsoft® Word Equations Converted to MathML on Import
Synchronization of Topic Title and TOC Entries
Ready to Get Started?
Our 30-Day Trials are Free and Fully Functional.