Cutting-edge technical authoring and publishing for today's technical writers and content developers.
New Release: MadCap Flare 2019 r2 Now Available
Converting Microsoft® Word Files Has Never Been Easier with Effortless Drag and Drop and a Completely Redesigned Import Wizard
Converting your Microsoft® Word files to Flare topics just got even easier. You can now drag and drop files directly into the Content Explorer. Plus, a completely redesigned import wizard gives you more control when importing your files.
NEW DRAG AND DROP
Drag and drop any number of Word files directly into the Content Explorer for a simplified content import workflow.
Watch the Video
NEW IMPORT WIZARD
The new import wizard simplifies the process of importing Word files, and adds new options to streamline the conversion process.
The new General page has been simplified.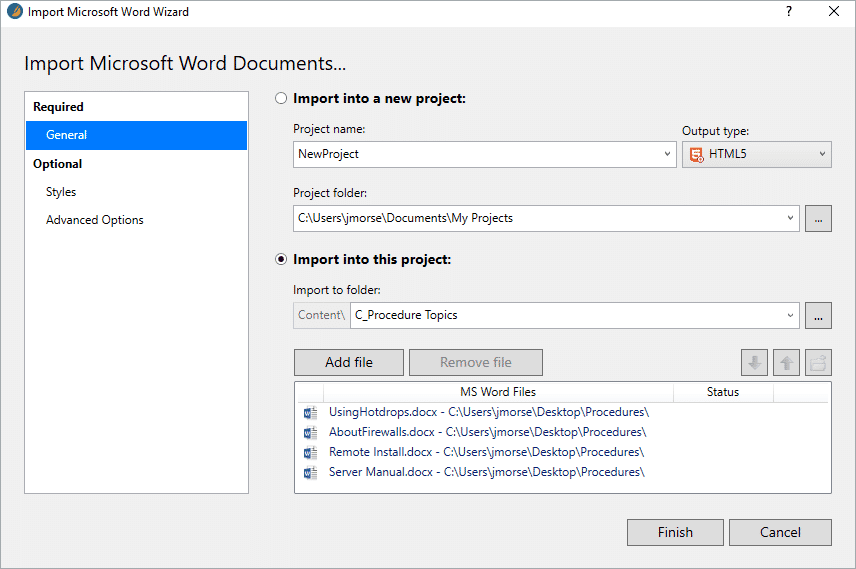 The new Styles page combines multiple pages from the old wizard into one. On this page, you can do the following.
Associate a stylesheet
Discard and restore Word styles
Expand and collapse mapping sections
Map paragraph and character styles
Choose styles for starting new topics
See a preview
The Advanced Options page has been reorganized and formatted, and includes some new options:
Styles
Tables
Lists
Page breaks
Drag and Drop Any File Directly Into Flare for Simplified Content Import
In addition to Microsoft® Word files, you can drag and drop any file type, such as image files or PDFs, directly into the Content Explorer.
Watch the Video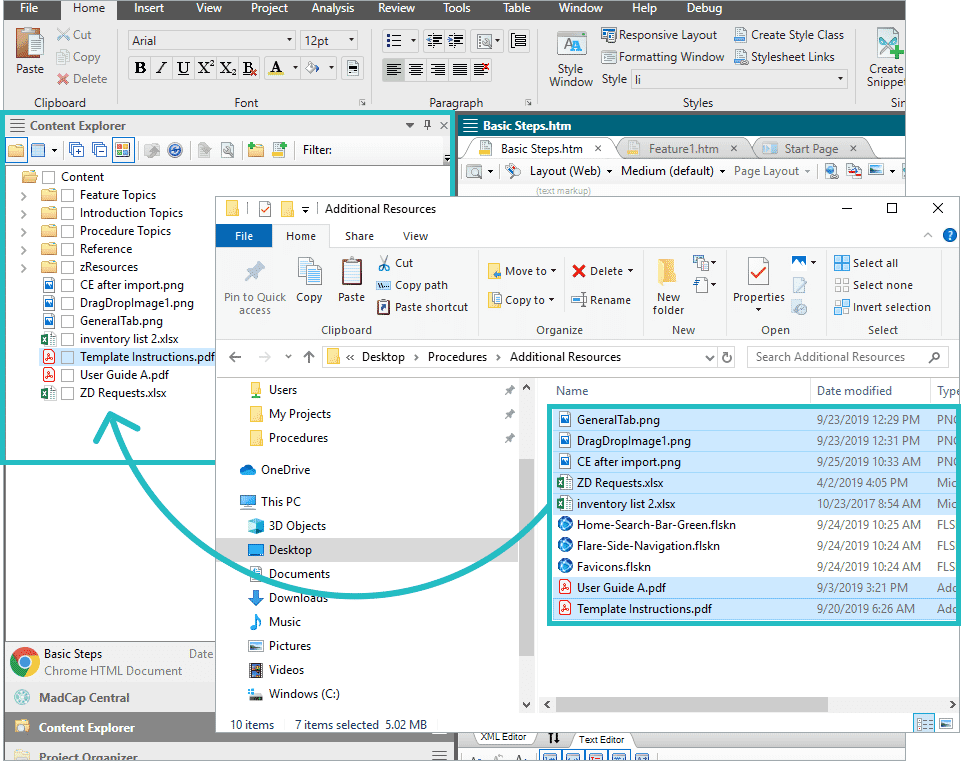 Improve Your Documentation and Customer Satisfaction with Business Intelligence and Data Analytics on Your Output
Are your end users finding the right content? How many times did a user search for content that provided no results? Should you create micro content for particular search phrases? All of these questions can be answered with output analytics on your Flare-generated content with
MadCap Central.
Easy set up in just minutes
Track usage on any hosted website or desktop output
Content can be hosted anywhere, not just with MadCap Central, to start gathering data analytics immediately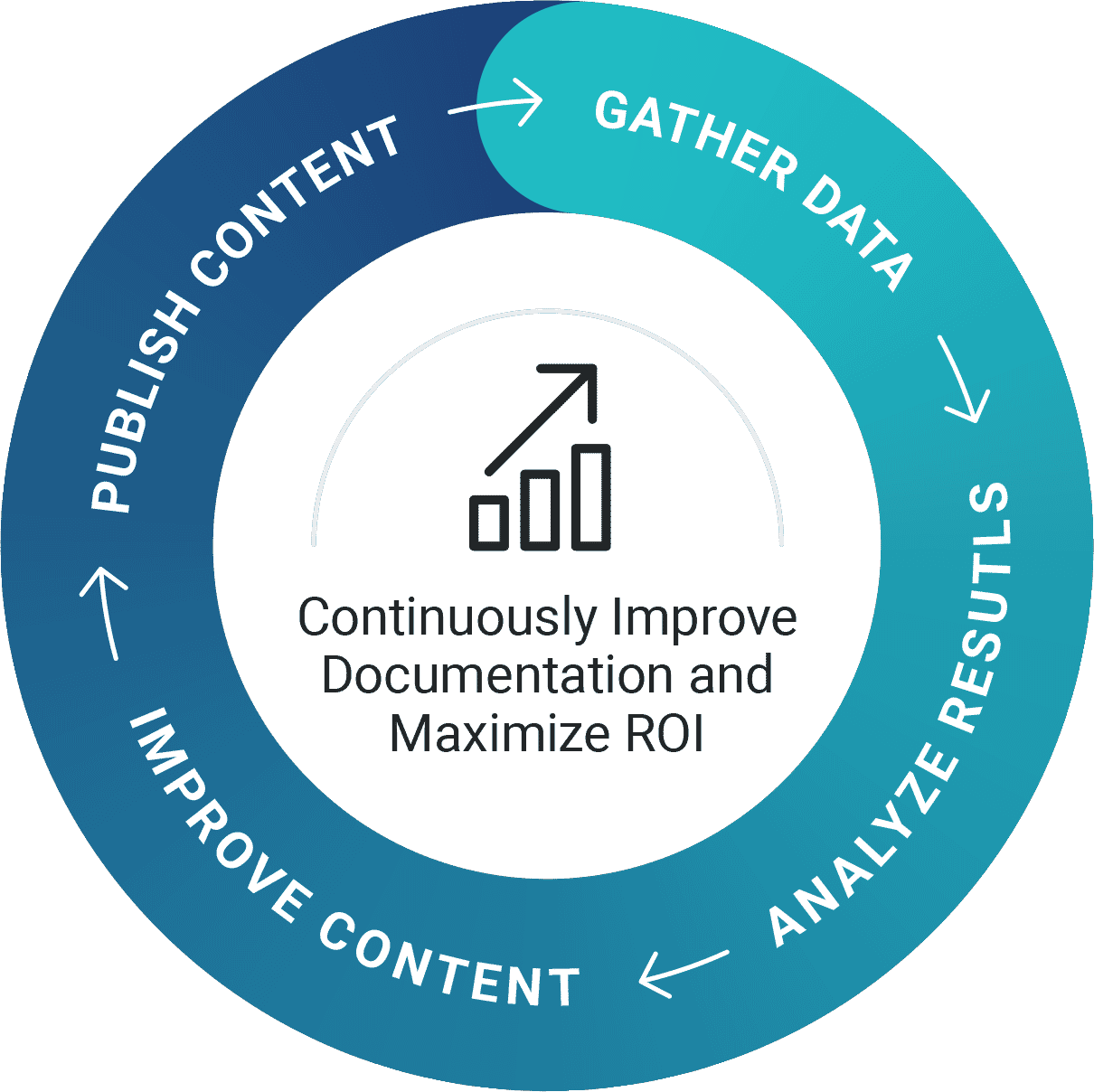 Search
Search Queries
Search Queries with No Results
Content
Topic Views
Context-Sensitive Help Calls
Demographics
Browser Statistics
Operating System Statistics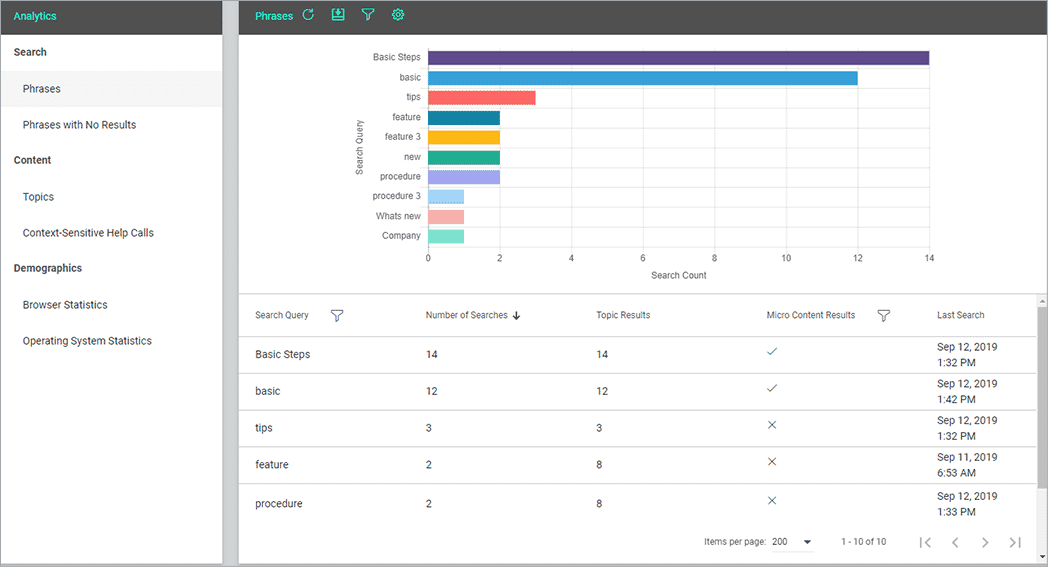 We use the output analytics feature in MadCap Central and find it easy and convenient. We use the analytics for all of our MadCap Flare projects, regardless of whether they are hosted with MadCap Central or not.
NIGEL LONGLEY | Learning Material Consultant, Construction Industry Solutions Ltd (COINS)
Publish Flare Content Directly to MadCap Central
You can now publish your output directly to MadCap Central from a local Flare project, allowing you to take advantage of features in Flare such as Elasticsearch and Build Events. This feature also doesn't set the output to "Live" – Central is still used to manage which output is visible to the public.
Patent Pending Responsive Content Personalization Based on Device and Format
In addition to making your HTML5 output responsive based on device, you can now dynamically change the content itself (text and multimedia) based on the format. Text, images and video can now be automatically changed based on screen size and format to provide the most appropriate and personalized content to your end users.
Watch the Video
Now Import Atlassian Confluence® Files
You can now import Atlassian Confluence® content – directly from Confluence cloud and self-managed servers.

Zendesk® Publishing Enhancements
You can now publish to alternate brands in a multi-brand account in addition to new options for article visibility and management.
Accessibility Improvements for HTML5 Output
Several new accessibility enhancements have been added to HTML5 output, including keyboard navigation, Accessible Rich Internet Applications (ARIA) tags, the ability to "Skip to Main Content" using the Tab button, and more.
FrameMaker® 2019
Import Support
Flare now supports the import of
FrameMaker® 2019 files.
MadCap Flare 2019 Release
Patent Pending Micro Content Authoring Powers Search, Feeds Chatbots, Enhances Virtual & Augmented Reality Applications,
and More
The future of content involves AI, machine learning and other technologies that allow for the intelligent flow of information. Only MadCap Flare gives you the ability to go beyond topic-based authoring with built-in micro content authoring. You can now create new machine and AI-ready micro content directly in the Micro Content Editor, or repurpose your existing content, such as a topic or snippet, for use as micro content.
"With the new Micro Content Editor in MadCap Flare, I can easily create and leverage existing topics and snippets to improve the user's search experience. I look forward to applying this feature with other technologies such as chatbots, embedded help, augmented reality, and virtual reality applications."
Thomas Bro-Rasmussen
Technical Writer
Improve your search results
You can now easily add featured snippets in your search results. Add micro content in Flare with corresponding search queries to provide users with a concise piece of information, greatly improving the user experience.
Watch the Video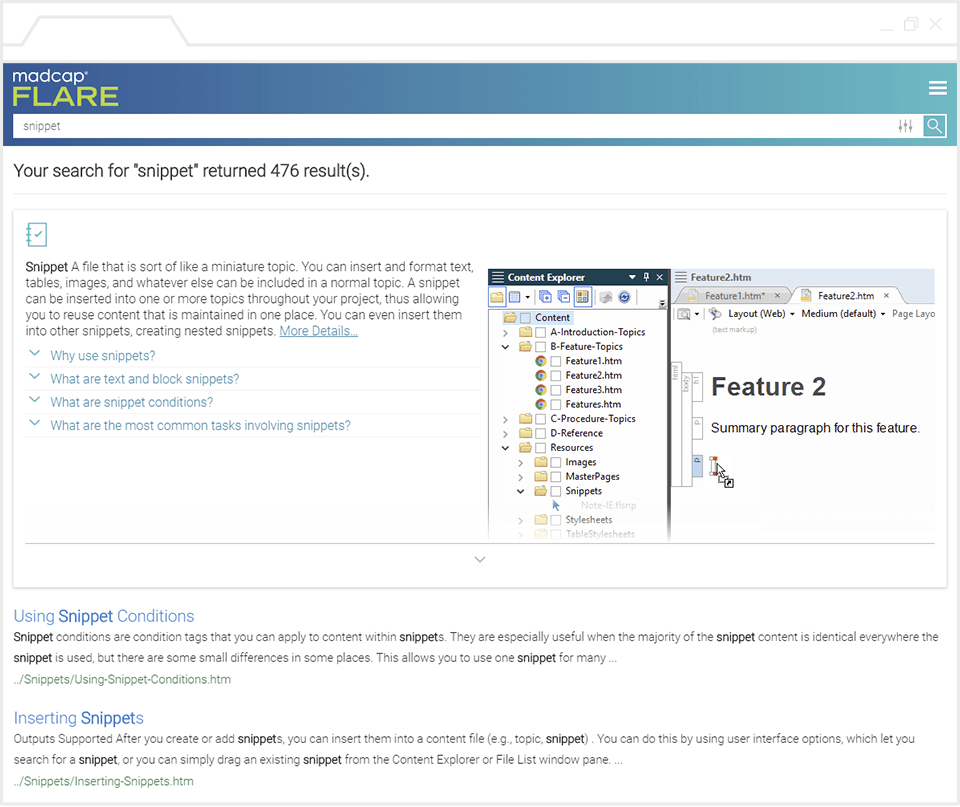 "An important factor for effective user documentation is the speed at which users can find information. The micro content functionality in Flare allows authors to deliver exactly that – a precise piece of content relevant to specific search queries – using the new Micro Content Editor."
Swapnil Ogale
Technical Writer
MACHINE-READY AUTHORING:
FEED CHATBOTS AND OTHER AI APPLICATIONS
Micro content can be used to feed machine learning applications such as chatbots and other cross platform applications such as Alexa, Cortana and IBM Watson. Machine learning applications are only as good as the information they are fed – the shorter and more precise the information, the more effective and relevant the results.
The information your customers seek – often already found in Help content, product documentation, knowledge bases and user manuals – is structured hierarchically, making the small, semantically rich chunks of content more easily digested by these machine learning applications. All micro content in Flare (new or existing) is tagged with unique XML extensions, making the content easy identifiable and ingested by machine ready and AI applications appropriately.
Enhance VR and AR Applications
Virtual and augmented reality applications often display very small segments of content associated with the visual being displayed – whether an engine part or the description of a piece of furniture.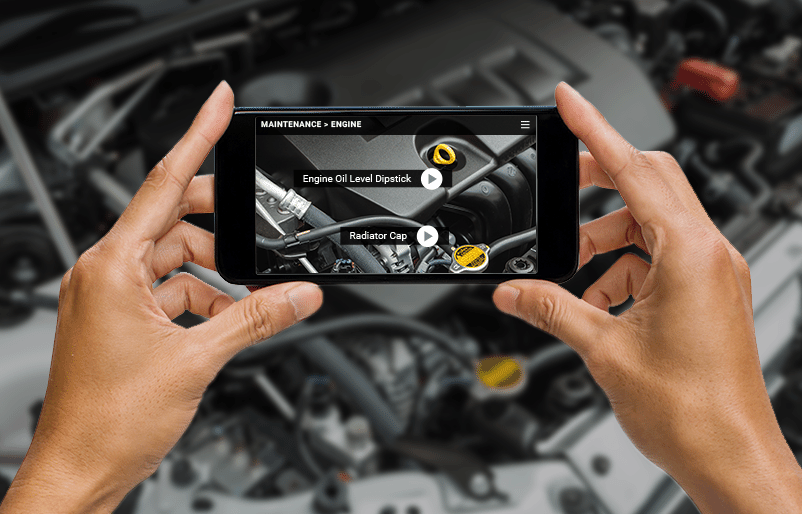 Add call-outs for field-level help
Use micro content to create field-level descriptions for applications. Developers can programmatically add this content to applications to assist users and improve user experience.
Create FAQ Databases
The new Micro Content Editor features a question and answer pairing, making it easy to create FAQ databases based on short, concise, relevant answers to questions about products, services policies, and more.
"Flare's new micro content editor is easy to use, and lets me add concise, relevant content that enhances a user's search experience. Looking forward to finding new, creative ways to apply this feature to my Flare projects!"
Neil Perlin
Technical Writer
Publish Flare Content Directly to Zendesk
With MadCap Connect for Zendesk, you can publish MadCap Flare content directly to your Zendesk Help Center dashboard with just a few clicks.
Watch the Video
CSS Variables Reduce Clutter, Save Time and Ensure Consistency in Your Stylesheets
CSS variables – sometimes referred to as CSS custom properties – allow you to place the value for a style in one place and reuse it throughout a stylesheet. There are many benefits to using CSS variables, namely to help with speed, ease of use, and consistency.
Watch the Video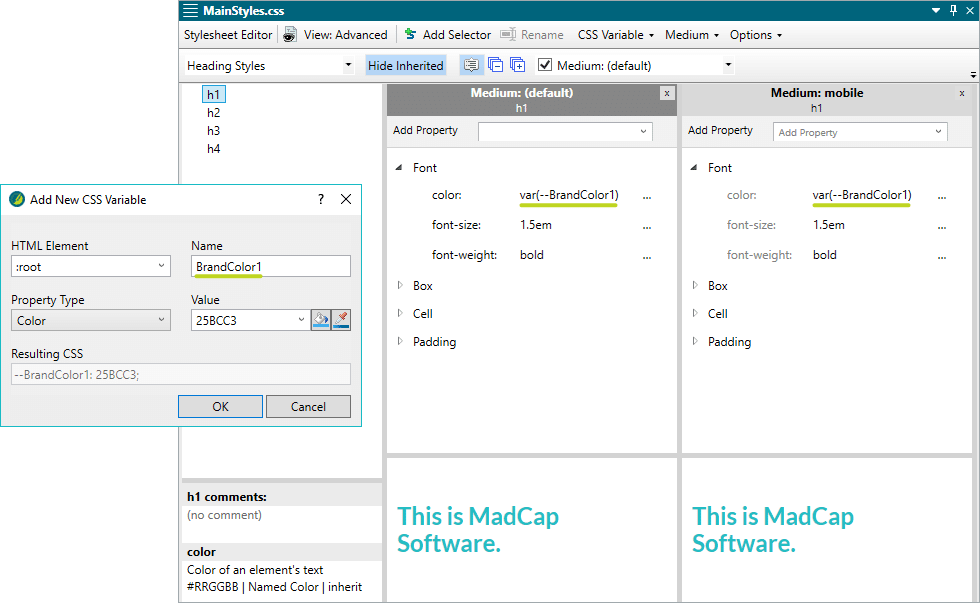 User Interface
Localized in Chinese
In addition to English, French, German and Japanese, the MadCap Flare UI is now localized in Chinese.
Enhancements for Elasticsearch
Improvements to Elasticsearch include the ability to sort the columns displayed in the main portal window by date and by search count, as well as the ability to view the micro content created for your output.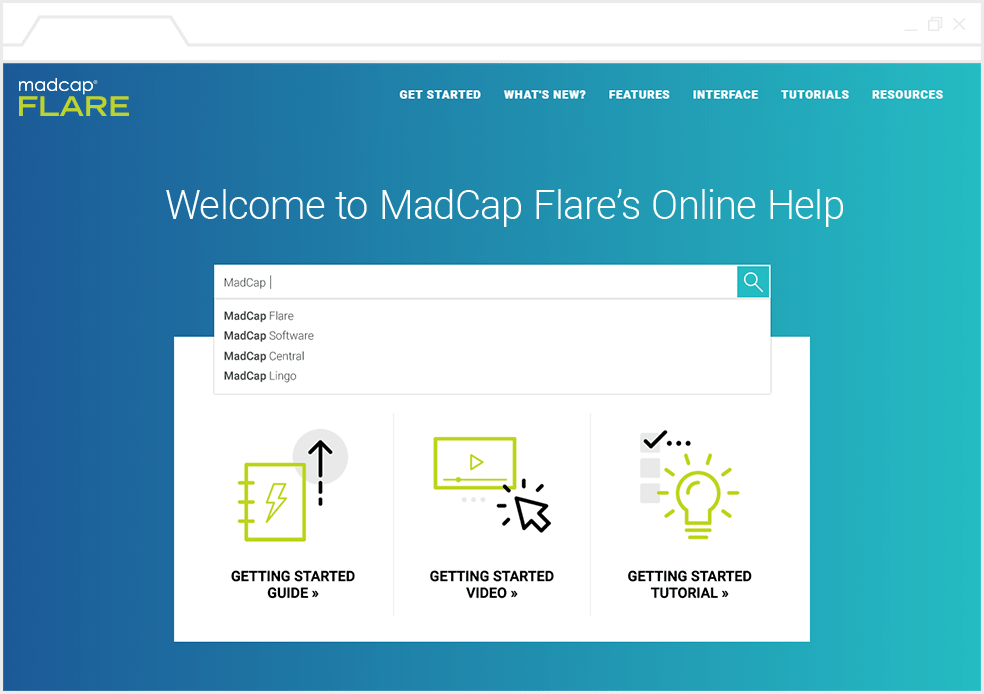 User Interface Improvements
The black, classic, and silver interface themes have been redesigned for a brand new look.
Watch the Video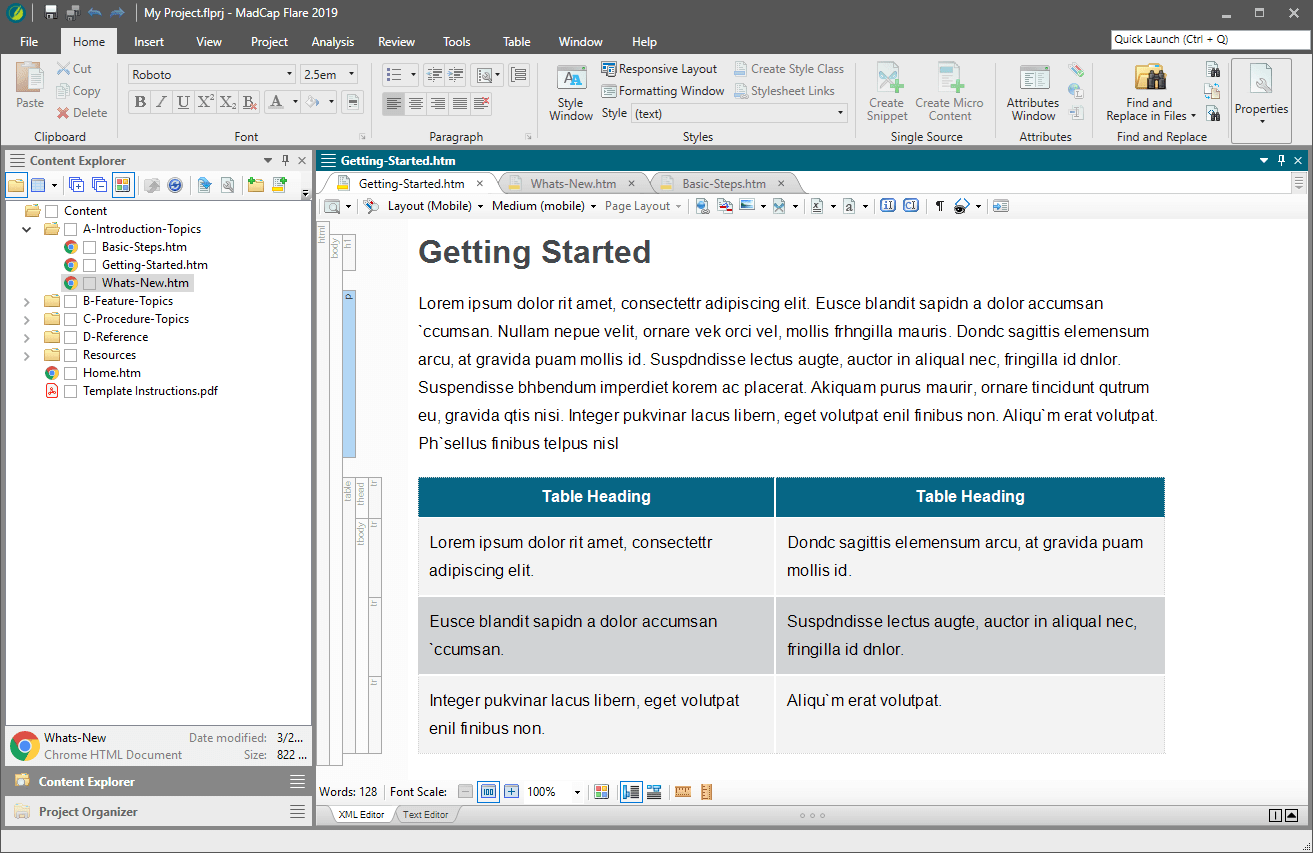 Redesigned Start Page for Easy Access to Recent Projects, Pinned Favorites and More
A redesigned Start Page makes it easy to access your projects, including the ability to pin your favorite or most commonly accessed projects to the top of your list.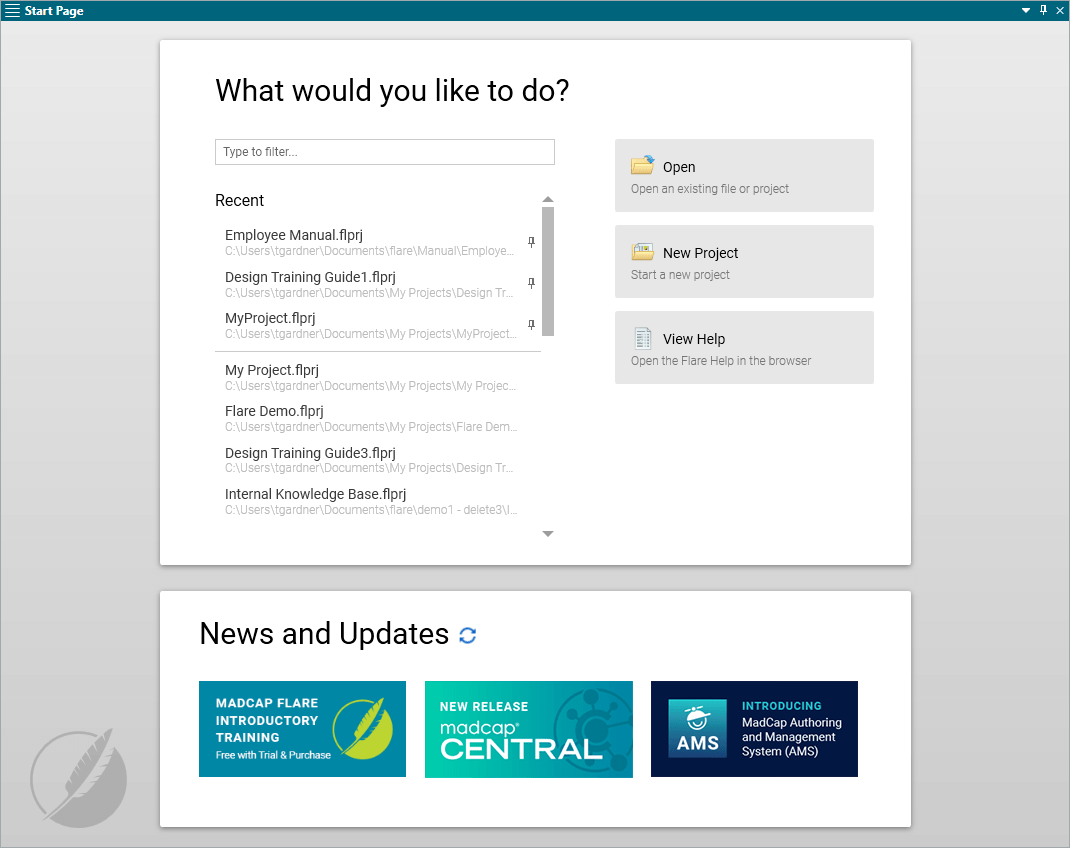 Updated Project Library and Templates
Flare's library of project templates has been streamlined and most designs have been updated.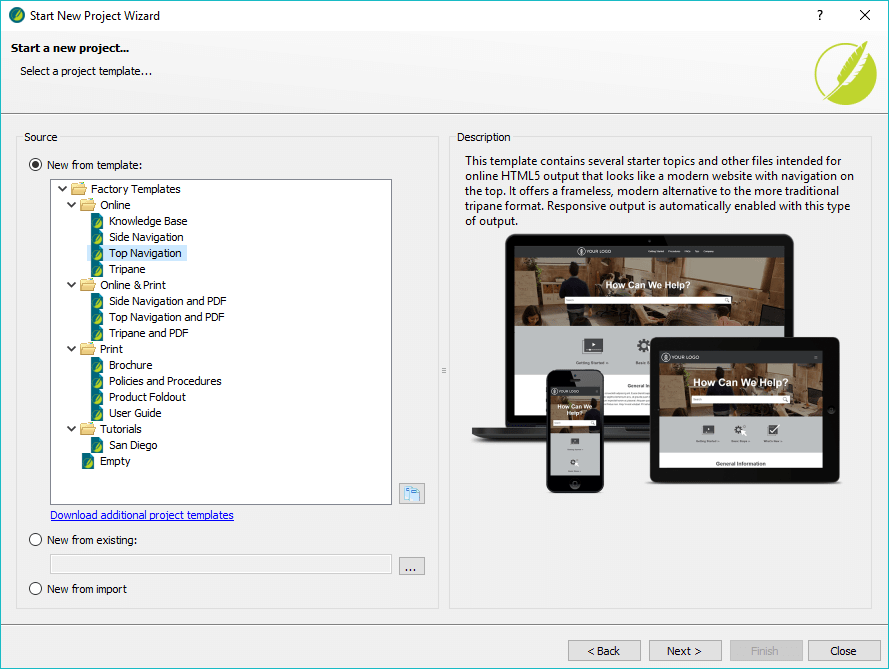 2018 r2 release:
october 2018
Source Control Enhancements for Git, Including Branch Merging and Revert Commit Support
Security Improvements for HTML5 Output
jQuery 3.3.1 Support for Online Outputs
Bind Your MadCap Central Projects Securely Using the HTTPS or SSH Protocol
2018 r1 release:
may 2018
New Cloud-based Editing with MadCap Central for Streamlined Contribution and Review
Extend Your Search with Powerful Elasticsearch for HTML5 Output
The Power of MadCap Analyzer Is Now Built Into MadCap Flare
A New Side Navigation HTML5 Output for Improved SEO and User Experience
MadCap Connect for Salesforce Improvements, Including Support for Multiple Languages and Salesforce Lightning
Enhanced User Experience with Automatically Synchronized TOCs
New Support for SharePoint 2016, SharePoint 365 and Team Foundation Server 2018
MadCap Mimic and MadCap Capture Now Bundled Free with MadCap Flare
2017 r3 release:
october 2017
New Style Inspector to View and Edit Your CSS Properties
UI Enhancements for the Stylesheet Editor, Previews and More
Advanced Microsoft® Excel Import
Text Analysis for Readability, Average Sentence Length and More
Thesaurus Support
New Responsive Top Navigation Templates
2017 r2 release:
May 2017
Salesforce Integration
Google Search Integration for Custom Search Engine (CSE)
Faster Compile Times
Top Navigation and User Experience Enhancements
FrameMaker® 2017 Import Support
Favicon Support for HTML5 Outputs
2017 r1 release: January 2017
MadCap Central Integration for Powerful Cloud-based Content Management
Live Dynamic Preview Window for Your Output Including Print, HTML5 and More
Pin Your Variables for Quick and Easy Access
All-New Clean XHTML Output
Associate Conditions and File Tags to New Files
Microsoft® Word Equations Converted to MathML on Import
Synchronization of Topic Title and TOC Entries
Ready to Get Started?
Our 30-Day Trials are Free and Fully Functional.