An employee handbook is essential to convey expectations to employees; however, not every organization has the time and resources to write the document from scratch. That's why we created the pre-written employee handbook manual, available to all licensed MadCap Doc-To-Help 5 users. This new project provides the information needed to quickly create and publish a comprehensive employee handbook, in different formats, specific to your organization's needs.
The Employee Handbook project includes comprehensive information on employee policy and procedures, including:
Employee Policies
Compensation Policies
Benefits Policies
Leave Policies
Safety Policies
Standards of Conduct and Corrective Action
Employee Acknowledgement Form
Tips on Using and Customizing the Employee Handbook Manual
Designed with Doc-To-Help and Microsoft® Word users in mind, the manual gives you the ability to create an effective document right out of the box. One major benefit of the employee handbook project is that it can be completely customized, tailored to fit the needs and specifications of your organization. Want to change the company name? The style and color of headings and text to match corporate branding requirements? The following are a few ways that the content can be customized:
Variables allow you to write content once, and manage it in one place for reuse across your project. This project contains a number of text variables which act as placeholder text, so that you can easily update text project-wide. For example, this project has a text variable for "Company" currently defined as "FictionSoft". You can easily update this text variable to reflect the name of your company throughout the entire manual.
Doc-To-Help's templates can be edited to suit your own corporate branding needs and requirements. This may include changing the color and fonts of the headings and normal text. This can be done by editing styles in the Word template files (DOTX files).
For more information on Templates and editing the styles in the templates for each output, visit the Templates topic page from the online help.
Wanted to add a cover page to your Word and PDF outputs? This project has a pre-built cover page for the print-based output that can be customized in the Target Template. In addition, the Title, Supertitle, and "By" line can be easily updated within the Doc-To-Help target properties: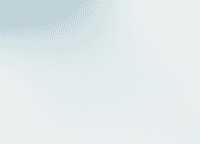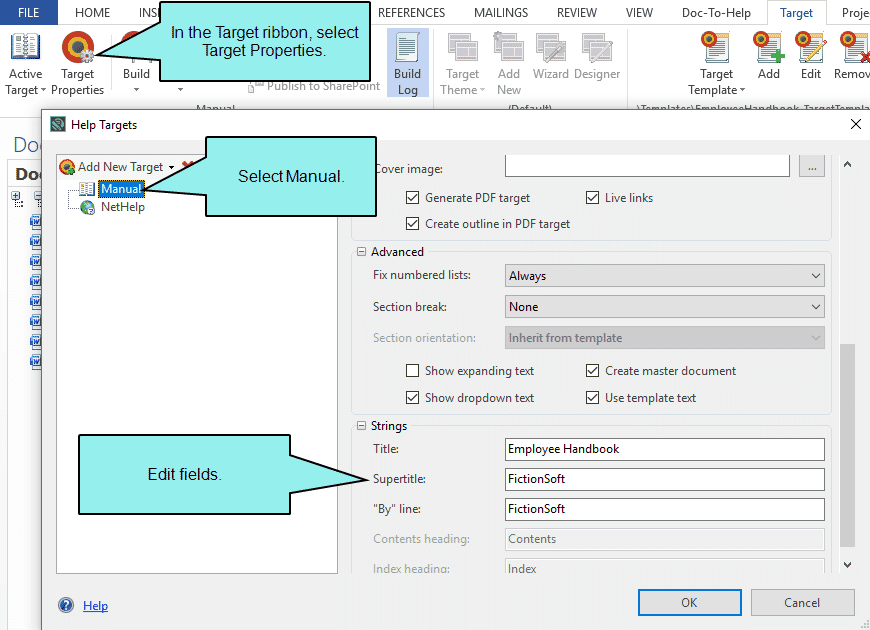 Doc-To-Help uses themes to style the "skin" that surrounds your content in online output, as well as the button display and labels, icons, colors, and more. Several pre-defined themes are included for NetHelp targets, and it is easy to create a custom theme to meet your corporate branding needs. Click here for more information on customizing NetHelp themes.
You can easily create links to other topics, as well as bookmarks, link tags, keywords, groups, and glossary entries. This is useful when directing your reader to a related section in the manual.