This guest post was written by Olga Gomonova, the Head of Enablement at Unqork. Prior to joining Unqork, she worked for several Fortune 500 companies including State Street Corporation, McKinsey & Co, and Microsoft Corporation. She also spent time with a VC community and founded ChicCartel, a platform for young sustainable designers. Olga graduated from Tufts University with a degree in International Relations and Finance. In 2014, she received an MBA degree from Harvard Business School.
We believe that knowledge, new skills, and unique abilities drive creativity in problem-solving. They also open our eyes to new ways of engaging with the world. Knowing how to do something new is only a step away from actually doing it.
This is why, from the start, we were focusing on building out a robust enablement function that acts as a center of knowledge for the company and offers various educational services. This function was launched less than three years ago and now supports over ten thousand Unqork students engaging in dozens of programs and certifications.
To launch and scale the function quickly, I developed four distinct stages of organizational maturity. Recently, I presented a webinar that focused on those stages and showcased how picking the right technology, building the right team, and selecting the right focus areas helped me scale the function in a control fashion. In this post, I'll offer more insights into these stages.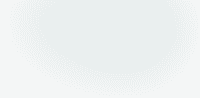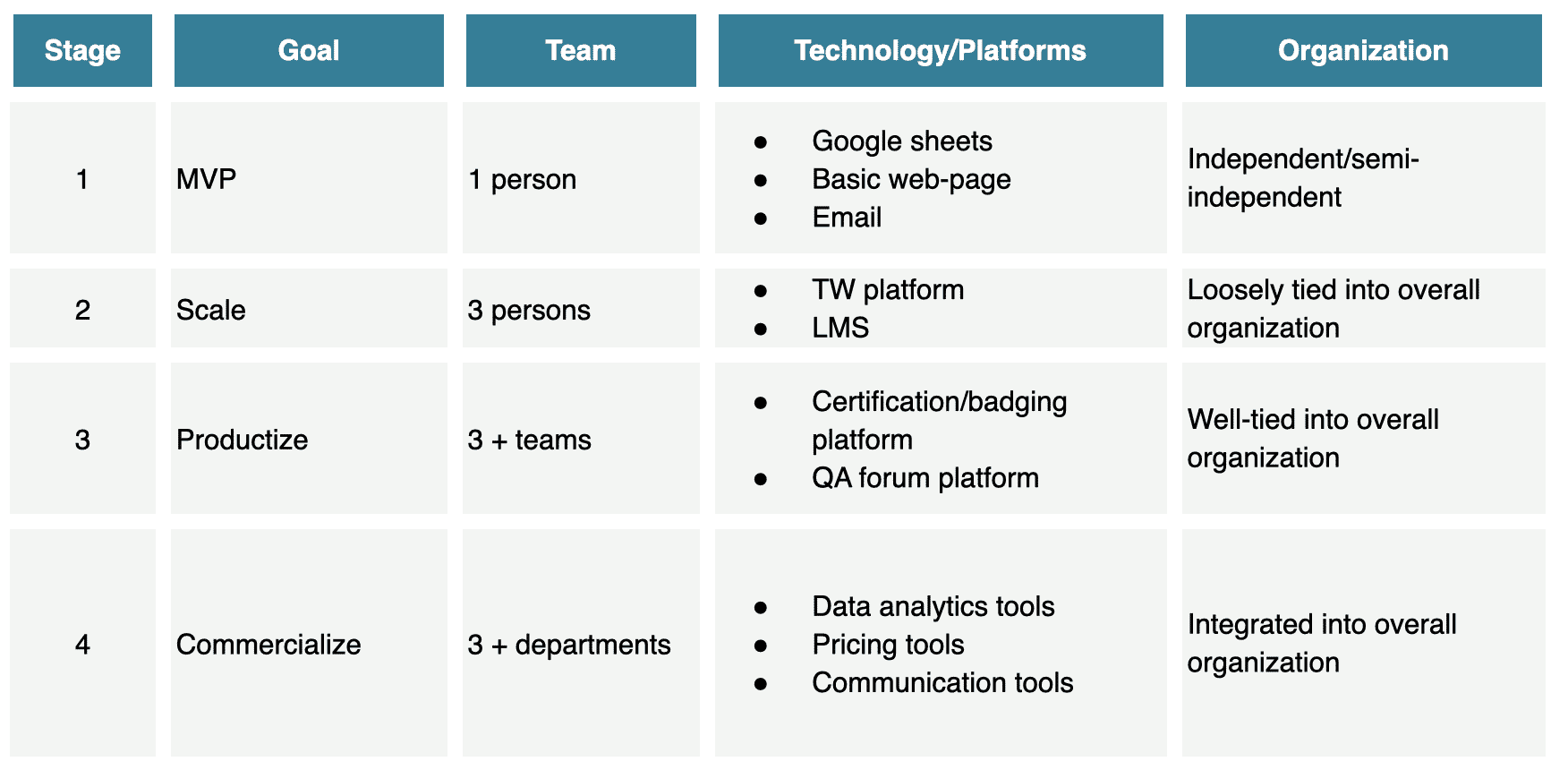 Stage 1 is around building out a Minimum Viable Product for your educational offering. At this stage, all you need is to prove that demand exists for your "product." You'll need to launch a basic version of your course and then present it to a willing audience. If the feedback is positive and you get some follow-ups, consider it a win.
At this stage, you can think of yourself as a one-person team launching a startup within a startup. You don't need any tailored technology. Google sheets, a basic webpage, and an email will be enough to get your function off the ground. I spent the first few months at Unqork learning the product and then writing a few dozen articles with exercises attached. The moment the course was ready, I presented it to a class of partners. The event was a success, and I was booked for training sessions for months after.
Bottom line, the most critical thing for stage 1 is to completely lose fear and do a lot of research. If you need a place to start, I recommend checking out the Technology Services Industry Association. This company produces top-notch research for Educational Services, including benchmarking and best practices. I leveraged them a lot in my first months at Unqork.
Stage 2 is all about scaling up. Since you know that there is a demand for educational services at your company, you need to focus on growing your audience and improving your "product." This is the right time to start hiring a team. Your team's most barebone version should consist of 3 people: you, a technical writer, and a technical trainer. You need a technical writer to start producing top-notch content, and you need a trainer to deliver that content to your audience. This frees you up to focus on two important decisions that need to be made in stage 2: selecting a Learning Management System and a Single Source Technical Writing Platform.
There are hundreds of LMS platforms available on the market, each with its unique features. When selecting a platform, I recommend creating a list of requirements and measuring the providers based on how they score against those requirements. Below is a list that I put together when looking at LMS.
| Feature | Why we need it |
| --- | --- |
| Integrations - Zoom | Schedule meetings and hold Virtual Instructor-Led Training from within the platform. |
| Integrations - Zendesk | Ability to match tickets to courses and level of education. |
| Integrations - MadCap Flare or other Single Source Platform. | For faster content generation utilizing existing HTML code. Must have. |
| Multiple domains/views | Ability to post content to internal and external audiences. Must have. |
| Learning paths | Ability to filter all content by level:  Intro, Advanced and Super User. Must have. |
| Single sign-on | Ability to have the same log-in for LMS and Unqork platform. |
| Custom domain | Memorable domain name. Must have. |
| Virtual labs | Ability to do labs within individual environments. Must have. |
| Automatic certification | Self-service certification. |
| Rich data | Ability to include video content. |
| Analytics | Ability to interact with analytical data on multiple levels.  At a minimum, analytics must include a user report and class report. Must have. |
| Efficient end user-friendly layout | Ability to navigate to and within the application with ease. |
| Control over front-end | Ability to manage what courses users see first. Must have. |
| Content replication | Ability to publish courses across multiple domains. |
| Training calendar within the platform | Ability to offer self-sign-up classes. |
| Advanced search | Time-of-need learning. Must have. |
Selecting a Single Source Technical Writing Platform
You can apply the same method of selecting the Technical Writing platform. To make things easier, there are generally 6 most important areas that you should keep in mind when selecting a single source platform: true single sourcing, maximum content reuse, stand-alone authoring solution, "open" architecture, full CSS support, and leveraging existing content.
When the time came to select the platform, we evaluated a number of solutions, including Adobe Framemaker, RoboHelp, and DITA.  MadCap Software met all of our requirements. Today, all of our content resides under one umbrella as a single-source project from which we pull into different areas: Academy, in-product help, user guides, etc. All content is neatly organized, versionised, and accounted for. This extreme organization allows us to scale without running a risk of losing track of versions and creating chaos. Picking the right Technical Writing platform was an absolute make-it-or-break-it step in the process of our growth.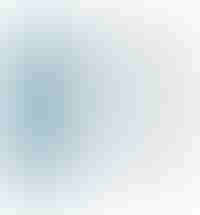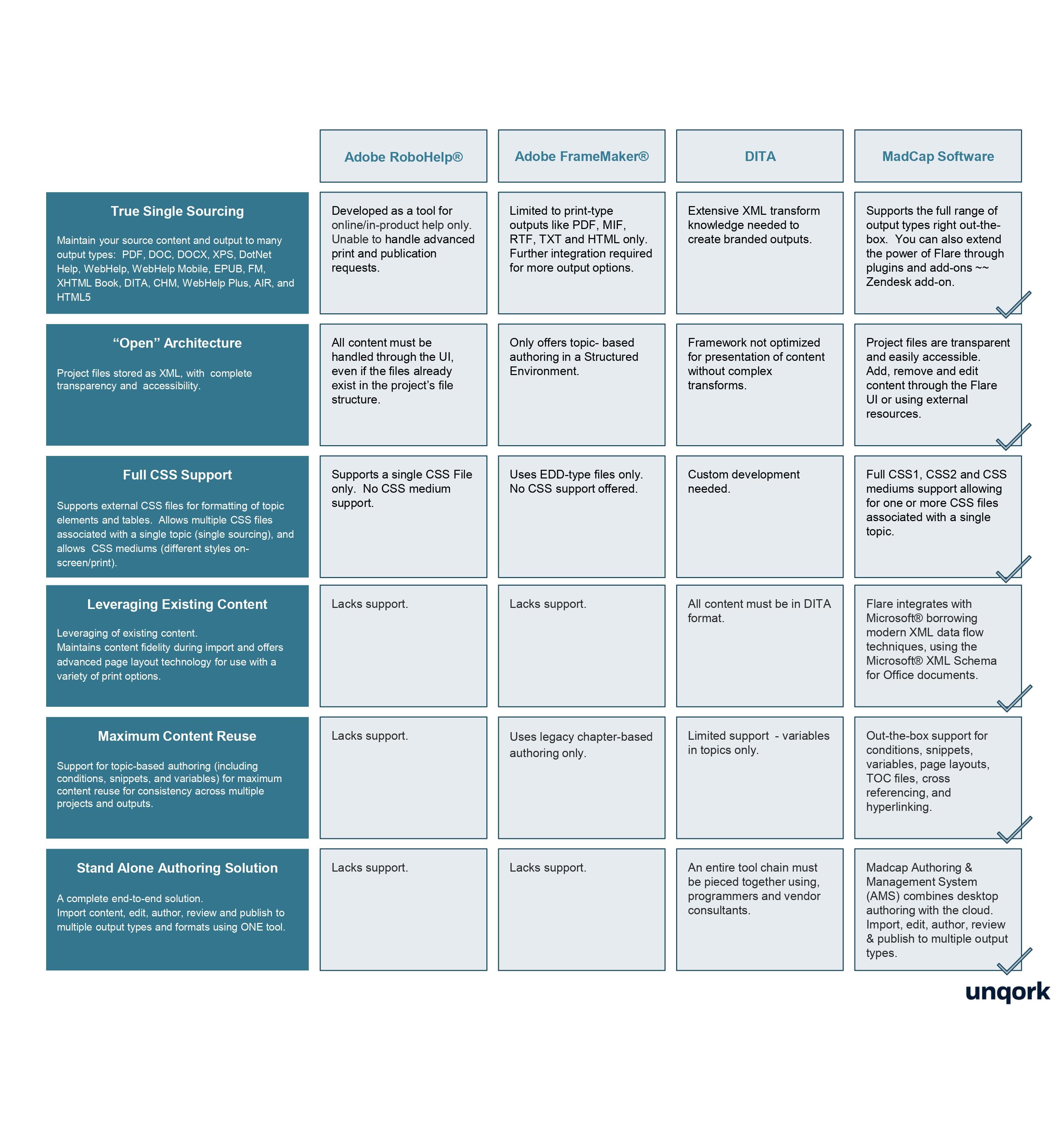 Stage 3 is about turning your educational offerings into an actual product. This means that your course (or any content you produce) should be beautiful, well-designed, and easy to consume. One of the key obstacles you will face will be around building the right team. Generally, by this point, you should start thinking about creating at least 3 separate functions: technical writing (to produce the content), technical training (to deliver the content), and instructional design (to design the content).
It is worth taking a closer look at the Instructional Design team. Generally, this team will design and think through the strategic direction of your educational offering. Some common goals would be creating learning paths, creating comprehensive certification levels, thinking through user engagement strategies, content consumption strategies, and grading strategies. You will need this team to turn your educational offering into a product.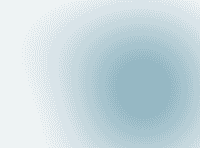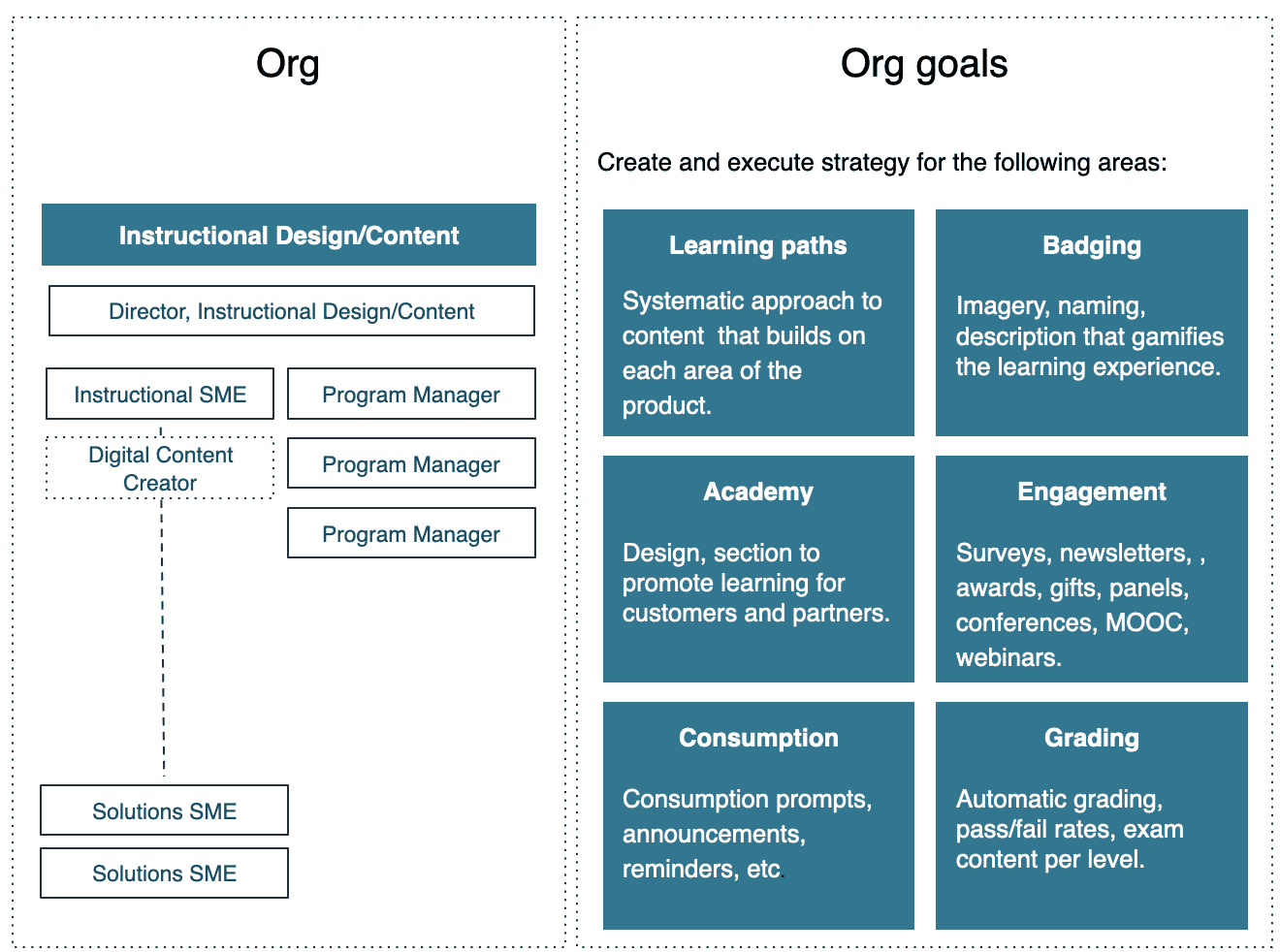 This is how the Instructional Design organization may look like in terms of its roles and responsibilities.
Another essential part of your organization is a Q&A forum. You will need it to help your users ask questions and get answers from each other and an army of SMEs that you will need to develop to support your efforts. At Unqork, we use StackOverflow, a pure QA format with the ability to upvote answers and get your question answered in under 15 minutes! Stack has been a great success with us as we scaled from zero to over 1,000 active users in just a few short months.
Below is the image of what Stack Overflow looks like - it is a simple Q&A platform that allows users to interact and ask each other questions. Adding this platform to our technology roaster allowed us to free trainers and scale-up students' ability to build a product without leaning on Unqork for all the answers.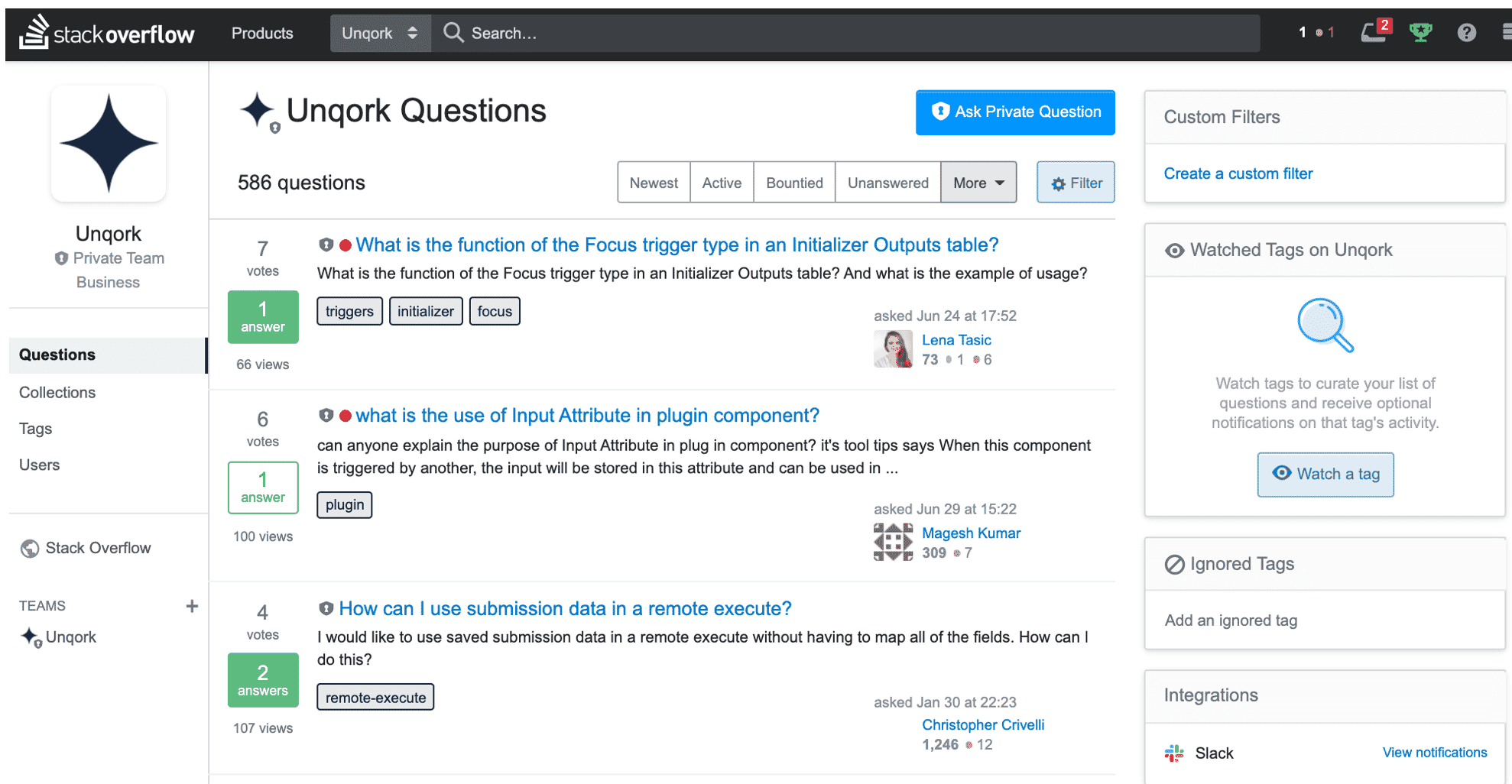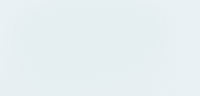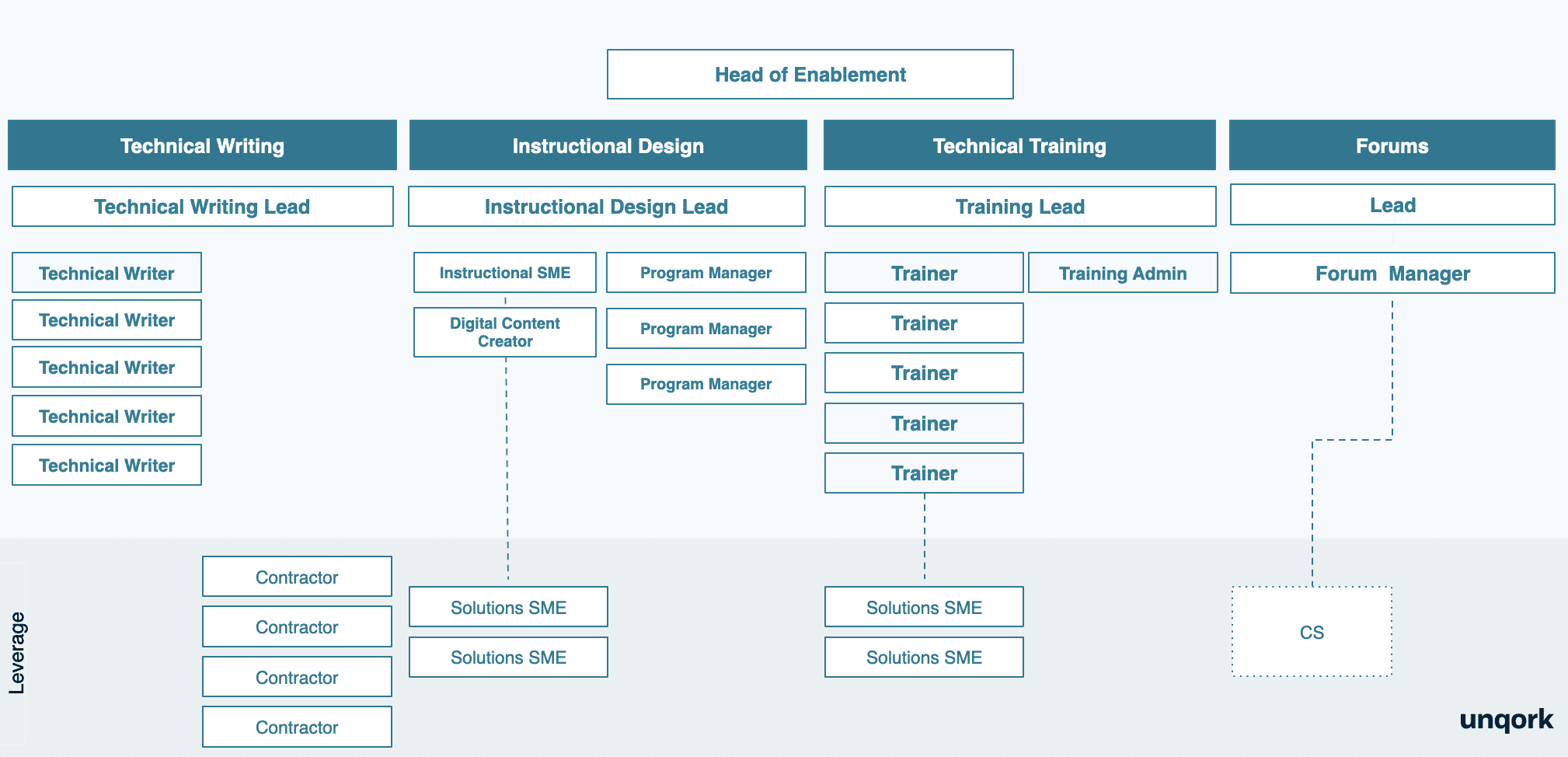 Stage 4 is all about commercialization. By this time, you should already be running a robust organization. If you are unsure how to structure your organization, look at what the org looks like at Unqork.
When thinking about whether to make your educational services free of charge or to commercialize your offering, remember two facts:
Just because education is offered for free doesn't mean anyone will consume it.
Putting a price tag on educational services makes them seem more valuable to the user.
Industry best practice is to make educational services a revenue-generating function. Now that you have a fully built-out organization and a well-designed product, you should start thinking about creating a revenue model for your offering.
When you think about how to price your offering, consider that there are three different pricing models:
Cost-based
Competition-based
Value-based
Cost-based is simply calculating what it costs you to run a program and then adding 25% or 50% (or 100%) to generate revenue.
Competition-based looks at your competitors and what they charge for similar products and pricing accordingly.
Value-based pricing is around learning how much value you generate for your customers and then charging that amount. This is the best way to price your offering because it focuses on the value delivered. 
This about sums up the basic overview of 4 stages of development for an educational services organization. If you have any questions, please reach out to olga@unqork.