Secure cloud-based authoring, collaboration, workflow and project management for technical writers and documentation teams. Login to MadCap Central
MadCap Central is a cloud-based platform that lets you plan, track, and manage the processes, content, and teams that are at the heart of your organization. Key features include project management tools, content hosting, simplified publishing, task tracking, user permissions, team collaboration and more.
Manage Your Projects in the Cloud
MadCap Central makes it easy to manage your Flare projects in the cloud.
Schedule Project Builds and More with Build Management Tools
MadCap Central makes it easy to manage various aspects of your project's output in the cloud. Build management features include:
Scheduling
Schedule your builds or generate them manually.
Unlimited Builds
Generate any number of concurrent live builds per target using vanity URL paths.
Private URLs for Internal Reviews
A private URL is automatically generated for each build, making it easy to share your generated output internally for review.
Exclude from Search Engines
For each build that you set to "Live," you have the option to prevent the output from being visible in search engines.
Project Linking
Links to external MadCap Flare projects–via Global Project Linking, runtime merging of projects, and multilingual output–are supported when building your output.
Review Content with Anyone in Your Organization with a Seamless Contribution and Review Workflow
Send your Flare topics (and snippets) to anyone in your organization for review using MadCap Central. Subject matter experts, authors and other non-Flare users can review content using a new lightweight editor in the cloud.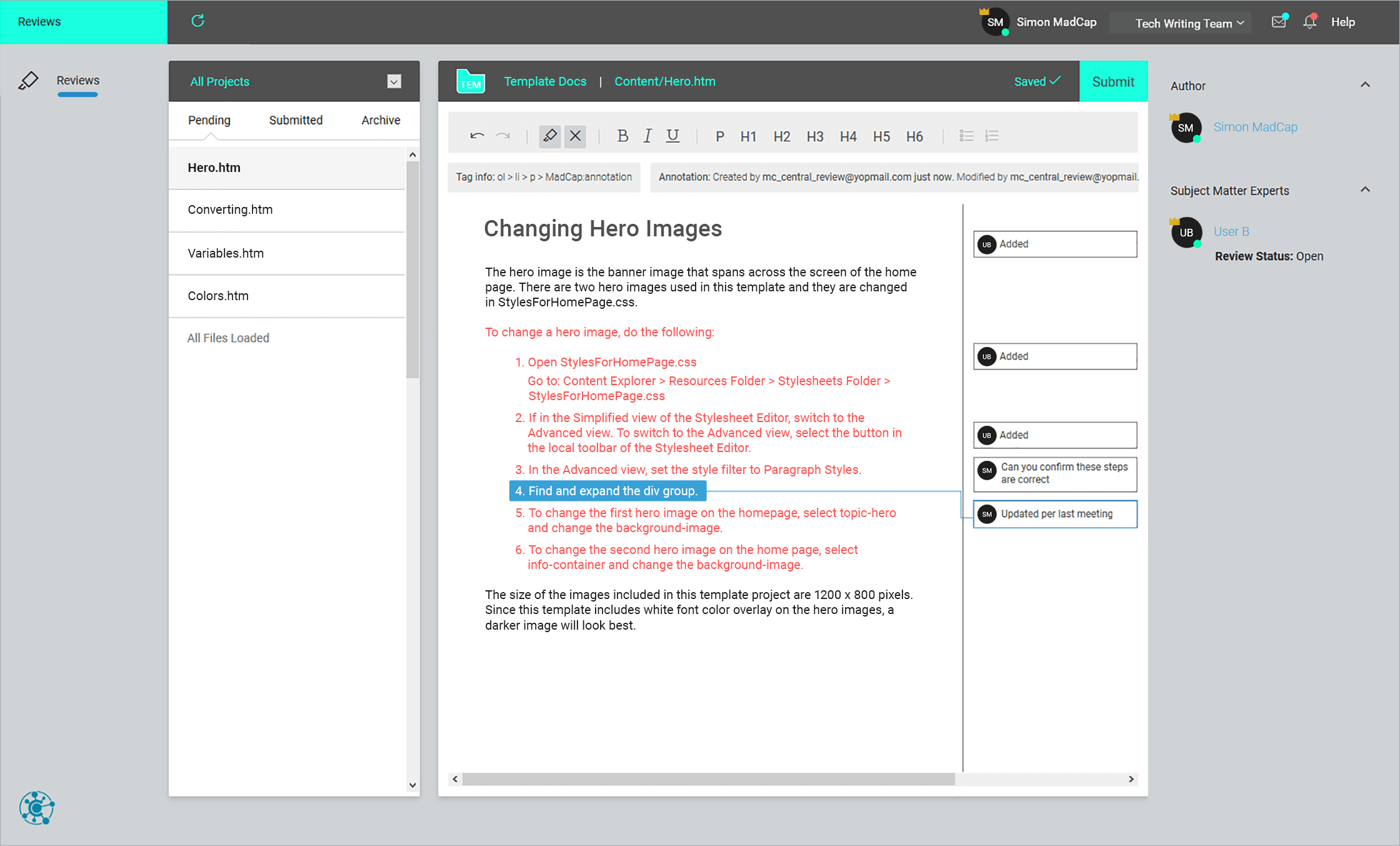 Customize Your Dashboard and Add Widgets for Important Project Information
Customize your dashboard with widgets – objects that let you see important information at a glance – for quick and easy access to calendars, build history, cloud storage usage, project properties and more.
Manage Projects with Project Checklists for Project-specific Activities and Progress
Eliminate spreadsheets and other non-integrated project management applications by tracking and managing your Flare project workflow with Project Checklists.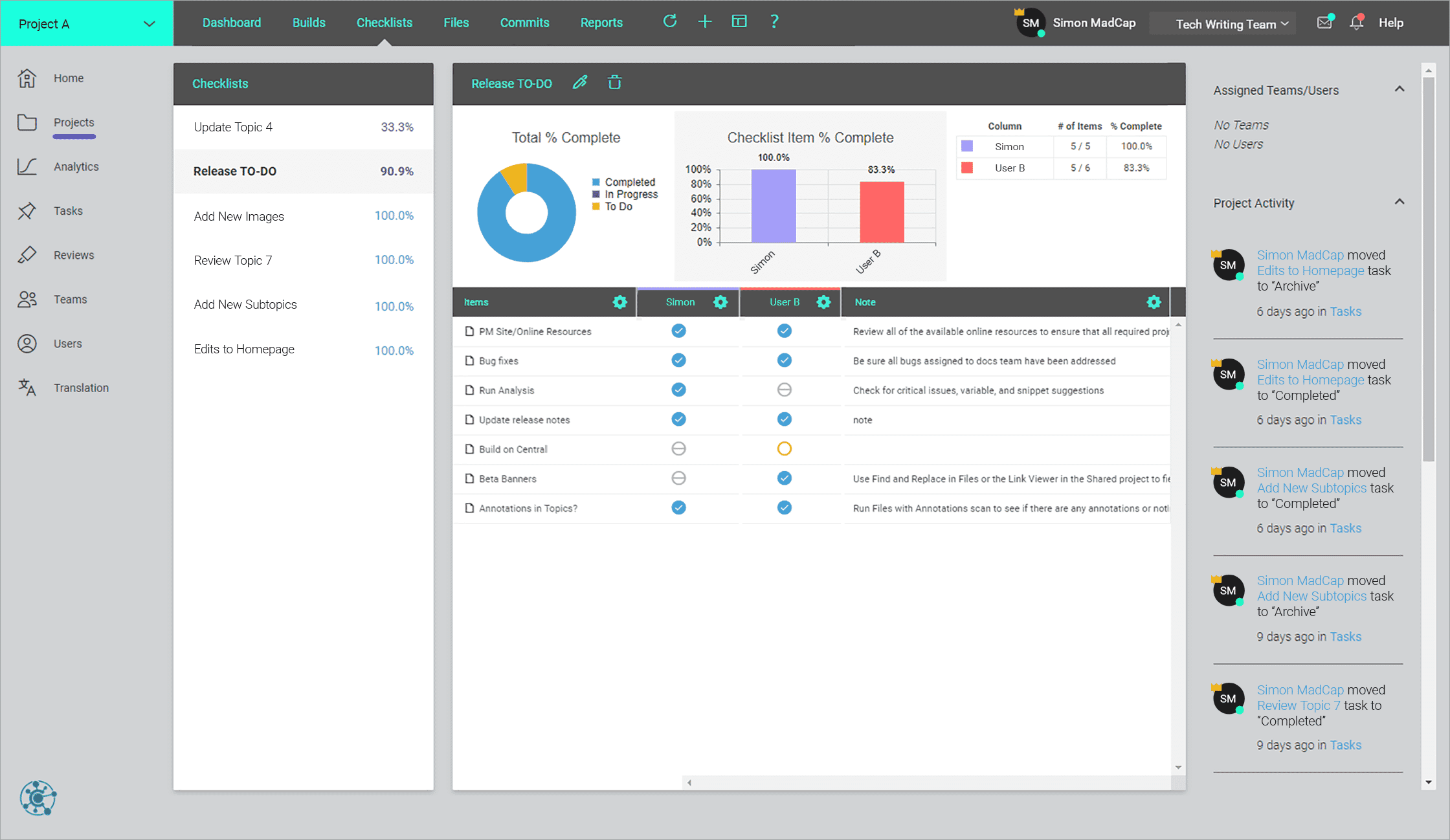 Create a Project Files Checklist: Project file checklists are automatically associated to specific files (e.g., topics, snippets, master pages) in your project. Custom columns can be added for any number of specific types of activity you want to track, such as "Subject Matter Expert Review" and "Add to TOC", as well as an optional Note column to include any additional details required for the checklist item.
Create a Custom Checklist: Custom checklists can be created for anything you would like to track and manage, such as a product release "To Do" lists.
Create Checklist Templates: Checklist templates can be accessed across all projects uploaded to MadCap Central.
Track Your Progress: Set the appropriate status on each item as you work, and chart the percentage of completion as you work through your checklist.
Update Team Members and Managers: Share your progress with teams and managers and display widgets on your Home and Project dashboard.
Template Manager for Project Checklists
With the new Template Manager for Project Checklists, it is easy to create and save checklist templates that can be accessed across all projects uploaded to your MadCap Central license. This is particularly useful when creating checklists that share the same type, description, columns, rows, or notes.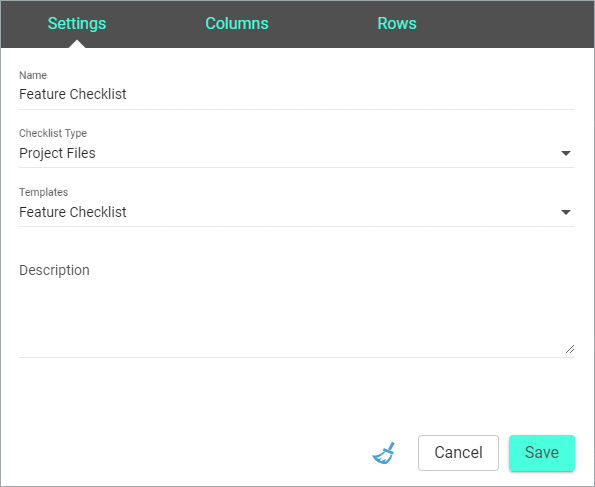 Manage Tasks Easily with a Visualized Workflow for Task Management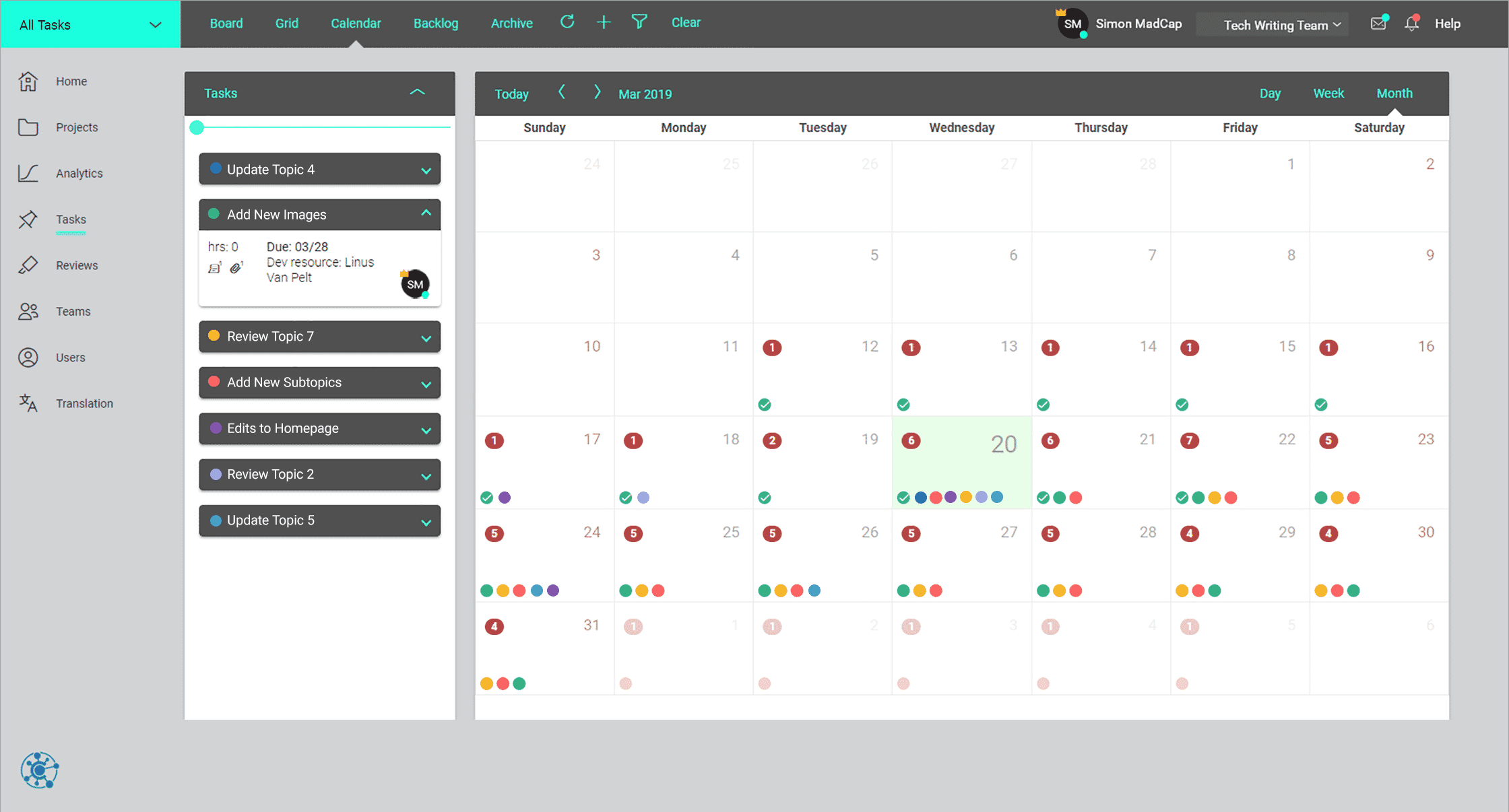 Keep track of tasks to be completed with a visualized workflow. The different views to manage your tasks in MadCap Central include:
Task Board
The Task Board view is similar to a Kanban board. It consists of three preset milestones: To Do, In Progress, and Completed.
Calendar
The Calendar view displays tasks in a calendar format for the day, week, and month.
Archive
The Archive view displays tasks that have been completed.
Backlog
The Backlog view displays tasks that are not yet complete and need to be removed from the workflow.
Associate Team Members to Projects for Easy Team Management
Associate team members with projects to quickly communicate with a specific set of users in MadCap Central.
Ready to Get Started?
Our 30-Day Trials are Free and Fully Functional.