Secure cloud-based authoring, collaboration, workflow and project management for technical writers and documentation teams. Login to MadCap Central
Image and Table Support for Cloud-based Contribution and Review
You can now add images as well as add and edit tables when working on contributions and reviews in the cloud using MadCap Central's lightweight editor.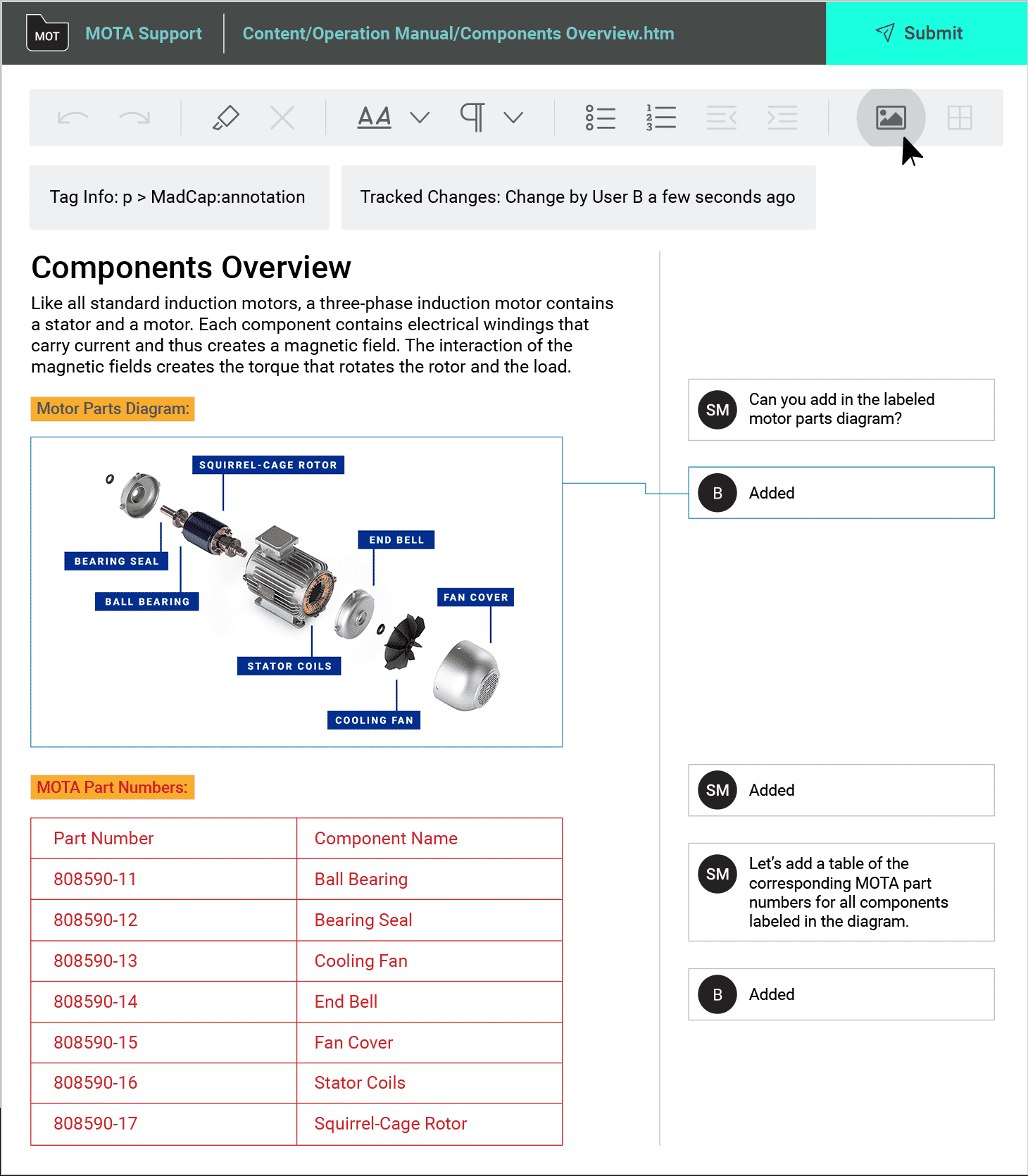 MadCap Central's simple review editor toolbar makes getting changes from your SMEs a snap. And the added ability for SMEs to add tables and images to the files they're reviewing makes the process still more powerful but still easy to use.
NEIL PERLIN | President, Hyper/Word Services
New Build Profile Dialog includes Build Details and Actions
A new dialog has been added to see detailed information about a particular build for a target.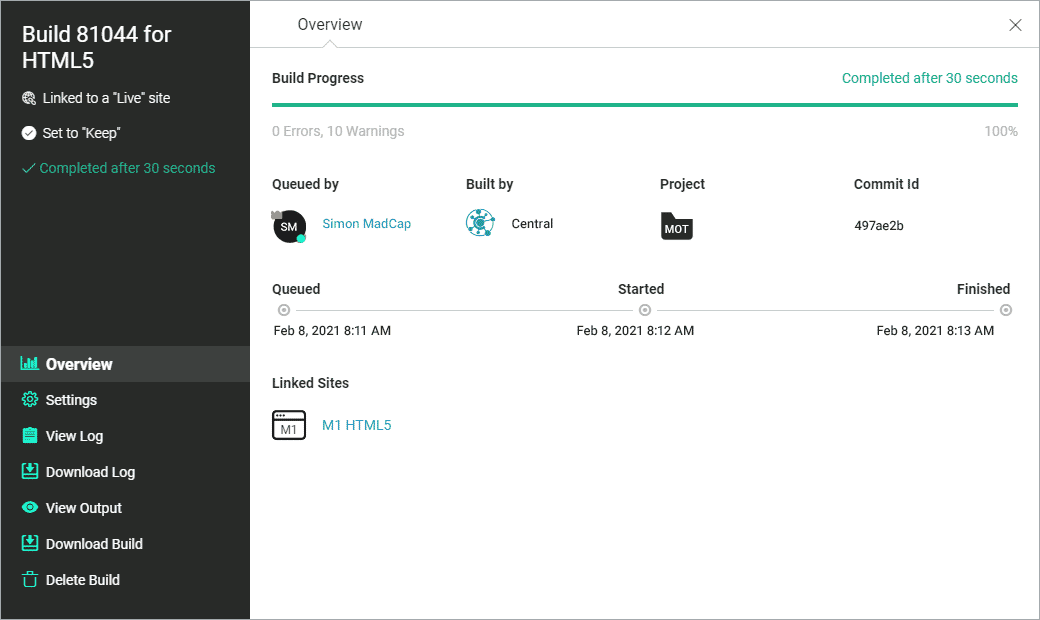 Overview
Displays the following information:
Build timeline and progress
User who generated it
Project Commit ID
Linked sites
Settings
Manage build settings such as setting builds as "keep."
View and Download Log
Displays the log for the build, with tabs showing messages, warnings and errors.
View Output
Opens the output for the build.
Download Build
Downloads the output files for the build into a ZIP file.
Delete Build
Lets you remove the build from the grid permanently.
Horizontal Scrolling in Grids
Easily access all columns in grids with new horizontal scroll capability.

Site Avatars
Avatars for sites are now automatically generated and displayed on the Sites page. Each avatar displays up to the first three characters of the site's name, and can be manually edited anytime.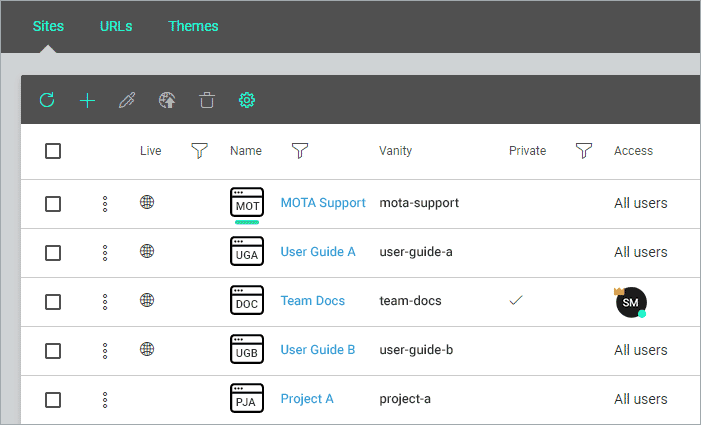 Host and Publish Secure Private Output with Password Protected User Access
You can now host and publish private output that requires a user to log in using an email address and password credentials. Without credentials, users cannot access the site, making this option ideal for internal employees or customer documentation that should not be accessed by the public.
Providing secure password-protected access for viewers and SMEs to our Flare-generated content hosted on MadCap Central has been a game changer for us. We are now more efficient and self-reliant as a team, eliminating dependencies on our internal IT departments.
Patrick Fueldner | Tech Lead – Technology Learning Center, Nestlé Information Technology
User Types Now Include Author, Subject Matter Expert and Viewer
The new user type "Viewer" has been enabled to allow individuals who are not Authors or Subject Matter Experts (SMEs) to gain access to MadCap Central and restricted outputs. Viewers are granted access by the Author in order to view the password protected outputs.
Site Management for Multiple Domains, Vanity URLs and Live Status
You can now manage your sites hosted on MadCap Central in a single location. Manage multiple domains, vanity URLs, set site status to "Live" and more.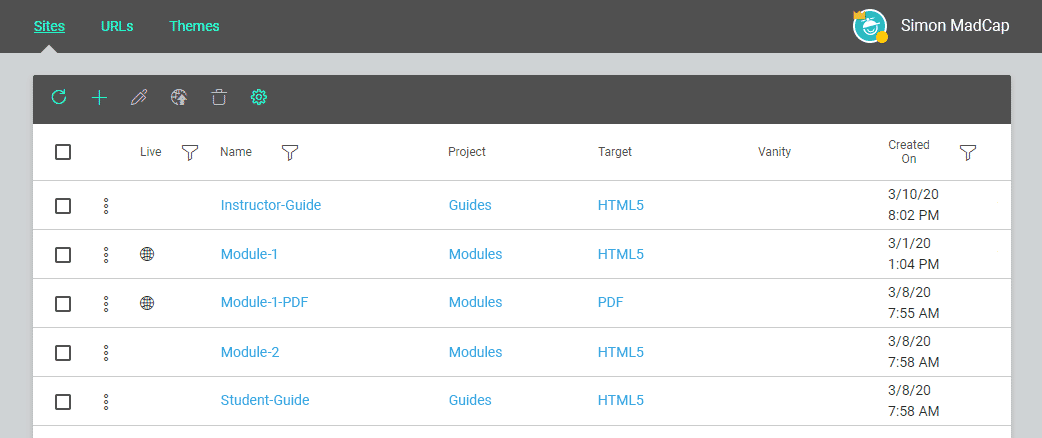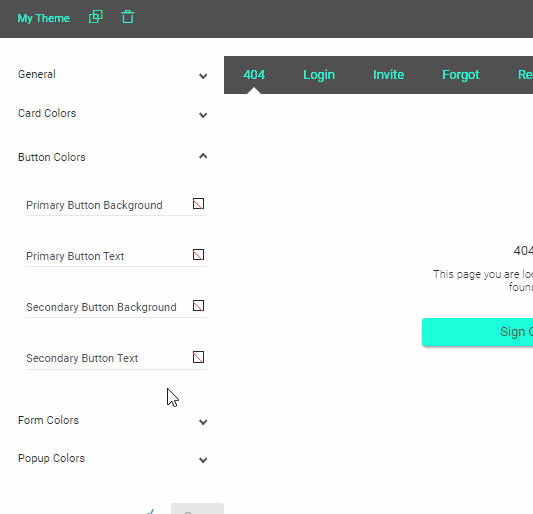 Create, Edit and Duplicate Site Themes for UI Elements
Control how different user interface elements look for each site, such as the login, invite, 404 message and more. You can use a single theme or create multiple themes for any number of sites.
Login Form
Invite Form
404 Page
Forgot, Reset and Expired Password Forms
Profile Page
No Access Page
Toggle Popup Panel
Toggle Loader Image
A Completely Redesigned Task Dialog Makes Overall Task Management and Workflow More Efficient
The Tasks dialog has been completely redesigned. Three tabs – Details, Discussion, and Attachments – allow you to quickly find important information related to tasks. Fields have also been reorganized, making them easier to scan and edit.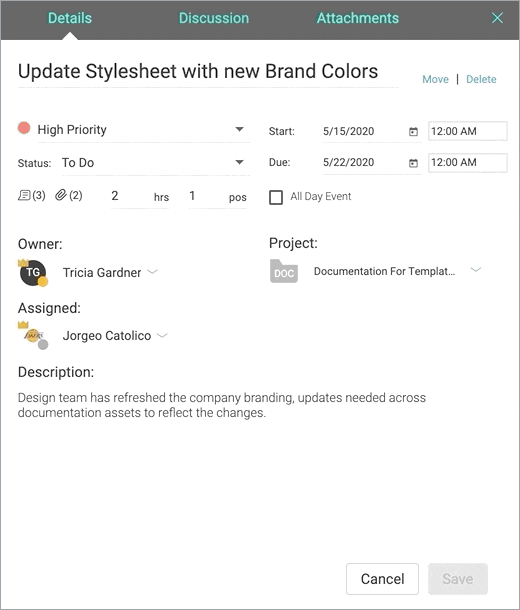 Settings and Profile Enhancements: User Settings and License Settings
Several updates have been made to the dialogs used for both User and License Settings, making License Management and User Settings easier to use and more efficient. The Team Profile dialog has also been updated.
Continuously Improve Your Content, Customer Satisfaction and ROI with the Only Data Analytics Solution Built for Your Documentation
Direct Publishing from Flare to MadCap Central
Lightweight Editor Enhancements
Streamlined "Send-for-Translation" Workflow for Your Projects and Files
New Enhanced Security Options
Bulk Invitation of Authors and Subject Matter Experts
A Completely Redesigned User Interface Makes Managing Content in the Cloud Easier Than Ever
Enhancements to Projects, Tasks and Widgets
Bulk Invitation of Authors and Subject Matter Experts
Scan Projects to Find and Fix Critical Issues with a New Project Reports Page
Report Widgets
Use Your Custom Domain Name for Published Output from MadCap Central
New Cloud-based Editor for Streamlined Contribution and Review with MadCap Flare
Advanced Editing and Reviewing Content in the Cloud
New User Types: Authors and Subject Matter Experts
Preview Project Files with the New Files View
Project Linking via Global Project Linking, Runtime Merging, and Multilingual Output
Template Manager for Project Checklists
Customizable Project Checklists to Track Project-Specific Activities and Progress
Unlimited Concurrent Live Builds Per Target Using Vanity URL Paths
Private URLs for Internal Reviews
Exclude Live Builds from Search Engines
Project Linking via Global Project Linking, Runtime Merging, and Multilingual Output
Slack Integration for Notifications
Ready to Get Started?
Our 30-Day Trials are Free and Fully Functional.