Secure cloud-based authoring, collaboration, workflow and project management for technical writers and documentation teams. Login to MadCap Central
Now Available: MadCap Central October 2019 Release
Improve Your Documentation and Customer Satisfaction with Business Intelligence and Data Analytics on Your Output
Are your end users finding the right content? How many times did a user search for content that provided no results? Should you create micro content for particular search phrases? All of these questions can be answered with output analytics on your Flare-generated content.
Easy set up in just minutes
Track usage on any hosted website or desktop output
Content can be hosted anywhere, not just with MadCap Central, to start gathering data analytics immediately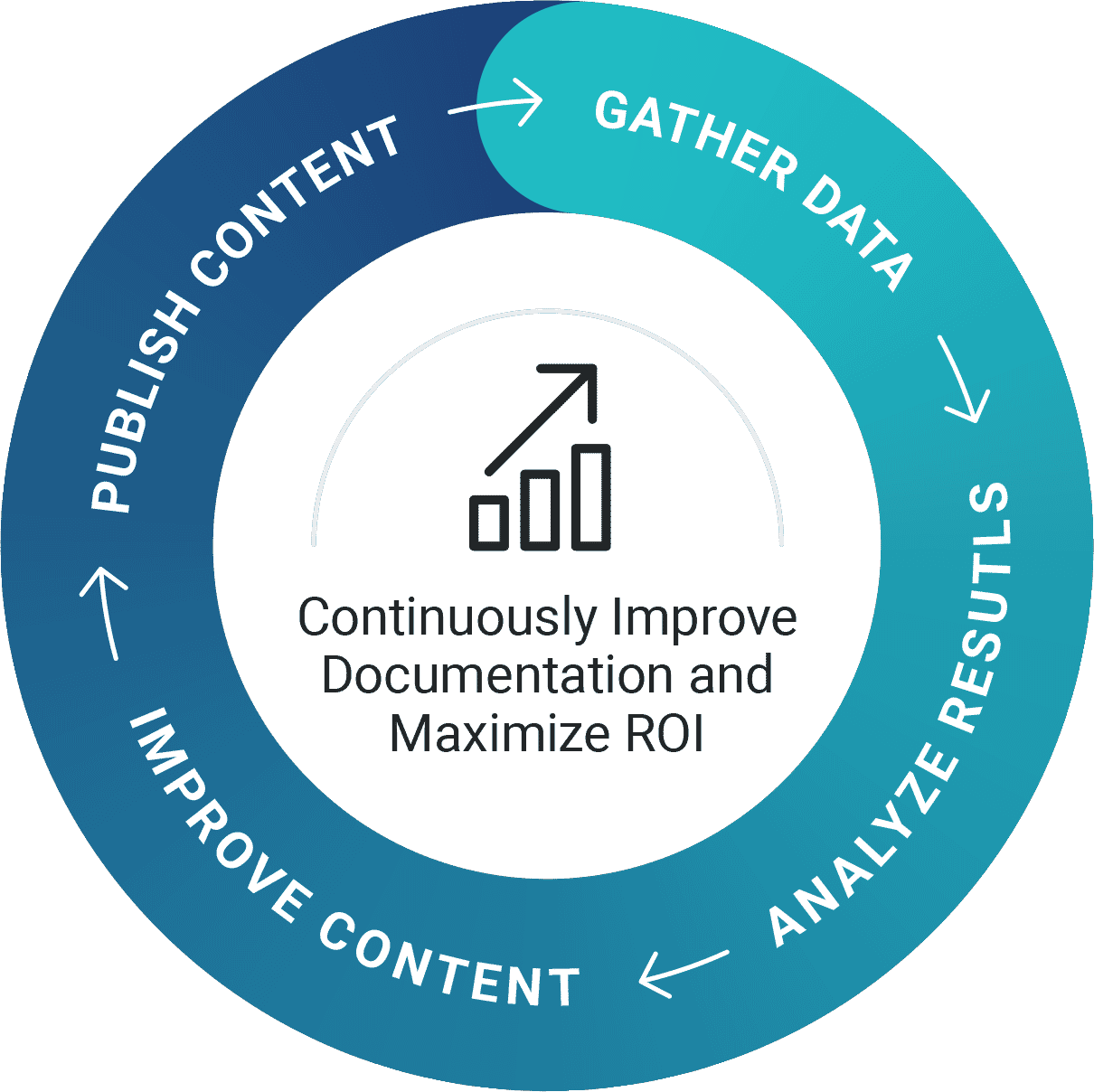 Search
Search Queries
Search Queries with No Results
Content
Topic Views
Context-Sensitive Help Calls
Demographics
Browser and Operating
System Statistics
We use the output analytics feature in MadCap Central and find it easy and convenient. We use the analytics for all of our MadCap Flare projects, regardless of whether they are hosted with MadCap Central or not.
NIGEL LONGLEY | Learning Material Consultant, Construction Industry Solutions Ltd (COINS)
Direct Publishing from Flare to MadCap Central
You can now publish your output directly from the Flare application to MadCap Central. Following this step copies your Flare output files directly to MadCap Central, and does not set the output to "Live".
Lightweight Editor Enhancements
Several enhancements have been added to the editor, including the ability to add break tags and indent lists, as well as a new visual to identify condition tags.
MadCap Central July 2019 Release
Streamlined "Send-for-Translation" Workflow for Your Projects and Files
You can now easily bundle and send projects and files for which you need a translation estimate directly from MadCap Central. Simply select the project or file you would like to be translated and a quote request will be generated.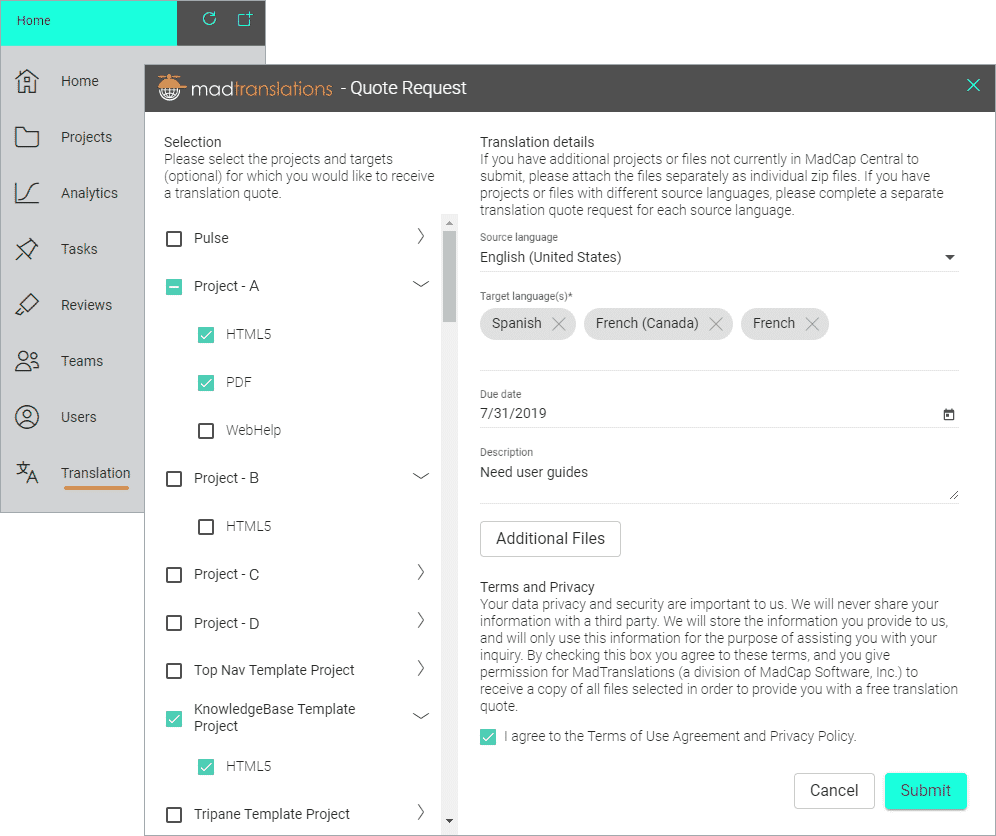 MadTranslations is Certified in:
ISO 9001:2015
Quality Management Systems
ISO 17100:2015
Translation Services
New Enhanced Security Options
New security settings give you more control over your MadCap Central account. You can now set the number of login attempts, set the time period to force a logout after idle, and require a password change after a specified period of time.
Bulk Invitation of Authors and Subject Matter Experts
Previously you could only bulk invite authors. Now you can designate Authors and Subject Matter Experts for the bulk invite, as well as download a template to add users to a CSV file for quick and easy user management.
MadCap Central April 2019 Release
A Completely Redesigned User Interface Makes Managing Content in the Cloud Easier Than Ever
The user interface for MadCap Central has been completely redesigned for a new modern look and feel. Functionality enhancements, workflow improvements, an expanded customizable dashboard, and more, all provide added control and an improved user experience.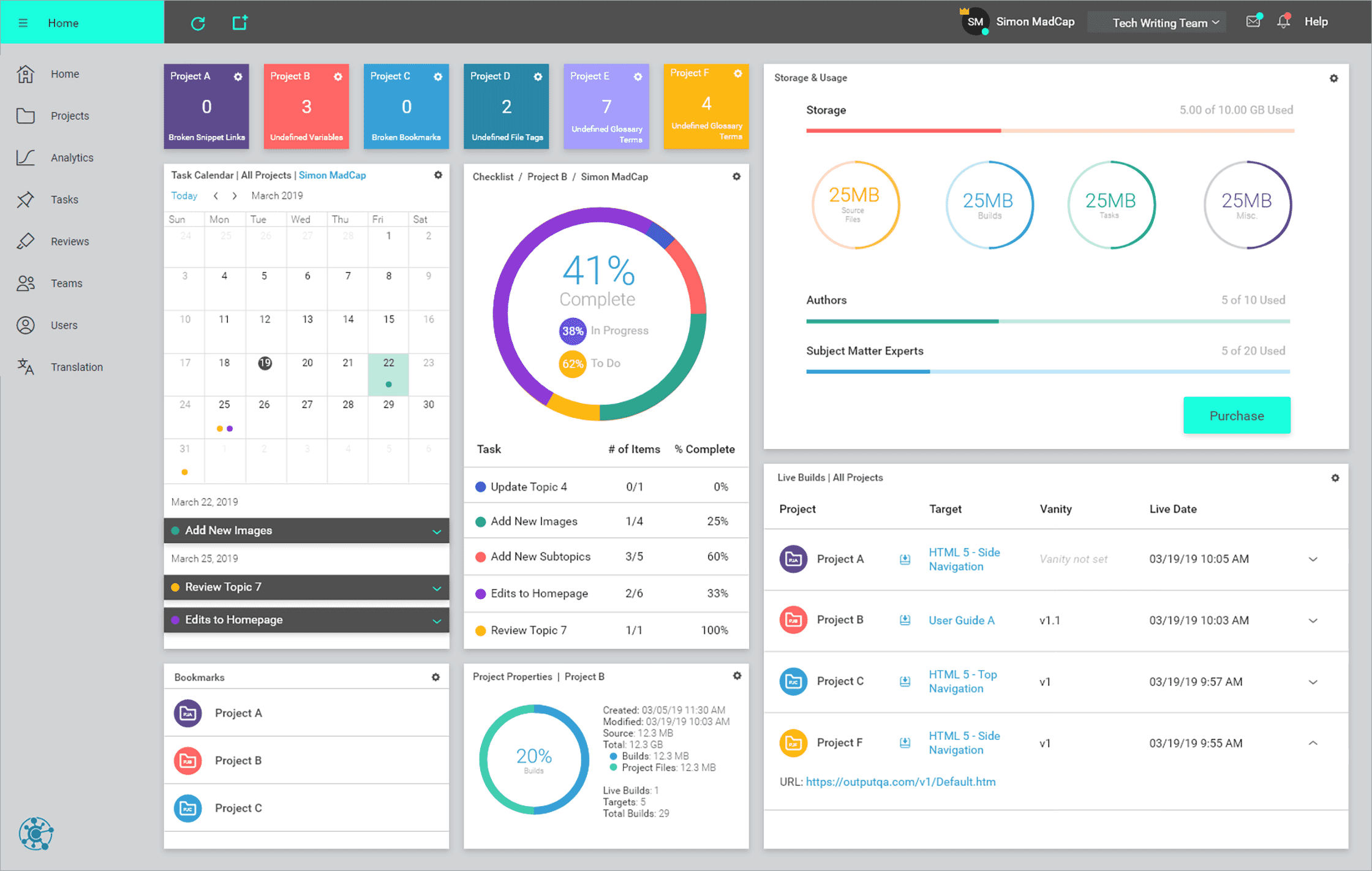 Usability Improvements
Enhancements to the interface include a new color theme and layout, as well as several usability improvements to make managing your content and projects easy and efficient.
EXPANDED CUSTOMIZABLE DASHBOARD
The dashboard grid has been expanded, allowing you to add more widgets and customize your layout.
Multi-Select Improves Workflow
Select multiple rows for Users, Teams, Projects, and more, to perform the same action on them simultaneously (e.g., delete items, move items, change status of items).
Page Views are Now More Accessible
Page views for Projects and Tasks are now more accessible, located on the top of the interface.
Enhancements to Projects, Tasks and Widgets
Several new enhancements have been added to MadCap Central's Projects, Tasks and Widgets.
Projects

Easy Access to Other Projects
Projects are now easily accessed using a drop-down in the upper-left corner of the interface.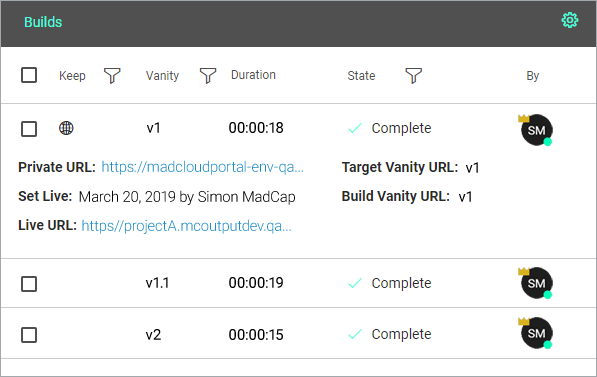 Expand and Collapse Build Views
Build details, including private and live URLs, can now be viewed by expanding and collapsing each build row.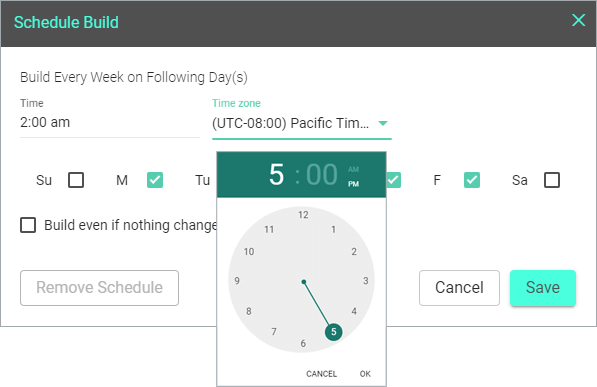 Enhancements to the Schedule Builds Dialog
New enhancements, including a new layout, make it easier to schedule your builds in the Schedule Build dialog.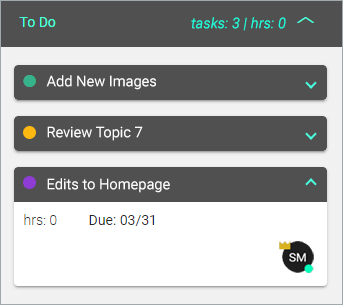 Expand and Collapse Task Cards
You can now expand and collapse any or all cards in your tasks.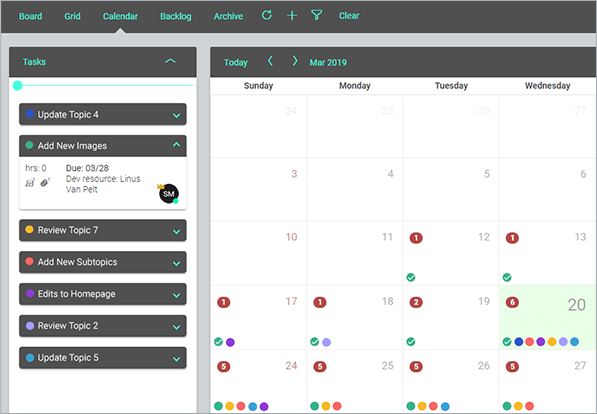 Calendar Updates Enhance Views and Tasks
The Calendar page is shown with task cards to the left, instead of a grid at the bottom. Clicking on individual calendar dates makes it easy to view the tasks that correspond to the date selected.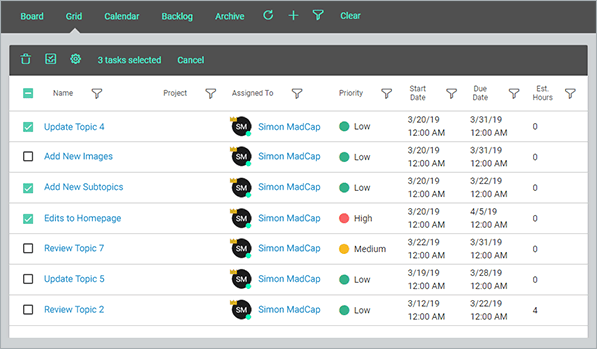 Grid
The task grid has been moved to its own page and shows all tasks in all milestones, as well as Backlog and Archive, making it easy to move or delete many tasks at once.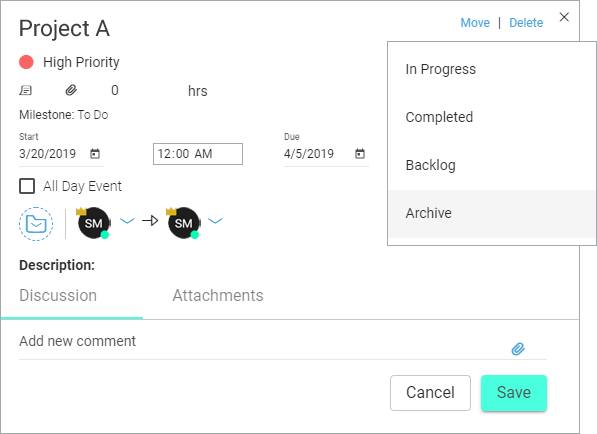 Task Updates
Tasks can now be moved anywhere (Archive, In Progress, Completed, etc.) and Task Cards can be arranged in any order by dragging and dropping.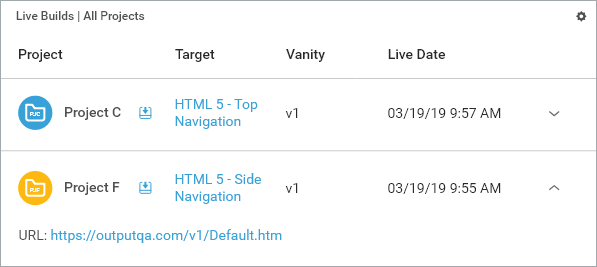 Live Builds
A new column displays the vanity of the build, if one is set. Expandable and collapsible build rows show the full live URL.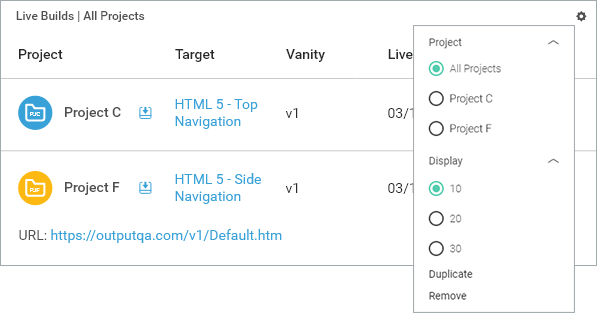 Filtering
Widgets can now be filtered using radio buttons.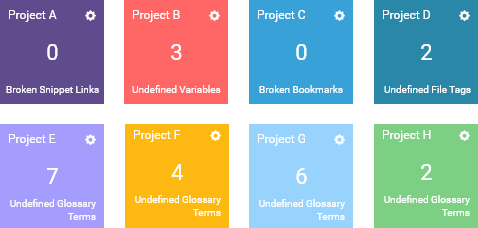 Reports
Now each type of report is contained in its own small widget.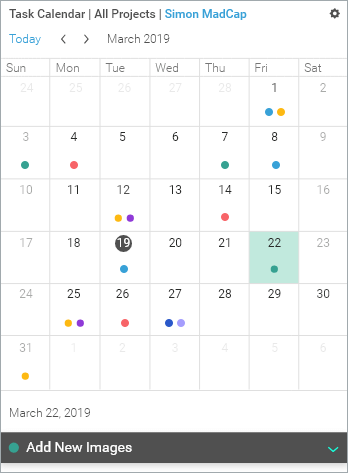 New Task Calendar
The Task Calendar widget has been completely redesigned with added views and functionality. You can now view tasks associated to dates by clicking on the calendar.
Scan Projects to Find and Fix Critical Issues with a New Project Reports Page
Report Widgets
Use Your Custom Domain Name for Published Output from MadCap Central
New Cloud-based Editor for Streamlined Contribution and Review with MadCap Flare
Advanced Editing and Reviewing Content in the Cloud
New User Types: Authors and Subject Matter Experts
Preview Project Files with the New Files View
Project Linking via Global Project Linking, Runtime Merging, and Multilingual Output
Template Manager for Project Checklists
Customizable Project Checklists to Track Project-Specific Activities and Progress
Unlimited Concurrent Live Builds Per Target Using Vanity URL Paths
Private URLs for Internal Reviews
Exclude Live Builds from Search Engines
Project Linking via Global Project Linking, Runtime Merging, and Multilingual Output
Slack Integration for Notifications
Ready to Get Started?
Our 30-Day Trials are Free and Fully Functional.