In this blog post, we want to introduce you to MadCap Contributor and how you can streamline your subject matter expert (SME) contribution and review workflow. If your organization has a strict 'no-cloud' policy and you're looking for an integrated desktop-based review workflow, MadCap Contributor provides efficiencies where Word and PDF documents fall short.
Note: If you are looking for a cloud-based (no installation required) workflow for your SMEs, take a look at MadCap Central which I mention at the end of this post.
Let's get started: With MadCap Contributor, SMEs can receive source Flare topics, edit and review content and make annotations with a simple, easy-to-use interface. Advanced track changes help manage the editing and review process, including the SME that made the change.
In addition, Flare authors can create Contribution templates and provide them to SMEs. SMEs can then create new topics in Contributor, with formatting and design elements in place, which helps avoid the hassle of converting content from other formats. New topics authored in Contributor can be sent back to the Flare authors, who can then fold in those files into the source Flare project. This helps maintain consistency throughout your documentation contribution and review process.
With this new release, MadCap Contributor 9 r2 introduces enhancements to support the contribution and review process, including:
Support for code snippets with syntax highlighting
Enhancements to Find and Replace
Usability improvements with collapse and expand tags in the XML Editor
Code Snippets with Syntax Highlighting
Sometimes it's necessary for reviewers to include actual code in a document. Code snippets make this easy. Reviewers can now add code snippets with syntax highlighting in dozens of coding languages. A new code snippet editor allows SMEs to easily create and insert code snippets into topics sent out for review in dozens of coding languages, such as JavaScript and CSS. Syntax highlighting and numbering makes it easy to view the code snippets in the editor and also the final deliverables.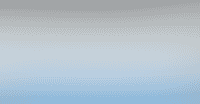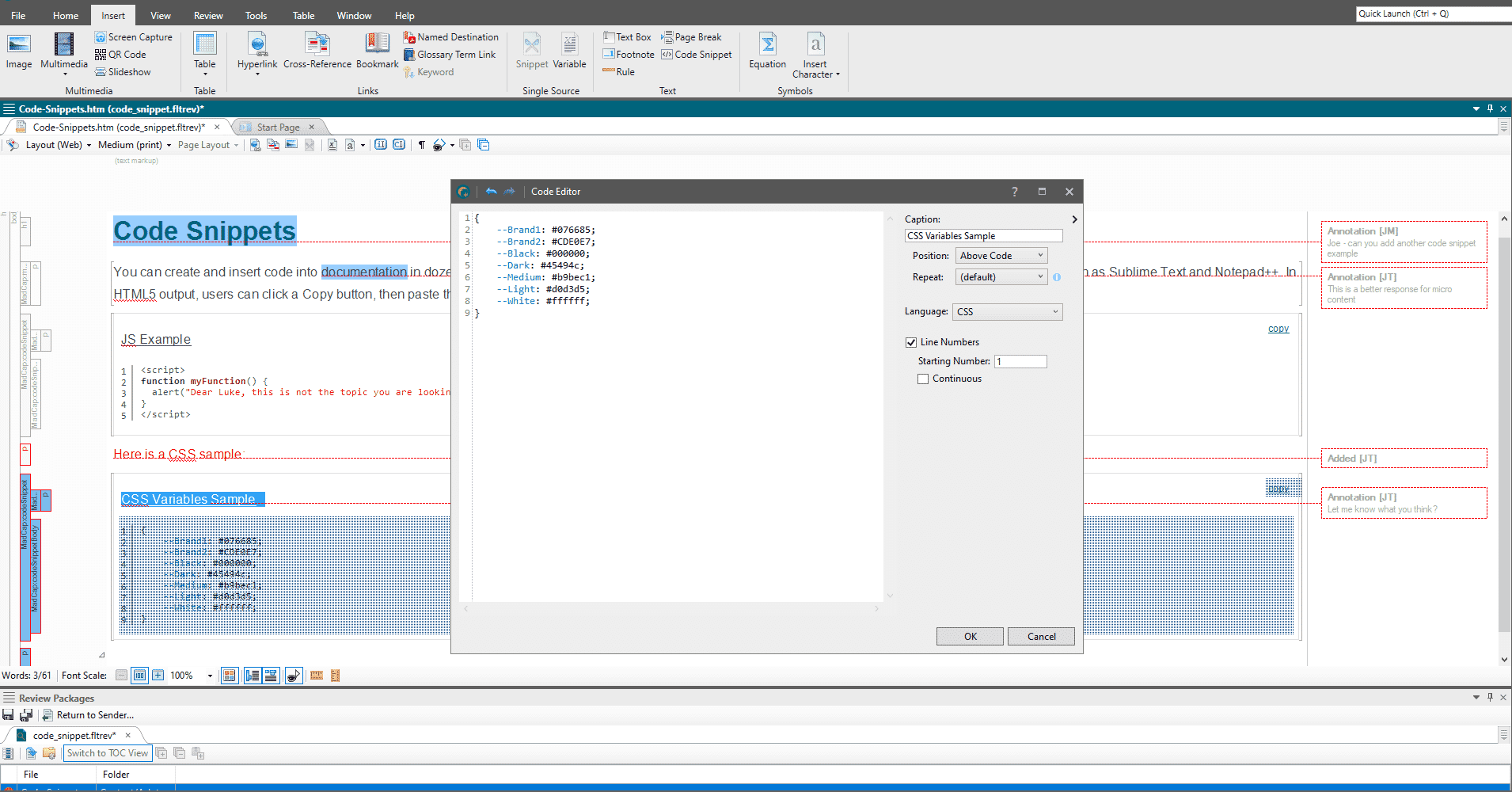 New Enhancements to Find and Replace
Several enhancements have been added to the Find and Replace feature, including improved performance, usability and an added column in the Find Results window to show any issues that occurred from replace actions.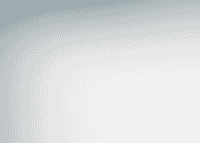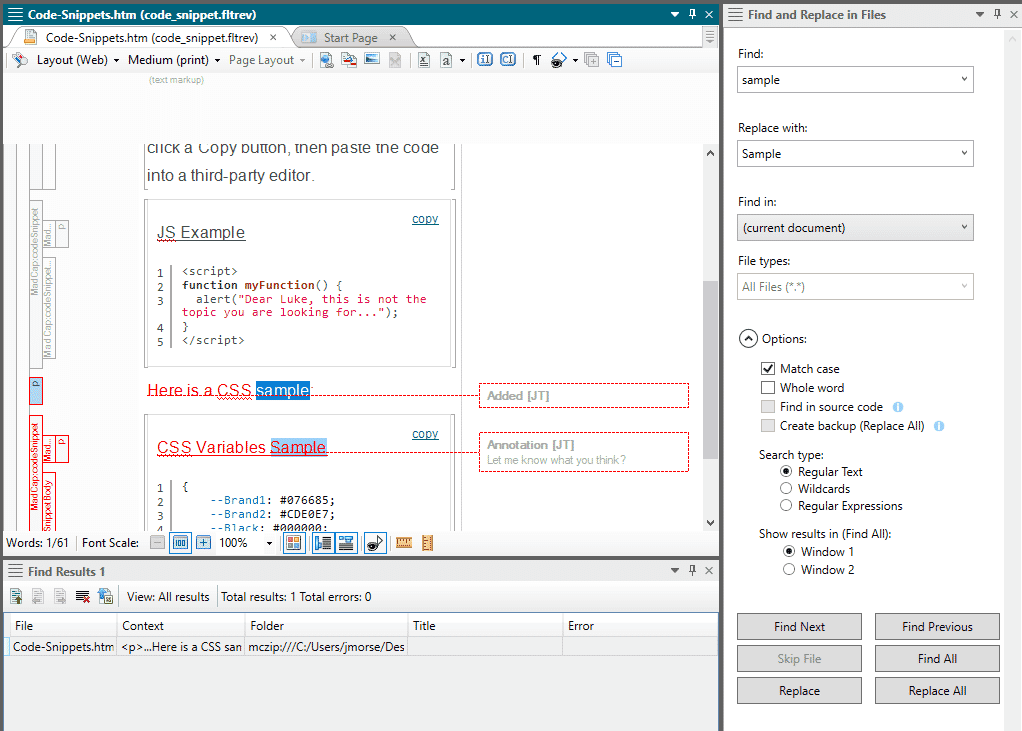 Collapse and Expand Tags in Contributor's XML Editor
When reviewing topics in Contributor's XML Editor, SMEs can now collapse or expand tags (i.e., chunks of content) to make it easier to view and find content in long topics.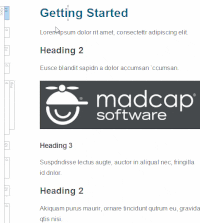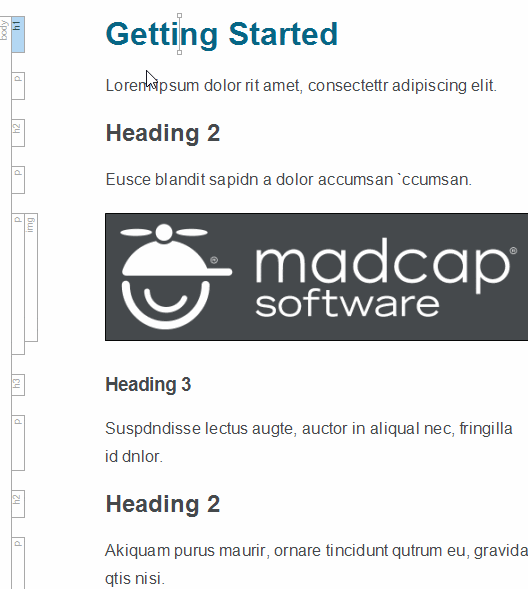 In addition to these features, several bug fixes and performance enhancements were included as well.
If a cloud-based solution is more what you are looking for, consider taking a look at MadCap Central, a commonly used alternative to Contributor's desktop-based solution. Central allows anyone in your organization to contribute and review source Flare content using its cloud-based editor. Subject matter experts and authors can easily review and collaborate on content using an integrated workflow and editor. Benefits include:
An easy to use cloud-based editor: no need to download or install software
Concurrent multi-user authoring and review: topics and snippets can be edited simultaneously by multiple people
Easy-to-use interface: lightweight editor includes a streamlined user interface
Auto-save and submission: all edits are automatically tracked, and submissions are immediate
And more