With our agile development cycle, we're able to add enhancements to MadCap Flare and deliver them to users faster than ever. Each new release brings more functionality, enhanced integration and exciting new features designed to improve the way you author, manage, and publish content.
Take a look at what's new with MadCap Flare:
View and Edit CSS Properties with the New Style Inspector
An exciting new addition to Flare 2017 r3 is the Style Inspector, which lets you see and even edit the style details for selected content, without having to open the full stylesheet.
When working on a Flare project, you can now access the new Style Inspector in the Formatting window pane: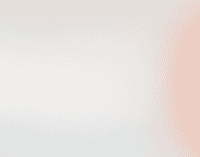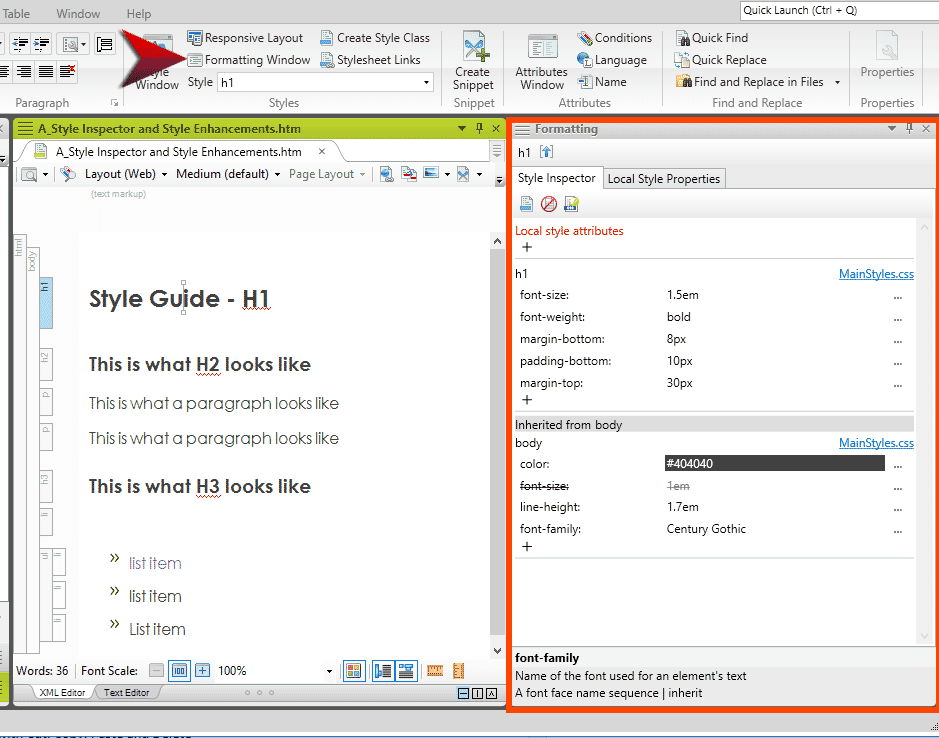 The Style Inspector is great not only for advanced users, but also useful for those new to the CSS language, as you can change style properties, add style properties, and preview how these changes affect certain content files in real time.
If you select any content that has local formatting applied, this window will let you know: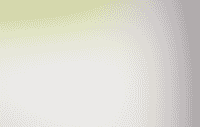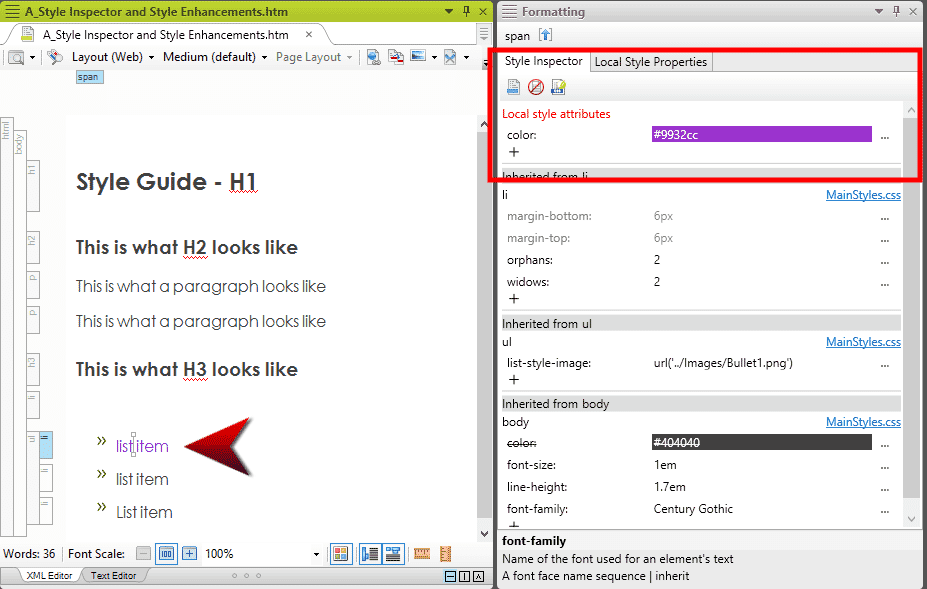 You can make a decision about how to manage how the content is styled. For example, you could choose to clear the local formatting so that it takes on the properties in the stylesheet, or you can create a new style class based on the formatting to make it easier to manage in the future. This can be done by using a button   in the local toolbar or the right-click menu.
UI Enhancements for Stylesheet Editor, Previews, and More


Several new enhancements have been incorporated into the user interface related to styles. These enhancements include:
Multi-select, cut, copy, paste and delete properties (in both the Stylesheet Editor and the Formatting window)
Option to rename all instances of style classes and IDs
Ability to rename mediums and modify media queries without having to use the internal text editor
Option to show or hide style previews in the Styles drop down, Styles window pane, and floating Style picker
Style properties shown on hover
Home ribbon formatting options can be used to apply formatting to styles in Stylesheet Editor
Transform property enhancements
View inherited stylesheet via double-click
Easily Import Microsoft® Excel Spreadsheets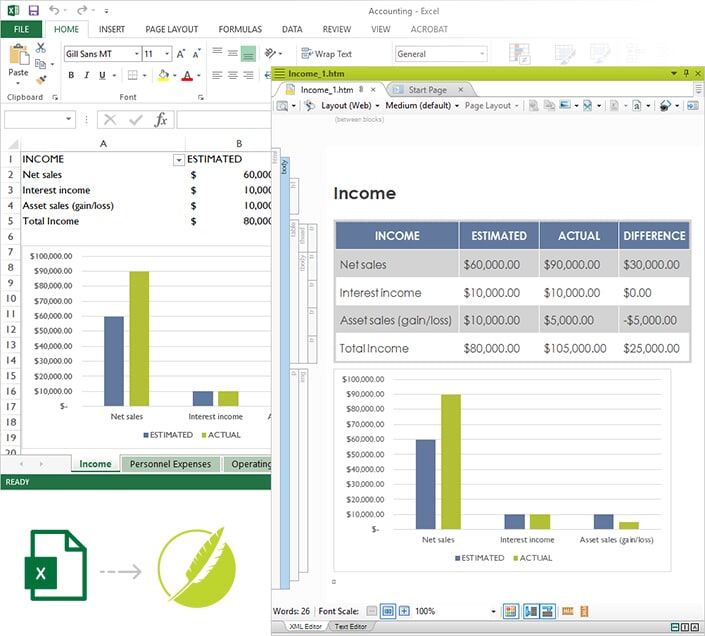 Microsoft® Excel spreadsheets can now be imported into MadCap Flare as topics or snippets. The spreadsheet content will be added to tables in Flare when the import is finished. By default, all workbooks, worksheets, rows, and columns are selected for import, but you can exclude certain worksheets, or even specific rows and columns, from the import. In addition, Flare offers a wide variety of features when formatting spreadsheets, such as preserving charts as images and more.
Analyze Text for Readability, Average Sentence Length, and More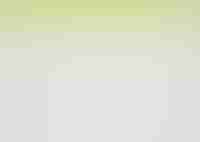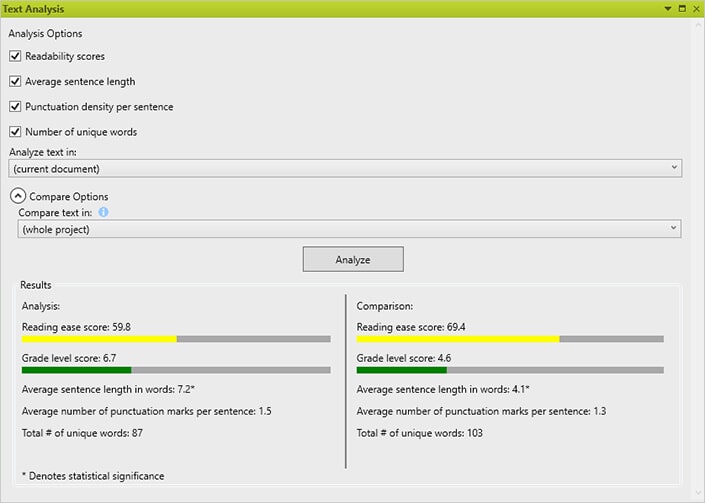 Want to measure how easy or hard it is to read your documentation? Flare now includes a new text analysis tool, which lets you evaluate your files for readability, average sentence length, punctuality density per sentence, and number of unique words. Readability results are based on the "The Flesch Reading Ease" and "Flesch-Kincaid Grade Level" tests, frequently used as the standards for many tools and organizations. In addition, the analysis can be done on the current document, documents in the same folder, the entire project, and more
New Shortcut: Repeat Last Action


When working in the XML editor, you can now use the F8 shortcut to repeat the last action. This feature uses the same controller that is used when you create macros in Flare. This shortcut is a great way to save time, since you don't need to record a macro to repeat occasional actions.
New Thesaurus Window Pane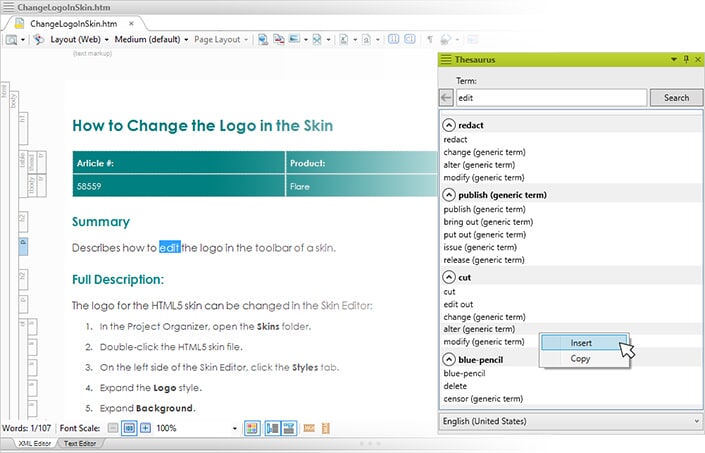 You're searching for the right word, but it's just not coming to mind. Take advantage of the new Thesaurus window pane, which lets you quickly view and select words relates to those in an open topic or snippet. Use the search field to view categories of related terms, or use the right-click option to copy or insert a synonym from the context menu.
Plus: Bug Fixes, Enhancements, and More
In addition to the new features above, Flare 2017 r3 also comes with a number of bug fixes, performance enhancements, and more. To see the full rundown of all the changes, visit the What's New topic here.
Don't Miss Our Upcoming Webinar
If you'd like to see the new features first-hand, join me for my upcoming webinar next week:
Monday, October 23, 10:00 AM PDT / 1:00 PM EDT
The latest release of MadCap Flare adds a new Style Inspector to view and edit CSS properties, UI enhancements for the Stylesheet Editor and more, the ability to import Microsoft® Excel files, text analysis and reports, thesaurus support and more. Join Jennifer Morse, Product Evangelist, for a live webinar presentation to see first-hand the exciting new features and enhancements available in MadCap Flare 2017 r3.
Note: All webinars are recorded, so if you're unable to attend live, all registrants will receive links to the recording and presentation deck, along with the Q&A for questions asked live during the webinar.
Get Started on a Free 30-Day Trial
Our free trials are fully functional, allowing you to deploy and test the product without any limitations. Plus, we can walk you through the features with a live product demonstration.
We hope you enjoy the newest release of MadCap Flare! If you have any questions, feel free to reach out at jmorse@madcapsoftware.com.