Salesforce Integration
The new plugin allows you to publish content directly to Salesforce using Salesforce Connect and Flare's Clean XHTML output. For more information on Salesforce integration, visit this Help topic.
Note: The Salesforce Connect plugin is included in MadCap Flare and can be tested during your 30-day trial of Flare. The plugin license is sold separately on a per user basis.
Google Search Integration for Custom Search Engine (CSE)
Use Google Search for your HTML5 Top Navigation and skinless outputs, using Custom Search Engine. For more information on Google Search versus MadCap Search, visit this Help topic.
Faster Compile Times
Significant improvements to the compiler add a 35% boost in average
compile times.
Top Navigation and User Experience Enhancements
A series of improvements add more control to your HTML5 Top Navigation outputs.
Fixed Headers
Fixed Topic Menus
Heading Option for Topic Menus
Tree Format for Slide-Out Menus
FrameMaker® 2017 Import Support
Added import support for FrameMaker® 2017 makes it easy
to import and migrate your FrameMaker® content.
Favicon Support for HTML5 Outputs
Generate favicons, a file containing one or more small icons, associated with a particular website or web page, for web-based output.
Plus: Bug Fixes, Performance Enhancements and More
2017 r1 Release: January, 2017
MadCap Central Integration for Powerful Cloud-based Content Management
MadCap Flare's integration with MadCap Central combines powerful desktop authoring with a cloud-based content management environment, giving authors one place to store and manage content. Improve content quality, gain greater insight into tasks and production schedules, work collaboratively with teams and departments, and automate processes to further extend the authoring and publishing capabilities of MadCap Flare.
Live Dynamic Preview Window for Your Output Including Print, HTML5 and More
The Preview window is dynamic, and can stay open while you work and make changes in the XML editor. With the Preview window open you can select any topic, snippet or master page in your project. You can even select different targets with the preview window open. When a different target is selected, the preview window will refresh showing the content using settings (like your conditions) in that target.
Pin Your Variables for Quick and Easy Access
Pin your favorite variables, making them quickly and easily accessible for future use.
All-New Clean XHTML Output
The new output includes only clean XHTML files and removes MadCap-specific tags, as well as skins, search, navigation, or other extra features. This output is not dependent upon other MadCap-generated files, it is simply your single sourced content from Flare. It is especially useful when you need to repurpose this single sourced content into other systems.
Associate Conditions and File Tags to New Files
Easily associate conditions and file tags when adding new files to your projects.
Microsoft® Word Equations Converted to MathML on Import
Convert Office Math Markup Language (the format used in Word) to MathML (the web standard and Flare format) on import.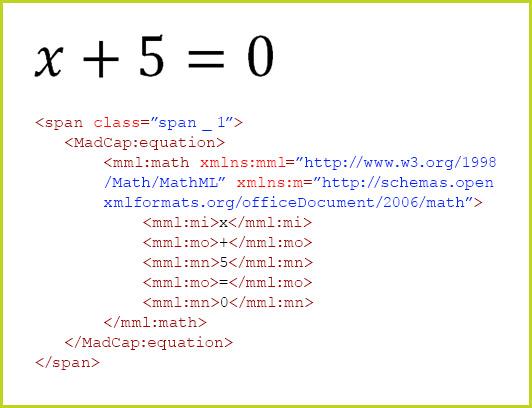 Synchronization of Topic Title and TOC Entries
With the new system variables in Flare, you can now ensure that your TOC entries are in sync with your topic titles. When the topic title is changed, the TOC entry will automatically update as well.
Plus bug fixes, performance enhancements and more.
Are You a Current MadCap Flare Customer Not on Maintenance? Upgrade Now from Any Previous Version for Just $699.
Current customers can upgrade from any previous version for just $699. Contact us to get started.