MadCap Insider: May, 2017
The MadCap Insider Monthly Community Newsletter
Welcome to the May issue of MadCap Insider. While last month marked the conclusion of our fifth annual MadWorld conference in San Diego (recap below) – as well as the release of Slack integration in MadCap Central, giving users the ability to receive Central notifications via Slack channels – this month offers a new release of MadCap Flare.
A new agile release cycle allows us to deliver multiple major releases each year, giving you more new features, additional updates, performance enhancements, and bug fixes on a more frequent release schedule.
We're thrilled to share this latest release and have scheduled a live webinar to cover what's new later this month (details below).
Additionally, with a variety of resources and fresh content to help you work smarter, this issue offers another great roundup of blog articles, upcoming and archived webinars, featured customer showcases and more.
In This Issue
New Release: MadCap Flare 2017 r2

Your Monthly Tips & Tricks Roundup

Free Upcoming Webinars

Customer Showcase: Oracle

Latest Customer Case Study: CCi

The MadWorld 2017 Recap

Upcoming Certified Training Schedule

Need Help Moving from FrameMaker®? MadCap Software Will Buy Out Your Support Contract

Doc-To-Help Users: Download the Free Policies and Procedures White Paper

Let MadTranslations Manage Your Next Translation Project

Upcoming Trade Shows and Events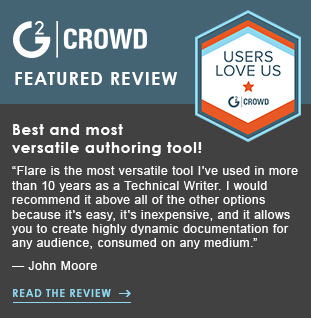 NEW RELEASE: MADCAP FLARE 2017 R2
Salesforce Integration: Publish Clean XHTML output directly to Salesforce using Salesforce Connect
Google Search Using Custom Search Engine (CSE): Use Google Search for the HTML5 Top Navigation and skinless outputs
Top Navigation Enhancements: Added control with Fixed Headers, Fixed Topic Menus, Topic Headings in the Side Menu, and Tree Format for Slide-Out Menus
FrameMaker® 2017 Import Support: Easily import FrameMaker® 2017 files directly into Flare
Favicon Support: Generate favicons for web-based output
Faster Compile Times: Compiler improvements resulting in a 35% boost in average compile times
Plus: Bug Fixes, Performance Enhancements and More
Note, current maintenance plan customers receive this update directly in the app. Prospective users can download a 30-day trial now.
Clean XHTML Output: Target includes only clean XHTML files and removes MadCap-specific tags, as well as skins, search, navigation, or other extra features
Pinning of Variables: Pin your favorite variables, making them easily and quickly accessible for future use
Synchronization of Topic Title and TOC Entries: Use system variables to ensure that your TOC entries are always in sync with your topic titles
Associate Conditions and File Tags to New Files: Project files can now be associated to conditions and file tags
Word Equations Converted to MathML: Convert Office Math Markup Language (the format used in Word) to MathML (the web standard and Flare format) on import
Live Dynamic Preview Window for Your Output Including Print, HTML5 and More: Preview changes to targets, topics, snippets and master pages as you work and make changes in the XML editor
Plus Bug Fixes, Performance Enhancements and More
YOUR MONTHLY TIPS & TRICKS ROUNDUP
Miss one of our webinars? You can access them anytime in our free webinar archive.
Customer Showcase: Oracle
The Oracle Bare Metal Cloud Services Online Documentation site takes advantage of Flare's Top Nav design to give users easy access to the information they need, featuring a prominent search bar and quick links to important topic categories.
LATEST CUSTOMER CASE STUDY
Global Management Consulting Firm CCi Delivers Documentation Across Multiple Online and Print Formats in 14 Languages Using MadCap Lingo and MadCap Flare
INDUSTRY | MANAGEMENT CONSULTING, SOFTWARE
SOLUTION | MADCAP FLARE, MADCAP LINGO, MADCAP ANALYZER, MADCAP CONTRIBUTOR

Since we moved our Word content into Flare, we've been able to manage all our content through a single system. That translates to a more seamless experience for both our team and our users.

–Karen Miller, CMS Specialist | CCi
The MadWorld 2017 conference recap includes a photo gallery, attendee quotes and the latest reviews of the conference.
UPCOMING CERTIFIED TRAINING COURSES
MadCap Flare CSS Training | May 23-24
MadCap Flare Single Sourcing Training | May 25-26
MadCap Flare Basic/Intermediate Training | June 13-16
MadCap Flare Basic/Intermediate Training (Europe/Middle East/Africa) | July 11-14
MadCamp: MadCap Offices, La Jolla, CA | June 27-30
YOUR MAY PROMOTIONAL OFFER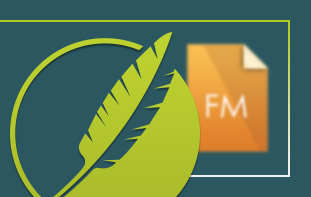 Need Help Moving from FrameMaker®? MadCap Software Will Buy Out the Remaining Portion of Your Support Contract or Subscription.
Now is the perfect time to make the switch to MadCap Flare. MadCap Software will buy out your remaining FrameMaker® support contract or subscription and replace it with today's leading topic-based authoring, publishing and content management solution – all backed with our in-house support team.

The product releases were coming much more frequently. We were working with multiple Microsoft® Word or FrameMaker® files, and it became confusing to try and manage them all. It was extremely time-intensive and inefficient to update these files for each product release.

–Lesley Brown, Associate Vice President of Documentation and Training Development | McKesson Health Solutions
Doc-To-Help Users:
Download the Free Policies and Procedures White Paper
LET MADTRANSLATIONS MANAGE YOUR NEXT TRANSLATION PROJECT
Request a Free Quote
MadTranslations specializes in individual projects or complete end-to-end translation and localization services. Get a free quote on your next translation project.
• Technical Documentation

MadCap and MadTranslations offer first class support and are always available to meet our needs, from assistance with planning the project through to detailed and responsive technical support.

–Steve Walker, Product Manager | Miro Technologies
UPCOMING TRADE SHOWS AND EVENTS
MadCap Software will be making a stop in the nation's capital later this month, as well as a few stops in the UK and Europe in June.

LIVE WEBINARS
Sign up for the latest complimentary webinars.

PROFESSIONAL SERVICES
Certified training, consulting and more.