New Success Story
Ceridian Relies on MadCap Software to Reduce Demands on Support for its Cloud Human Capital Management (HCM) Platform

Using MadCap Central's analytics, we can see what users are searching for and what their questions are, to make sure we have really good, robust material to answer those questions.
– DAFNA SHORE, Knowledge Content Developer Principal, Learning & Performance, Ceridian HCM Holding Inc.

For almost two decades IXIASOFT has been at the forefront of empowering leading organizations worldwide to streamline the delivery of highly structured, DITA-compliant technical documentation.
This acquisition allows MadCap Software to add an enterprise-class, cloud-based DITA CCMS solution to its product portfolio. Customers can now get best-in-class software solutions and services from one global leader to address your organization's content authoring and management needs.

Upcoming Webinar
Advanced Techniques for Great Landing Pages
Date: Thursday, March 16, 10:00 AM PT
In this session, you'll learn advanced techniques for enhancing your landing pages and making them work brilliantly on a range of devices. Matthew Ellison, Director of UA Europe, will cover topics including Responsive Layout, Flexbox Layout, mouseover animations, menu proxies, template pages, and micro content.

MadWorld 2023
Register by April 30 to Save Up to $800 on Conference Registration
Taking place October 8-11, 2023, in San Diego, California, you can save on both the In-Person and MadWorld @ Home virtual packages when you register by April 30.
Why attend MadWorld? Our 10th annual conference brings together the best in content strategy to showcase best practices and foster engagement with our global user community.
Gain insights from thought leaders spanning a variety of industries and organizations
Learn content strategy best practices for any size team or organization
Take advantage of one-on-one support in our Technical Support Lounge
Meet community members from around the globe
Network with your peers with hosted networking events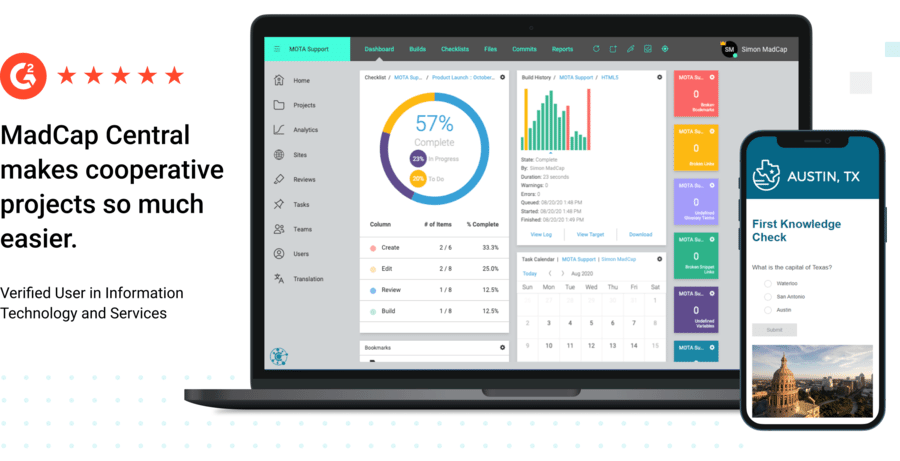 It's easy to get started with MadCap Software
Start your free 30-day trial and get in touch with a product specialist to schedule a personalized demo.