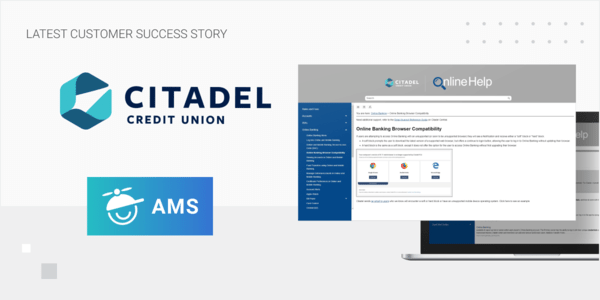 Citadel Credit Union Chooses MadCap Software to Enhance Member Experience, Replacing Adobe® Products
Success story highlights include:
Streamlined content delivery for six documentation portals with topic-based authoring, snippets, variables, and stylesheets
Improved customer support with easy access to information for employees
Enhanced search experiences with predictive elasticsearch and micro content
Improved content development and optimized search with MadCap Central usage analytics
Reduced time for subject matter expert content workflows with reviews in the cloud

MadCap Central's analytics have been really helpful in discovering which topics are the most popular. I can really focus on those topics and make sure I keep them easily searchable and updated. We didn't have anything like that in the other software.
– MICHELLE MALICK | Instructional Designer and Learning Systems Support Citadel Credit Union

MadCap Flare and MadCap Central Add New Branching Support and More
Whether you are a lone author or part of a team, branching offers many benefits. With this new feature, continuously develop new content while not affecting your main (production) branch used to generate approved content.

Branching support in MadCap Central is a huge game-changer for us. Having the ability to create a new branch and push it to MadCap Central is going to revolutionize how we manage our projects tremendously.
– ROSA DAVIS | Technical Writer and Documentation Strategist, Vaison
Additional new features include:
Git Publishing Features including Sending and Receiving Reviews for Individual Branches
Filter Enhancements for Topic Reviews Make Finding Topics Quick and Easy
Site Profiles Make Managing Sites Easier in MadCap Central
And much more

Don't Delay: Register by March 31 to Save Up to $300 on MadWorld
With two ways to attend MadWorld 2022 Austin, we're excited to bring together more people this year than ever before.
Attend the conference in-person in Austin, Texas, or join us from the comfort of your home with our online virtual conference package.
Attendees in Austin will take advantage of additional conference perks:
Enjoy a world-class hotel with health and safety measures in place
Get one-on-one support in the Technical Support lounge
Take home a custom conference swag pack
Network with your peers with nightly networking events
And much more!

Why Documenting Your Project is Crucial to Staying Organized - Part 1
March 23, 10:00 AM PT
The best authoring solutions are of little use if you lose control of the project. New authors may not understand how a feature was used or why. And it's painful to leave your project for a few months, return to it, and not remember what you did. The solution? Document the project.


Featured Customer Showcase: JOAB
JOAB, a market leading supplier of cranes, hooklifts, skip-loaders and refuse collection vehicles, leverages MadCap Software to deliver a modern HTML5-based technical documentation website and PDF guides featuring detailed component visuals and more.
Ready to Get Started?
Power Your Technical Docs and Learning & Development Programs with MadCap Software