Happy New Year!
In this issue: Our latest customer success story from Kroger subsidiary 84.51°, all-new downloadable MadCap Flare project templates, the January 15 deadline for presentation submissions for MadWorld 2020 Austin, and a fresh round of new resources to help you work smarter.
Was this email forwarded? Sign up here.
LATEST CUSTOMER SUCCESS STORY
Kroger's 84.51° Replaces Traditional LMS with MadCap Flare and MadCap Central to Power Stratum Learning Center
INDUSTRY | Shopper Data Analytics
SOLUTION | MadCap Flare and MadCap Central

84.51°, a subsidiary of Kroger – the second-largest general retailer and the seventeenth largest company in the United States – replaces traditional LMS with MadCap Flare and MadCap Central to deliver how-to guides, documentation, multimedia tutorials, and training content.
"We love the micro content feature in MadCap Flare, and we have created hundreds of specialized micro content pieces in our Learning Center."
Casey Schroeder | Lead Content Strategist, 84.51°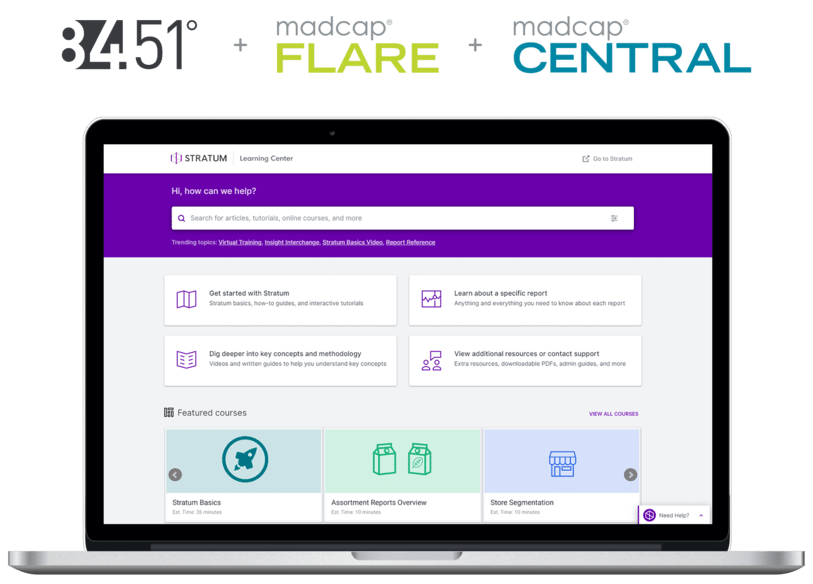 New MadCap Flare Project Templates Now Available
Check out our latest additions to our library of free MadCap Flare project templates. These downloadable templates are in addition to the 20 pre-installed project templates for print, online, desktop and mobile content.
Additions include:
Three New Top Navigation Templates – Santaluz, Del Mar and Morena
Two New Side Navigation Templates – Solana and Moonlight
New Instructional Design Template with Student and Instructor Manuals

MadWorld 2020 Austin Call for Presentations
A reminder the MadWorld 2020 Austin conference call for presentations deadline ends soon, with a final deadline to submit by Wednesday, January 15, 2020.
The conference will feature 40 main conference sessions and eight advanced workshops providing an excellent opportunity to showcase your professional skills and expertise to the MadCap Software community. Networking events each night ensure you maximize your learning and professional development to make the most out of your experience. Plus, speakers selected to present enjoy comped registration and hotel accommodations.
What Should I Submit?
We're looking for subject matter on technical communication, learning & development, instructional design and content strategy. While attendees at the conference range in skill level, we seek advanced sessions that offer actionable takeaways and apply across industry verticals.
Save with Our Next Registration Deadline
Our next MadWorld 2020 Austin registration deadline ends March 31, 2020, saving you up to $1,000 on your conference registration. Look out for our full schedule and speaker list in February.

We've Updated Our Privacy Policy
Your data privacy and security are important to us. As a reminder, MadCap Software will never rent, sell or share your information. Any and all information collected is only used for the specific purpose of providing services and support on your behalf.
Here's a brief summary of what's changed:
We've updated our Privacy Policy to include more details about the data we collect, how we use it and what your rights are regarding how data is used.
We've provided additional contact information for inquiries regarding your personal data.
We updated our Privacy Policy to comply with the new California Consumer Privacy Act ("CCPA") that went into effect on January 1, 2020.
No action is required of you, but please take a look at our updated Privacy Policy and contact us if you have any questions.