MadCap Insider: April, 2017
The MadCap Insider Monthly Community Newsletter
April is a noteworthy month for MadCap Software. On Sunday, April 2, the MadWorld 2017 technical communication and content strategy conference kicked off at the Hard Rock Hotel in downtown San Diego, California.
The fifth annual user conference features an agenda packed with valuable takeaways – including case studies and advanced techniques – all prepared and presented by an impressive list of professional speakers. If you weren't able to join us this time around, we hope you can attend next year's conference in San Diego. The Call for Papers for MadWorld 2018 will be announced in June, along with the 2018 conference dates.
Take a look at what else is in store for the month of April at MadCap Software.
In This Issue
New Release: MadCap Central Adds Slack Integration

Your Monthly Tips & Tricks Roundup

Free Upcoming Webinars

Customer Showcase: Vodafone

Latest Customer Case Study: Quantum

Upcoming Certified Training Schedule

Testimonials from Around the Web

Translation Tip from MadTranslations

In The Press and Latest Industry News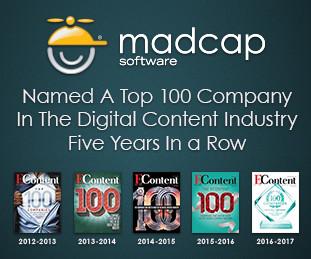 MADCAP CENTRAL ADDS SLACK INTEGRATION
MadCap Central now integrates with the leading team collaboration and communication platform Slack. Receive MadCap Central notifications on your Slack channels, including:
Users: Receive a notification if you have been added to or removed from a project
Builds: Receive a notification if a target from a project is generated (manual, scheduled start, or rebuild)
Teams: Receive a notification if a team is added to a project or removed from one
Tasks: Receive a notification if comments or files are added to a task
Projects: Receive a notification if a project's status (i.e., Activated, Locked, Archived) is changed

And many more
WATCH: GETTING STARTED WITH MADCAP CENTRAL
Learn how to navigate in MadCap Central, set up your profile, add users and assign permissions, generate and publish output, customize dashboards, and more.
YOUR MONTHLY TIPS & TRICKS ROUNDUP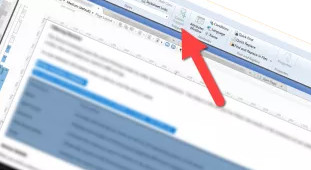 Creating a Snippet with Non-Standard Content in Flare, by Paul Pehrson
Miss one of our webinars? You can access them anytime in our free webinar archive.
Customer Showcase: Vodafone One Net Business
The multinational telecommunications company launches their HTML5 support site for Germany, Ireland and South Africa.
LATEST CUSTOMER CASE STUDY
Quantum takes advantage of MadCap Flare's top navigation output and responsive design to provide modern, web-based topics that automatically adjust to user's screens, from desktops to mobile devices. Meanwhile, MadCap Flare's single-source, multi-channel publishing functionality streamlines the process of also publishing PDFs in the web-based documentation centers, enabling customers to access information in their format of choice.

With Flare's Top Navigation, our microsites now have a state-of-the-art look and feel to them, creating an interactive and intuitive experience for users while ensuring consistency across our different sites.

–Troy Holmes, Manager of Training and Documentation
UPCOMING CERTIFIED TRAINING COURSES
MadCamp: A 4-Day Certified Training Course | La Jolla, CA | May 2-5
MadCap Flare Basic/Intermediate Training in German | April 25-28
MadCap Flare Basic/Intermediate Training | May 2-5
MadCap Flare Basic/Intermediate Training | May 9-12
MadCap Flare Basic/Intermediate Training (Europe/Middle East/Africa) | May 16-19
MadCap Flare CSS Training | May 23-24
MadCap Flare Single Sourcing Training | May 25-26
TESTIMONIALS FROM AROUND THE WEB

We are now LIVE using MadCap Flare as our documentation system. Customers are loving it!

–Leslie Bailey | @thetwlady

Finally ordered a copy of #MadCapFlare for Programmers and am so pleased I did… it's great #ILoveFlare

–Louise Fahey | @LouiseF_90

What I love about Flare - the best small team multi-authoring environment bar none. I know there is disagreement about this, but I have never had a problem with OOTB revision control and have successfully supported teams of up to 12 writers on multi-year products without losing a single word to merge errors.

–Colin Walters | Consulting Technical Writer

I am so excited to say that our tech comm team in the Services organization at Medtronic has published our first two service manuals converted from Adobe® FrameMaker® to MadCap Flare.

–Trish Edwards | Senior Technical Writer
TRANSLATION TIP FROM MADTRANSLATIONS
Request a Free Quote
MadTranslations specializes in individual projects or complete end-to-end translation and localization services. Get a free quote on your next translation project.
• Technical Documentation
IN THE PRESS AND LATEST INDUSTRY NEWS

LIVE WEBINARS
Sign up for the latest complimentary webinars.

PROFESSIONAL SERVICES
Certified training, consulting and more.