Creative Interactive Ideas Uses MadCap Flare to Cut Development of Multi-Channel Training Content by Nearly Half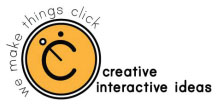 CREATIVE INTERACTIVE IDEAS
Houston, TX
Industry:
Goals:
Deliver a consistent top-quality experience for CD-ROM and Web-based training
Increase project efficiency and predictability
Use a future-proof tool
Solutions:
MadCap Flare native XML content authoring tool
Benefits:
Ensure consistent training experience via single-source multi-channel publishing
Eliminate workarounds required by Adobe RoboHelp
Complete projects faster–by up to 50 percent
Get started quickly using intuitive interface
Increase customer satisfaction with look-and-feel and navigation of Flare-based training
Support architectural priorities of firm's Microsoft-certified team
"Even though it was our first time using Flare, we completed the project in nearly half the time the first project took."
|
Creative Interactive Ideas
Creative Interactive Ideas (CII), a full-service online training consultant, is a pioneer in the delivery of Web-based training, winning recognition as one of the top 25 Houston Web designers by Houston Business Journal. Its innovation has attracted customers–many of them Fortune 500 companies–from a range of businesses, including banking, oil and gas, computing, education, and government. Increasingly, those customers are looking for multi-channel delivery of their content.
"For nearly two decades, our customers have relied on us to provide creative, superior online training," said Debbie Richards, founder and president of Creative Interactive Ideas.
"The increase in multi-channel publishing driven by greater adoption of the Web means we need best-in-class authoring software designed to deliver training and Help content consistently across the Internet, intranets, CD-ROMs, and a range of computer systems," Ms. Richards noted, "We are also thinking about Web 2.0 and looking down the road for software that can support us in the future. For us, that software is MadCap Flare."
Multiple Headaches with Multi-Channel Training
Multi-channel publishing was a particularly critical requirement for a medical device company, which turned to CII for online training that could be delivered on both CD-ROM and the Web. The training would provide guidance on the usage and care of a new device, helping to prevent accidental breakage by medical professionals unfamiliar with the new design.
CII had used Adobe RoboHelp to complete the first project in early 2006. The training content that CII delivered met all the functionality requirements. However, RoboHelp required several workarounds to correct the Web version's inability to recognize Flash-based content, problems handling PDF files, and other compatibility issues–causing the project to come in a month late.
When it was time to start developing the second phase of training, Ms. Richards knew that her team at CII needed another Help authoring solution. In searching for alternatives, she was attracted by MadCap Flare's robust capabilities and Web-centric native XML architecture.
Because the CII team is comprised of Microsoft-certified developers, trainers and system engineers, Ms. Richards also valued MadCap's strong support for the newest Microsoft standards, such as Microsoft Vista, XPS, DOCX, and Office 2007.
Although Flare 2.5 was not generally available at the time, she signed CII as a beta customer, and used Flare to develop the medical device company's phase-two training. MadCap's online training and intuitive interface made it easy for her team to get up and running quickly.
"We could have just imported RoboHelp content and all the formatting directly into MadCap Flare, but once we had the raw content, we entirely rebuilt the Help system in Flare. In doing so, we were able to take advantage of Flare's broad format support and multi-channel publishing capabilities to eliminate the previous workarounds," Ms. Richards said.
"Even though it was our first time using Flare, we completed the project in nearly half the time the first project took in RoboHelp," she noted. "Equally important, our customer is very pleased with the look-and-feel and easy navigation of the new Flare-based training."
MadCap Flare is now the standard content authoring tool at CII, supporting the firm's state-of-the-art multi-channel delivery of training.